Veggies for Carnivores is an Excellent Resource for People Craving More Vegetables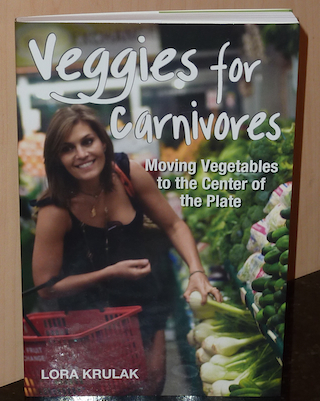 When I go to the supermarket, my absolute favorite place to shop, look, and browse is the vegetable section.
I am captivated by the bright colors, fascinating shapes, and wide variety of flavors from the vast array of these plant-based foods.
Even though I could take many of the beautiful vegetables that catch my eye and throw them into the juicer, I know that they could be put to use in many other ways.
And that is precisely why Veggies for Carnivores is so compelling.
Author, blogger, cook, and world traveler Lora Krulak takes the mystery out of preparing vegetable-based recipes and demonstrates their incredible versatility in the kitchen.
Far too often, cookbooks fail because they are overly complicated and require a huge list of ingredients to make a dish.
Veggies for Carnivores takes a different approach – this book keeps it simple and starts with the basics.
Before even purchasing one single vegetable, Lora Krulak begins with getting your kitchen prepared – appliances and tools that you may need, condiments that should be in your cabinet, an overview of sweeteners, etc. This information is an important and often overlooked aspect of cooking.
Then, she gives readers a ton of easy-to-make recipes for sauces, dressings, dips, spreads, salads, juices, and small vegetable plates.
There are a few main reasons why Veggies for Carnivores is a great cookbook.
1) First and foremost, Lora Krulak does not over-complicate things.
From the actual physical size of her book to all of her recipes, everything included is very practical, doable, and not in the least bit intimidating. Equally as important, they are delicious and extremely healthy.
2) Whether you are a vegetarian or not, finding more unique ways to prepare plant-based foods — information that I am constantly seeking out — is what this book is all about.
3)  I love how Lora Krulak weaves personal vignettes from her travels around the world into her recipes. It makes the whole experience of utilizing her book that much more personal.
—-
In the enormous world of cookbooks, I like simple, focused, easy, and useful, especially when it comes to vegetables. And that is exactly why Veggies for Carnivores really nails it.
Veggies for Carnivores can be purchased online.