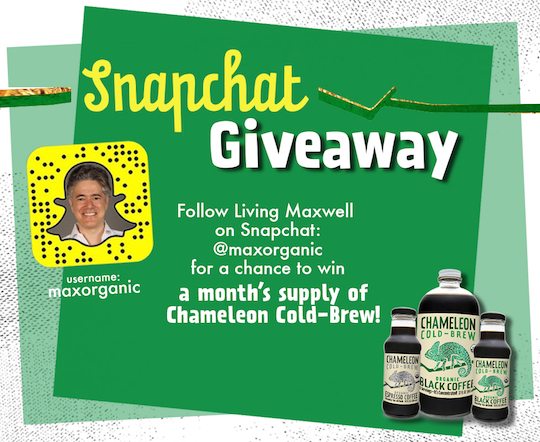 Are you a fan of organic cold-brew coffee, the healthiest coffee that you can be drinking?
If so, I have something great for you.
I have teamed up with my friends at Chameleon Cold-Brew, and we are going to be doing a giveaway this Wednesday, June 1st, where one lucky winner will win a month's supply of this fantastic organic beverage.
How to enter?
You must follow me on Snapchat (maxorganic) and watch my snaps this Wednesday for instructions on how to win.
Please Note: Instructions will only be given on Snapchat, and Chameleon will get in touch with the winning person. Also, the winner must reside in the U.S.
That's it, and see you on Wednesday. Good luck!
—
Want to stay up-to-date on the most important news in the organic food world?
If so, make sure you Like my Facebook page, follow me on Instagram (livingmaxwell), and join my email list.
To join my newsletter list, please enter your email below and I'll send you my Top 5 Inexpensive Ways to Shop Organic.