The Saga of the DARK Act Continues, How You Can Help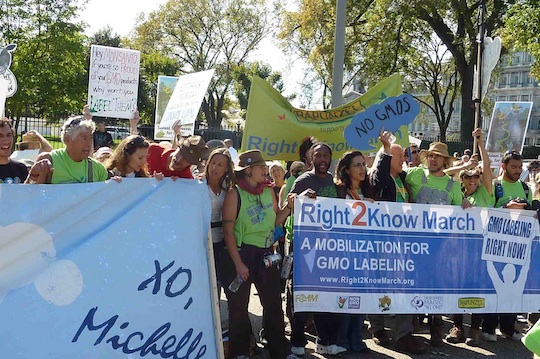 If you haven't read the post that I put up last week about the DARK Act, how organic is in serious danger, please go do so HERE and make sure to share it with your network.
Since that post went "live", there have been two other pieces that I want to bring to your attention.
After the DARK Act was signed, an email chain was circulated among many leaders within the organic food movement and the primary contents of it were put forth on a blog post by David Bronner in the Huffington Post called On The Organic Trade Association's Betrayal Of The Movement For Mandatory GMO Labeling.
For those who don't know, David Bronner is the CEO of Dr. Bronner's, and there are very few, if any, individuals who have given more time, money, and leadership to the GMO-labeling issue than David. He has been absolutely amazing and is unafraid to speak his mind, as he did in the Huffington Post story.
In his piece, David Bronner said OTA's leadership acted unilaterally and "went rogue" in its decision to support the DARK Act. Additionally, he brought up an equally disturbing aspect of the OTA: OTA's leadership does not want the OTA or its members to "go negative" on industrial agriculture.
The other piece worth reading is by Andrew Kimbrell, Executive Director of the Center for Food Safety, who wrote Why the GMO Labeling Bill Obama Just Signed Into Law Is a Sham—and a National Embarrassment in Alternet.
While there has been a lot of criticism towards the OTA, the organization does some good things — I loved its recent Organic Hotspots report, for one.  I just wish that everyone in the organic community could be working together and be completely aligned, but right now, that does not appear to be the case.
HOW YOU CAN HELP
For many organic food companies and consumers that are furious about this GMO-labeling "compromise" bill, there are two things that you can do.
First, the Center for Food Safety, is spearheading a lawsuit to overturn this bill, a piece of legislation that violates several amendments of the Constitution.
To financially support this lawsuit, you can do so HERE.
I have personally donated, and it is critical that we get everyone to chip in whatever they can. This lawsuit is going to take serious manpower and is essential if we want to protect Americans' right to know what is in our food.
It is expected that the suit will be filed within the next week or so.
Second, the Organic Consumers Association has put up a petition asking consumers to boycott brands that use QR codes instead of label. So far, approximately 500,000 have signed the petition.