Whole Kids Foundation launches Sweepstakes for Youth Entrepreneurs focused on Healthy Eating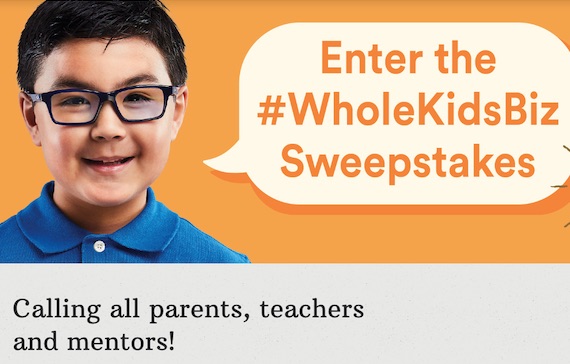 If we want to improve the way children eat, using capitalism as a tool to create this change is certainly one powerful way to do it.
That is precisely what motivated the Whole Kids Foundation to launch its new #WholeKidsBiz sweepstakes, which is giving away $5,000 to student entrepreneurs.
From March 18-25, students ages 11-18 can enter for a chance to win by submitting an under-three-minute video describing how their business or entrepreneurial school program is helping kids eat healthier in one of three areas: gardening, plant-forward cooking or nutrition education.
Not only are children and young adults showing an interest in healthy living at a much earlier age, but youth entrepreneurship — undoubtedly helped by the popularity of Shark Tank — is also on the rise.
According to the Gallup-HOPE Index, 77% of students in grades 5 – 12 say they want to be their own boss, 45% say they plan to start their own business, and 42% say they will invent something that changes the world.
"Students are taking the lead in powering real change in their communities and schools— whether it's growing and selling vegetables from their school garden or incorporating vegetables into baked goods," said Nona Evans, Executive Director of the Whole Kids Foundation, a non-profit arm of Whole Foods Market. "We're excited to support entrepreneurial learning, as the critical thinking skills needed to be a successful entrepreneur will set up our next generation of leaders for success in whatever they aspire to."
For the Whole Kids Foundation, whose mission is to improve children's nutrition and wellness, this giveaway is a natural fit. And it is the first of many steps the foundation plans to take to support entrepreneurship, with the goal of building awareness of youth-led businesses and creating a pipeline for a future grant program for students.
ENTRY DETAILS
Video entries must also share lessons learned and tips for success, which will help other kids to start and grow their own programs.
Students can submit their entries with parent permission via one of five channels: Twitter, Instagram, Facebook, YouTube or the Foundation's website.
Full entry details are available at wholekidsfoundation/wholekidsbiz. A total of 12 winners will be selected at random to receive cash prizes, with one grand prize of $1,000 and smaller prizes of $500 and $250.
The Foundation has a long history of engaging with educators and communities to determine
Video submissions begin on March 18th and end on March 25th, and winners will be named on April 1st. I will also be announcing the winners on Organic Insider in April.
Good luck!
A message from Tradin Organic
How Tradin Organic is Helping Coconut Farmers in The Philippines
For more than a decade, Tradin Organic has been working with local partners in The Philippines to bring a diversified range of organic products to the market, such as coconut oil, tropical fruits and even cocoa.
The company is helping to support local farmers by assisting them with technical support and organic certification, in addition to paying Fairtrade premium on top of the organic premium.