Well+Good Takes a Step Offline and Launches its First Pressed Organic Juice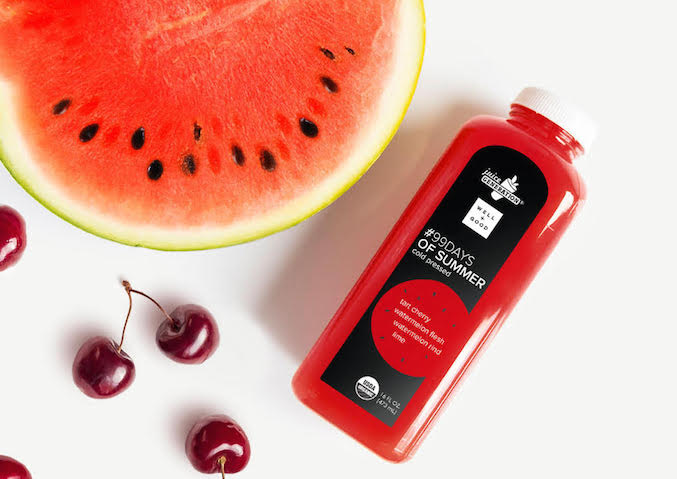 Well+Good, one of the country's leading health & wellness websites and a personal favorite of mine, has just dipped its toes into the organic beverage market with the limited release of #99DaysofSummer, a fantastic and incredibly refreshing juice.
Launched in collaboration with New York City's Juice Generation, this drink is being rolled out in conjunction with Well+Good's summer editorial and social program, aptly named #99DaysofSummer.
"So much of how we were thinking about summer—the 99 days between Memorial Day and Labor Day—and its fleeting pleasures were in juice terms, so it hit us that our summer philosophy needed a literal sippable extension," said Alexia Brue, Well+Good's CEO and Co-Founder.
The timing for this drink could not have been more perfect, as Juice Generation and its founder Eric Helms were also considering a special limited edition blend. Given that the two companies knew each other well and had similar ideas about what this drink should entail, the exact recipe for this juice – watermelon flesh, watermelon rind, tart cherry and lime – came about very quickly.
"We wanted something that would be very rich in hydrating electrolytes, yet that would feel super summer-y and also have functional benefits. The great thing about #99DaysofSummer is that we've already been very excited to see readers sipping it on Instagram and enjoying healthy summers," said Alexia Brue.
Aside from the drink's great taste, there are three things that make this product rollout so compelling.
First, Well+Good is one of the strongest and most influential wellness brands in the country. So, to see it move offline is not only very interesting, but it is really adding to the marketplace and is bringing its brand to life in a non-digital way.
The company has introduced one offline product before, a limited edition, non-toxic nail polish launched last year with TenOverTen. That sold out within the first week, which encouraged Well+Good to do more of these collaborations.
#99DaysofSummer was its first foray into food or juice, and the company is hoping to do more of these in the future.
Second, I love the fact that this juice is a limited edition. There is something about the scarcity of it – this juice is only available through August – that makes it more special. When you know that you only can purchase it for a specific period of time, you tend to value it more.
Case in point was Suja's wildly successful, limited edition Midnight Tonic, a campaign which ended up winning the company awards. Many months later, customers are still asking Suja if they can order Midnight Tonic. I could see the same thing happening here with #99DaysofSummer.
Lastly, I love that the ingredient tart cherry was included, and this could very well be one of my top organic food trends for 2018.
Other health advocates and industry observers are fans of this superfood as well.
"Tart cherry is a historical ingredient known for its powerful antioxidant properties. In particular, it has been shown to be effective in helping to elevate wellness in 7 important ways: post-workout recovery, balancing inflammation, reducing swelling, boosting immunity, regulating metabolism, sleep-aid, and a blocker of cancer growth. This is one fruit everyone should be incorporating into their daily health routine," said Greg Fleishman, CEO/Co-Founder of Purely Righteous Brands and one of the beverage industry's leading experts.
While researching the product for this story, I went to buy a bottle of #99DaysofSummer to see what it tasted like. What ended up happening was that I made subsequent trips to Juice Generation, not because I needed to do additional research, but because I was craving more of it. The drink was that satisfying and refreshing.
Be sure to get your #99DaysofSummer while it lasts. Come fall, it will be gone and you might be missing it more than you realize.