Wednesdays at Whole Foods – 365 Debuts, Big Things Happening in Prepared Foods, Mac and Bees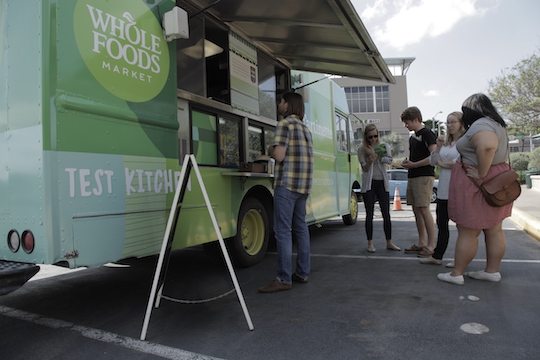 On the first Wednesday of every other month, I have a column called Wednesdays at Whole Foods. It showcases the most interesting news, exclusive products, store events, and happenings at the company.
365 OPENS ITS DOORS
As you may very well know by now, 365 by Whole Foods Market, the company's lower-priced grocery chain, made its long-awaited debut last week in Los Angeles.
With its pared-down look and feel, 365 by Whole Foods Market is very focused on efficiency and technology, all with the goal of passing on savings to its shoppers.

Among the many innovative aspects of the store, I found the following to be particularly interesting — the ability to see the entire store from the entrance, the teaBOT (an efficient self-serve kiosk, allowing customers to create personalized tea blends by choosing from a selection of 18 teas and herbal ingredients) and the prepared food ordering kiosks.
Stay tuned for a lot more coverage on 365 by Whole Foods Market in the months to come and for a deeper look at the inside of the store, here are some great pictures.
EXCITING CULINARY CHANGES
The other day, I spoke with Tien Ho, who was recently named to the newly created position of Vice President of Culinary and Hospitality.
Tien Ho comes to Whole Foods Market with a serious pedigree. He ran the culinary department at Morgans Hotel Group and held positions within David Chang's Momofuku empire, including at Má Pêche, where he was named best new chef in 2011 by New York Magazine.
Much to my delight, it was was an incredibly encouraging conversation. Fantastic changes and improvements are in the works.
Here are some highlights of our call:
Tien Ho launched a food truck test kitchen (below) outside of the flagship store in Austin, Texas. The theme rotates every two months, and the food truck allows Tien's culinary team to experiment with and get immediate feedback on new dishes and recipes.
It is absolutely Tien Ho's goal to make all of the salad bars in every single Whole Foods Market store entirely organic. (Music to my ears!!!!) Tien said the reason that everything isn't organic already is because of the complexity of the supply chain, and this is the main issue that he is trying to work through right now.
Expect more partnerships with well-known chefs, such as the one with Roy Choi at Chego in the Downtown Los Angeles store or Erik Bruner-Yang's ramen concept, Paper Horse, in the Foggy Bottom store in Washington D.C.
Tien Ho's mission

 is to find strength in commonality (what recipes can be used everywhere) and to support individualism (helping the regions develop new ideas that will work in their local areas).
Tien told me "I want to recruit really good chefs and create a culture of culinary excellence here. I want chefs to know that there are great possibilities at Whole Foods Market."
ON THE SHELVES
The following products are currently exclusive to Whole Foods Market and will be in stores within the next month. 
Annie's has launched Organic Mac & Bees (macaroni & cheese) to celebrate and spread the word about the importance of pollinators, such as bees, butterflies, and beetles. They play an absolutely critical role in the foods we eat.
The pasta comes in fun, pollinator themed shapes, and on the back of the box is a "Dear Friend" letter, which educates consumers on why they should care about the pollinator species. This summer, Annie's will donate $15,000 to The Xerces Society to create pollinator habitat gardens on dairy farms across the U.S.
Another company working to support the bees is Maisie Jane's, a 4th generation family-owned and operated company, who is coming out with an organic creamy cashew butter. This product has only one ingredient – cashews – and contains no oil, salt, or sugar. For every jar sold, 5 cents will be donated to The Xerces Society.
Starting today, Lundberg Family Farms will be offering its organic and Biodynamic tri-colored quinoa and sushi rice in the bulk bins. Additionally, Lundberg is launching organic sprouted entrees, available in chile verde rice, thai red curry rice, toasted coconut rice, toasted coconut rice, and vegetable fried rice flavors. All are kosher, certified gluten-free, and Non-GMO Project verified.
LAST BITES
At the Pearl Street Store in Boulder, shoppers can now purchase The Beyond Burger, a veggie burger that "bleeds".
In Colorado, the company has signed a partnership with the BoomTown Accelerator, a technology accelerator for start-ups.
Boomtown and Whole Foods Market will undertake three special projects throughout the partnership to develop and test tools that accelerate the speed, modernization, innovation and quality of the grocer's regional marketing and operations initiatives. The group is currently exploring options ranging from apps to enhanced internal operations, to solutions for third-party non-profit donation campaigns.
This is an incredibly smart partnership and if successful, it ought to be replicated throughout the country. Some fantastic innovation could come from this.
In Florida, Whole Foods Market has partnered with Recycle Across America (RAA) for its "Leaders for Progress" initiative and its "Let's recycle right!" campaign. Launched in all of the stores in Florida, the goal is to help further educate and enhance the public's recycling habits.
Also in Florida, the company has begun a very important initiative by selling lionfish, a fish species that is a serious environmental threat to native marine life and habitat in Atlantic coastal waters.
Apparently, the white, buttery meat of lionfish lends itself to a number of different recipes, and its venomous spines will be safely removed before the lionfish ever touches the hands of shoppers.