Wednesdays at Whole Foods – The Store of the Future, Holiday Gifts, The Best Planet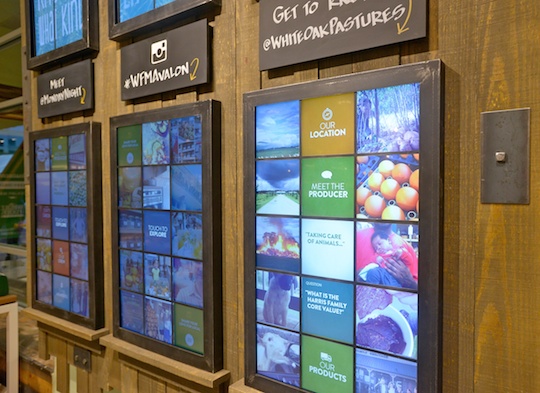 On the first Wednesday of every other month, I have a column called Wednesdays at Whole Foods. It showcases the most interesting news, products, store events, and happenings at the company.
WHAT'S IN STORE
As most you of probably know, Whole Foods Market just launched its very first national ad campaign called Values Matter. The goal was to communicate the tremendous importance of how and from where the company sources its food.
Yet, the ad campaign is hardly the only new initiative the company is rolling out.
In its recently opened store in Alpharetta, Georgia, Whole Foods Market is beta-testing a new format that will improve and increase its engagement with shoppers.
Second Story, a division of SapientNitro, developed and installed four interactive displays which do the following:
– Connect consumers with the people who are supplying their food
– Educate shoppers on the company's commitment to sustainability
– Serve as a discovery and recommendation engine for new products
The four installations include:
Farm…..Meet Table – Interactive windowpanes (maps, videos, Instagram feeds) where shoppers can look into the lives of the people who grow the food that they are buying.
Perfect Pairings – Interactive touchscreens that will help shoppers discover new products based on their existing food preferences.
Whole Body Mirrors – After a person looks into the mirror, the mirror will project one of three auras – energize, refresh, or relieve. Each aura will then recommend a related product.
Wise Wood – The 12-foot wooden tower gives a detailed explanation of Responsibly Grown, the new rating system for produce and flowers, and provides other interactive functionality to educate shoppers about various sustainable farming practices.
My Take: What separates Whole Foods Market from its competition is that the company has always been one step ahead, in terms of providing a superior shopping experience.
As time goes on, however, this experience must continually evolve to meet the growing needs and demands of customers. And it is readily apparent that Whole Foods Market recognizes this.
The new interactive platform incorporates two dominant cultural trends – the widespread adoption of technology and people's growing interest in understanding where their food comes from – in an innovative way that both educates and engages shoppers.
I find this to be incredibly smart.
CIRCLING BACK
I wrote about all of the items below in October's column but felt compelled to give you an update on each of them.
It has been estimated that Apple Pay is now accounting for nearly 1% of all of the company's sales.
But it isn't just Apple Pay that is having a massive impact. The average Instacart sale is 2.5x the average sale of an in-store visit. WOW!
When you don't have to carry your own food or see it pile up in your shopping cart, you're obviously a lot more willing to spend more money.
Affinity Cards, or widely-known as a loyalty program, have now expanded to the Philadelphia area.
Lastly, I told you about the new store in Houston where an employee rides around the store on a tricycle serving you beer while you shop for groceries. Well, I got a hold of this video and absolutely had to show it to you. See the :27 second mark.
ON THE SHELVES 
The following are products that are exclusive to Whole Foods Market and cannot be found elsewhere.
If some of your holiday guests have special dietary needs, Hilary's Eat Well has got you covered.
The company has created a traditional organic stuffing that is gluten-free, nut-free, vegan and Non-GMO Project Verified. It contains all of the great holiday flavors but made in a way that no one will feel left out.
Republic of Tea has a new organic, Biodynamic, Whole Trade chai. It is a mix of Biodynamic chai spices blended with red rooibos that delivers an exotic, caffeine-free cup of tea.
Looking for interesting and sustainable gift ideas for the young children in your life?
If so, PBS Kids and Whole Foods Market have joined forces and rolled out a line of PBS KIDS educational and earth-friendly toys in company stores nationwide.
Each item in the PBS KIDS toy line is made with safe, non-toxic materials and inks, and all packaging is made from recycled materials. Many of the toys are produced in the USA from sustainable materials, responsibly harvested from local communities.
100% of PBS KIDS' net proceeds will benefit the media brand's mission of empowering children through knowledge, critical thinking and imagination. Whole Foods Market will donate 1% of total sales, up to $25,000, to the Whole Kids Foundation, an organization dedicated to improving children's nutrition and wellness.
Just in time for the Christmas season, Rhythm Superfoods is now offering organic, cranberry orange kale chips. These are perfect for snacking or as a small gift for your favorite health not. This product is only available in select regions.
GIFTS THAT TRULY GIVE
One of the best, and maybe the most underappreciated, things at Whole Foods Market is the Whole Planet Foundation, a non-profit arm that offers microloans to predominantly female entrepreneurs throughout the world.
To date, Whole Planet Foundation has funded $33 million in micro-lending programs in 60 countries, including the U.S., and has helped 3.5 million people improve their chances for a better life.
Having witnessed first-hand the massive impact that Whole Planet Foundation has had, I can tell you that this is an organization that all of us need to support.
And there are two ways to do it right now, which will also get you some great holiday gifts in return.
Liberation Soup is a Whole Planet Foundation cookbook with authentic recipes from the kitchens of women micro-entrepreneurs across 40 countries. $5 of every book sold goes back to the foundation to fund small loans that help women start or expand home-based businesses.
The Whole Planet Foundation 2015 Calendar features photos of micro-credit clients from 13 of the 61 countries where the Whole Planet Foundation alleviates poverty, and it also includes more than $35 worth of coupons for natural and organic products.
Since 2006, calendar sales have generated $830,000 for the foundation, and the goal is to raise an additional $245,000 through 2015 calendar sales.
Liberation Soup costs $19.99 and the Whole Planet Foundation 2015 Calendar costs $3.50. Both are available at Whole Foods Market stores nationwide.
A few years ago, I documented my visit to the Whole Planet Foundation in Costa Rica and am a HUGE fan of what this organization is doing.