Wednesdays at Whole Foods – Download the App, Successful Delivery, Vanilla with a Purpose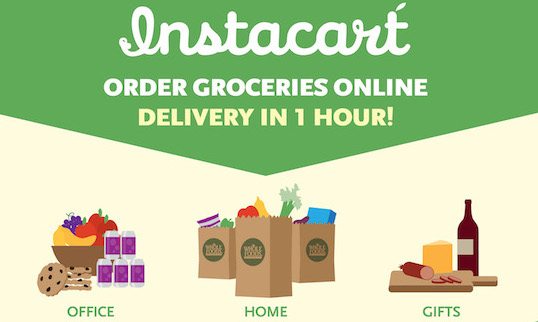 On the first Wednesday of every other month, I have a column called Wednesdays at Whole Foods. It showcases the most interesting news, exclusive products, store events, and happenings at the company.
MOBILE READY
Just a few weeks ago, Whole Foods Market rolled out its re-designed app for iOS devices. It is intuitive, clean, and very useful.
New features and functions include:
* Instacart in-app integration
* 3,800+ recipes
* Shopping lists
* Supports Apple's new iOS9 Spotlight Search feature, enabling Whole Foods Market shoppers to search the recipe collection without having to open the app.
Without a doubt, however, my favorite part is the what's on sale feature. In a matter of seconds, I can see what is on sale in my local store. This is a great discovery tool as well.
To downloand the iOS app, click here.
INSTACART APPROVAL
It has been one year now since Whole Foods Market initiated a partnership with Instacart, which allows customers to purchase groceries online and have them delivered in as little as one hour.
Needless to say, it has been a massive success and people love the convenience.
In regards to what Instacart has delivered to Whole Foods Market's customers over these past twelve months, here are some eye-popping numbers:
* 2.2 million bananas, enough to stretch from Boston to Philadelphia, if placed end-to-end.
* 1.25 million apples, enough to bake an apple pie that would cover the entire infield at a professional baseball game.
* 4 million cage-free eggs, enough to serve an omelet to all 971,000 residents of Austin, Texas.
* 500,000 avocados, enough to make a cup of guacamole for every fan at four sold-out pro football games.
And some other interesting facts…..
* Produce was the most popular item ordered, with more than 40% of all Instacart deliveries containing fresh produce.
* The top five most frequently purchased products were bananas, avocados, carrots, lemons, and limes.
* Customers collectively saved 970,000 hours by having Whole Foods Market and Instacart do the shopping for them.
This service is currently available in 17 metropolitan areas: Atlanta; Austin; Boston; Boulder; Chicago; Denver; Houston; Indianapolis; Los Angeles; Miami; New York City; Philadelphia; Portland, Oregon; San Francisco; San Jose; Seattle; and Washington, DC.
For more information and to get free delivery on your first order over $10, visit Instacart.com or download the Instacart App.
ON THE SHELVES
The following products are exclusive to Whole Foods Market and will all be in stores within the next month. 
Just in time for Halloween, Lotus Foods is introducing its pumpkin ginger rice ramen with vegetable broth.
This is a traditional Japanese-style ramen made with pumpkin, ginger and organic brown rice. It is gluten-free, contains 1/3rd less sodium than regular ramen, and is ready to eat in 4 minutes.
What is particularly notable about this product is that the organic rice is cultivated using a deeply innovative and important method called System of Rice Intensification (SRI).
SRI is a not a new seed or input, but rather a different way of cultivating rice that enables small-scale farmers to double and triple their yields while using 80-90% less seed, 50% less water, and less or no chemical inputs.
Just in time for National Kale Day (today), Rhythm Superfoods is first to market with roasted lacinato kale chips. These are certified organic, gluten-free, and available in sea salt & vinegar, smoky bacon, sea salt, roasted garlic & onion, and chili lime.
Frontier Co-op has something new and very compelling – vanilla with a cause.
Its vanilla extract is made from Ugandan vanilla beans, which contain a higher vanillin content than typical vanilla beans from Madagascar.
Yet, there is an incredible backstory to this vanilla product.
Given that so many Ugandan farmers suffer from poverty and social deprivation, Frontier Co-op has established the following – (1) fair pricing agreements with the farmers to ensure a stable income (2) vanilla crop training programs to help farmers maximize revenues (3) Village Savings and Loans Associations were set up to provide small loans and savings accounts; and (4) a percentage of each sale goes to the Whole Planet Foundation.
Celestial Seasonings has introduced two new socially responsible teas – matcha green and oolong.
Both are certified organic, Whole Trade, and made from hand-selected leaves grown on single estates.
LAST BITES
Even though Whole Foods Market has been having tremendous success with Instacart, it plans on testing out Google's new delivery service sometime this year.
Take a behind-the-scenes look at the company's Local Producer Loan Program.
Global Cheese Buyer Cathy Strange was given the Lifetime Achievement Award by The American Cheese Society.
Equally as impressive, Jason Buechel, Executive Vice President and Chief Information Officer, was named to Fortune's 40 under 40 list.
Something very cool has been taking place on the rooftop of the Lincoln Park store in Chicago — movie nights.
This series was put on by Elevated Films, a local non-profit whose mission is to raise awareness and promote the arts in Chicago in a way that is approachable and affordable for everyone.
Did you know???…….That Co-Founder and Co-CEO John Mackey is a serious hiker.
Here's a fascinating look at what's in his pack and why he owns a majority stake in Gossamer Gear, a backpacking product company.