Wednesdays at Whole Foods – Better Salmon, Cleaner Roses, and Chocolate for Kobe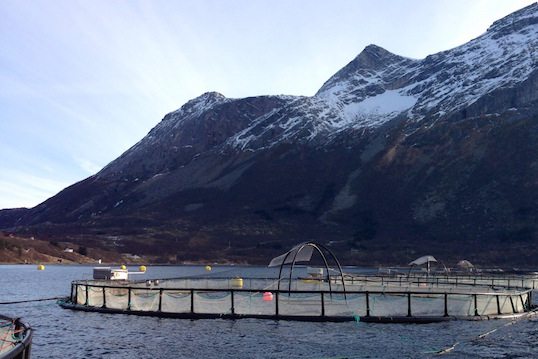 On the first Wednesday of every other month, I have a column called Wednesdays at Whole Foods. It showcases the most interesting news, exclusive products, store events, and happenings at the company.
A NEW STANDARD IN SALMON
In a constant search to improve the way that it sources its seafood, Whole Foods Market just announced that it is now selling the most environmentally-friendly farmed salmon in the company's history.
Given that salmon is the company's number one selling fish and the majority of the world's salmon is farmed, this announcement is sure to resonate with both shoppers and environmentalists alike.
This new Norweigan-raised salmon, which received a yellow "Good Alternative" rating from the Monterey Bay Aquarium's Seafood Watch program, is available at Whole Foods Market stores throughout the U.S. and is notable for two primary reasons.
One, it has a very favorable fish-in, fish-out ratio. While most farmed salmon requires 1.6 pounds of fish feed to harvest one pound of salmon, this fish requires less than 1 pound of fish feed.
It has been able to achieve this ratio by utilizing a new type of feed called In The Blue, which was created by Whole Foods Market, Norwegian fish farmers Kvarøy and Selsøyvik, importer Blue Circle Foods, and leading feed company BioMar. In the Blue uses trimmings of existing fish that is already bound for human consumption, instead of using all new, whole fish.
Two, the trimmings are pressed into oil that is cleaned to reduce environmental contaminants, such as heavy metals and PCBs (Polychlorinated biphenyls). Because environmental contaminants in farmed fish are largely found in feed ingredients, removing these substances from the oil keeps them out of salmon that ends up on our dinner plates.
The end result is not only a better use of marine resources but also a healthier farmed salmon for consumers.
A "GREENER" ROSE
With Valentine's Day right around the corner, it is expected that Americans will buy upwards of 250 million roses for this special holiday.
Yet, as The New York Times highlighted several years ago, what goes on behind the scenes on many flower farms in Latin America is very, very ugly.
This is why you can feel a lot better about buying Whole Trade blooms from Whole Foods Market. The Whole Trade Guarantee ensures:
* Safe and healthy working conditions for farm workers – third-party certifiers verify that farms meet occupational health and safety requirements, provide legal minimum wage and benefits, and respect human rights. That means no forced labor, discrimination, or child labor.
* Environmentally-friendly growing practices – third-party certifiers monitor farms to make sure they meet clear criteria for environmental responsibility, such as restricting pesticide use and protecting water resources.
* Community development – A portion of every Whole Trade product sale goes into a development fund and through Whole Trade sales, Whole Foods Market has contributed more than $20 million to community development programs.
ON THE SHELVES
The following products are exclusive to Whole Foods Market and will be in stores within the next month. 
Stonyfield has come out with an organic 100% Grassfed Yogurt, and it is available in plain, vanilla, strawberry and blueberry.
What is notable is that this yogurt is PCO 100% certified grassfed, which means that a third-party has verified that the cows have eaten nothing but grass.
You do not see much organic chocolate from Haiti these days, and that's what is so cool about the new bar from Taza Chocolate.
Taza Chocolate has developed a Stone Ground 84% Dark Chocolate which is sourced directly from Haiti, and all sales directly support local farmers. The chocolate is certified organic, Non-GMO Project verified, gluten-free, and vegan.
In my Top 5 Organic Food Trends for 2016, I predicted that probiotic-enhanced foods would only grow in popularity. Good Karma seems to share this view.
The company has come out with a Probiotic Cultured Flax Beverage, which is dairy-free and Non-GMO Project verified. It is available in plain, strawberry, blueberry, and pineapple greens.
Wallaby Organic is introducing a Purely Unsweetened Whole Milk Greek Yogurt. This is an authentically strained yogurt made with local milk from pasture-based family farms, and it contains 10 grams of protein per serving.
This yogurt comes with either unsweetened blueberries, mixed berries, peaches or strawberries, and is certified organic and certified gluten-free.
LAST BITES
New to the company this winter is a line of Whole Foods Market plant-active, salon quality, hair care products.
This hair care line meets Whole Foods Market's Premium Body Care standards, which prohibit more than 400 unacceptable ingredients and ensure that products meets strict standards for quality, sourcing, environmental impact, efficacy and safety.
The products include a Volumizing Shampoo and Conditioner Set, Medium Hold Styling Gel, Weightless Hold Styling Mousse, Moisture Balancing Volumizing Hairspray and Perfect Finish Shine Spray.
According to ESPN, Whole Foods Market makes a special grass-fed, chocolate milk for NBA legend Kobe Bryant whenever he has a game in a different city.
Whole Planet Foundation kicks off its annual Prosperity Campaign in all stores beginning March 1st for the entire month. As I've witnessed first-hand, this organization is doing some amazing work around the world.
Lastly, Whole Foods Market has hired a big-name chef to oversee its prepared foods department. Having run the culinary operations at the Morgans Hotel Group and holding positions within David Chang's Momofuku empire, Tien Ho was named best new chef in 2011 by New York magazine. That's a serious accolade!
I hope to have more information about Tien Ho's plans for the company in future columns.