TIME SENSITIVE: Don't Let the U.S. Senate Block Very Important Organic Animal Welfare Regulations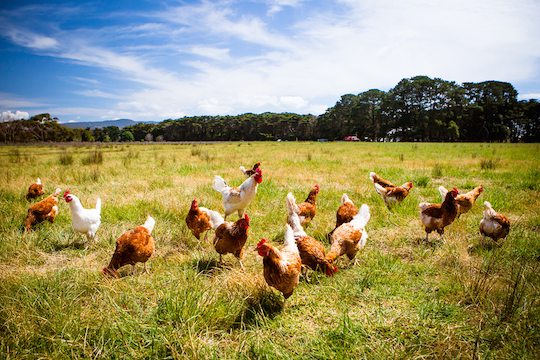 (To follow my day-to-day organic food adventures, please be sure to follow me on Snapchat: maxorganic)
Not only is organic not supported and protected as it should be in the U.S., but the truth is that organic is under constant attack.
The most obvious example of this is that organic farms are under a constant threat of contamination from nearby genetically-modified crops (GMOs) yet our government does nothing to protect these farms or farmers.
And now we have politicians who are taking this even a step further — they are attempting to completely undermine the integrity of the organic rule-making process.
On April 7th, the USDA proposed to amend organic livestock and poultry practices, which would implement several practices and strategies to promote high welfare, including:
Calculating the space available to birds in indoor housing by weight
Prohibiting producers from considering concrete porches and shelters attached to poultry houses as "outdoor access"
Requiring that exits are designed and spaced to encourage all birds to go outside on a daily basis
Providing for the natural behavior of animals, such as dust bathing for chickens and rooting for pigs.
Shockingly, while very clear regulations have been in place in regards to organic crops, those same regulations have not been in place for organic animal production.
"U.S. consumers expect that organically certified meat and animal products are produced with a higher standard of animal welfare protections than non-certified organic products, and until now, there has been no way of ensuring that is the case," said Paige Tomaselli, senior attorney at Center for Food Safety.
After many years of fighting for these organic animal welfare regulations, the U.S. Senate Appropriations Committee has scheduled a vote tomorrow to block these proposed animal welfare standards, which would completely hijack the way that organic rules and regulations go into effect. This sets a horrible precedent and makes organic susceptible to the whims of influenced politicians.
Why are they doing this?
The only logical explanation, as usual, is that Big Ag has pressured these politicians because it would harm them economically.
This political interference by the Senate is so egregious that even the Organic Trade Association and the Cornucopia Institute are in agreement over this development, and these two organizations rarely see eye-to-eye on anything.
WHAT YOU CAN DO
The vote is scheduled for tomorrow, and we need everyone to call their Senators and tell them that you oppose any effort to kill the organic animal welfare regulations.
Your voice will matter even more if one of your Senators sits on the Appropriations Committee where this discussion will occur. These members include:
Republicans:
Cochran, Thad (MS), Chairman
McConnell, Mitch (KY)
Shelby, Richard C. (AL)
Alexander, Lamar (TN)
Collins, Susan M. (ME)
Murkowski, Lisa (AK)
Graham, Lindsey (SC)
Kirk, Mark (IL)
Blunt, Roy (MO)
Moran, Jerry (KS)
Hoeven, John (ND)
Boozman, John (AR)
Capito, Shelley Moore (WV)
Cassidy, Bill (LA)
Lankford, James (OK)
Daines, Steve (MT)
Democrats:
Mikulski, Barbara A. (MD), Ranking Member
Leahy, Patrick J. (VT)
Murray, Patty (WA)
Feinstein, Dianne (CA)
Durbin, Richard J. (IL)
Reed, Jack (RI)
Tester, Jon (MT)
Udall, Tom (NM)
Shaheen, Jeanne (NH)
Merkley, Jeff (OR)
Coons, Christopher A. (DE)
Schatz, Brian (HI)
Baldwin, Tammy (WI)
Murphy, Christopher (CT)
When you call the Capitol Switchboard at 202-224- 3121, you will be asked by the operator who your Senator is. When you are then connected to your Senator's office, ask to speak with the staffer who works on agriculture appropriations.
To find out who your Senator is, click HERE.
Thank you so much for your concern and for supporting organic food.