Top 5 Organic Products from the Seed Festival in Miami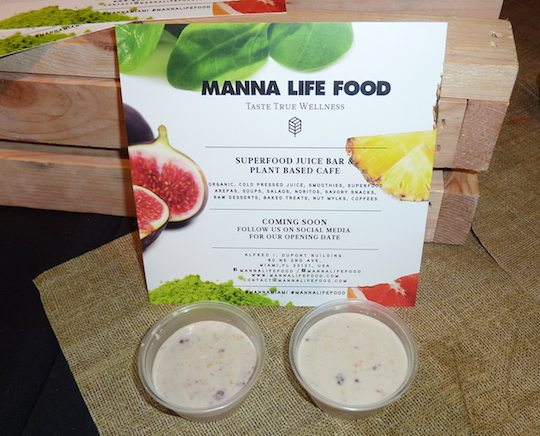 I just got back from the Seed Festival in Miami, the country's first conscious, plant-based food and wine festival, and had an amazing few days.
This was the second year of the event, and I was so impressed by the number of attendees and quality of vendors. In my view, it is only a matter of time before the Seed Festival becomes a must-attend event for all plant-based companies in the organic industry, and Whole Foods Market again served as the main sponsor.
When selecting my 5 favorites for this year's Seed Festival, I made a concerted effort to spotlight some local organic restaurants who showcased as vendors as well. These are places that people absolutely ought to know about when visiting Miami.
HEIDI HO NE CHEVRE CHEESE
Whenever I go to trade shows and try to decide which products will win my Top 5 award, I always think about which booth could I not walk away from.
At the Seed Festival, one immediate answer was Heidi Ho, and I couldn't get enough of founder Heidi Lovig's vegan ne chevre cheese, which means "no goat". While I had known about this cheese for a few months, I had yet to try it until this past weekend. Phenomenal texture, fantastic taste.
This plant-based, dairy-free, soy-free cheese is made with cashews, water, lemon, live cultures, nutritional yeast, sea salt and citric acid, and it is available at retail locations nationwide.
MI VIDA CAFE
As someone who has spent a lot of time in Latin America, I always appreciate a great ceviche, and I can tell you that the Peruvian ceviche at the Mi Vida booth was excellent. It had all of the right flavors, spices, and textures. Since this is a vegan dish, mushrooms, instead of fish, were the primary ingredient.
Founded by Daniela La Gamma, an Argentine chef who trained at Miami's Le Cordon Bleu, Mi Vida is an organic restaurant currently located on Biscayne Boulevard in Miami but it will be relocating to a new space nearby within the next month.
The next time I go back to Florida, you can guarantee that I'll be making a stop at Mi Vida. If the rest of the menu is anything like this ceviche, it's going to be a phenomenal meal.
BETTERSWEET BITES VEGAN PUMPKIN MUFFIN
I am always on the hunt for a healthy muffin and this pumpkin one from BetterSweet Bites was outstanding.
It was filling, delicious, and had super-clean ingredients, including almond flour, coconut oil, maple syrup, pumpkin, pumpkin seeds, aluminum-free baking soda, aluminum-free baking powder, flax seeds, cinnamon, and nutmeg.
The company's products are available at retail locations in the Miami area and are also available for nationwide shipping.
CONSCIOUS COCONUT OIL
If I'm putting a brand of organic coconut oil on this Top 5 list, there must be a very good reason. In the case of Conscious Coconut, there are several.
First, I love how it comes in a 3.4 ounce eco-friendly tube. Nearly all coconut oils come in glass or plastic jars, which makes it very cumbersome to travel with. And I am always giving kudos to companies who offer innovative packaging.
In terms of the materials, the tube is made with a bamboo lid, the tube is mostly made with laminate aluminum, which is recyclable, and the boxes are made with recycled paper.
Second, the coconut oil is certified fair trade and organic, and is very delicious. I've been using it non-stop since the festival.
Third, and most importantly, the social mission behind Conscious Coconut is really cool. For each purchase of a tube, a child is given a meal through a partnership with Feeding America. Additionally, the company utilizes the MacDonald Training Center in Tampa, which employs adults with mental disabilities, to pack all of the orders and put the boxes together.
In every step along the way, there is giving going on. As founder Danielle Conte says, "You can fuel a business with love." It shows.
Conscious Coconut is sold at select retailers throughout the country and online.
MANNA LIFE FOOD
I have had my fair share of raw oatmeal, but the overnight oats with blueberry chia jam from Manna Life Food might be the best of them all. I was literally eating one cup after the next.
This pressed organic juice bar and plant-based cafe will be opening its doors at the end of December in Miami, and it is sure to be a big hit.
Along with a wide selection of soups, salads, raw desserts, I can't wait to try the cacao reishi nut milk, superfood arepas, raw passionfruit cheesecake with turmeric, ginger, and chia seeds, and homemade coconut yogurt. Everything is organic, gluten-free, and refined sugar-free.
Located very close to the new Whole Foods Market in downtown Miami, this will be another spot on my must-visit list.
In parting, I want to send huge kudos to my friends Alison Burgos and Michelle Gaber, founders of the Seed Festival, for putting on another spectacular event. What these two women have created in two short years is simply incredible, and they are playing a large role in building a tight-knit and growing community within the South Florida health and wellness world.
Just like last year, this was a very special few days for me and I am proud to have my name attached to the Seed Festival, as both a media sponsor and speaker.
Do what you can to attend in 2016. Without question, I'll be back.