Top 5 Organic Products from Natural Products Expo East 2012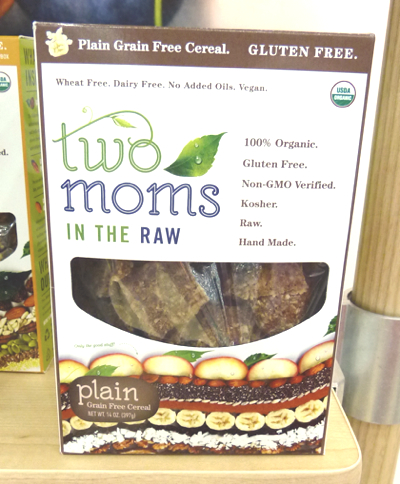 I just got back from the 2012 Natural Products Expo East trade show in Baltimore and had a fantastic few days.
Even though I spent A LOT of time in Proposition 37 and GMO-labeling meetings, I was able to discover some really cool organic products on the trade show floor. Here were the five organic products that really caught my attention.
DAHLICIOUS GO YO! LASSI FOR KIDS – STRAWBERRY BANANA
I'm a huge fan of probiotics and if we can be giving them to kids at an early age, I firmly believe that we'll be able to make a dent in the serious health problems that they are suffering from.
So, when I saw Dahlicious' GoYo!'s Lassi, I got very excited.
Lassi is an Indian style yogurt made with milk from grass-fed cows and is slow-cultured for 12 hours (3x longer than other yogurts) using a combination of 5 active cultures. This process results in a much higher count of live and active cultures – Dahlicious says that its product contains 15 billion live probiotic cultures. Additionally, it has a high protein content of 8 grams per serving.
I loved the smooth and fresh taste of this product, and kids will as well. It comes in three flavors – mango peach, strawberry banana, and mixed berry – and a national roll-out of the product is expected in January 2013.
The organic ingredients include low-fat milk, milk protein concentrate, strawberries, banana, coconut sugar, organic flavor, and the following cultures – Lactobacillus Rosell – 52, Bifidobacterium Rosell 71, Bifidobacterium Rosell – 33.
TWO MOMS IN THE RAW GRAIN-FREE CEREAL
For years now, I have been a massive, massive fan of Two Moms in the Raw founder Shari Leidich. Quite simply, this woman knows how to develop one awesome product after the next.
Her raw, grain-free, gluten-free cereal is another home run, and I've been eating it non-stop since the show.
The organic cereal contains sunflower seeds, raisins, banana, coconut, apples, dates, figs, chia seeds, almonds, walnuts, and cinnamon, and the product can be purchased online.
Another great aspect of this cereal is that the box is 100% recyclable with 100% recycled / 35% post-consumer material, and the plastic is #5 recyclable.
NATURE'S APPROVED GRAPE SEED FLOUR AND POWDER
When I walked by this product's booth, I said to myself "What the heck is grape seed powder? I've never heard of this before."
Within minutes, I got a good explanation as to why. Organic grape seed powder has only been available in Europe until now and will appear in the U.S. for the very first time in the next few months.
Nature's Approved says that its product has an ORAC score of 55,000 versus 2,400 of blueberries – 23 times higher. Plus, grape seed powder is high in OPCs (oligomeric proanthocyanidins), which penetrate the blood brain barrier and scavenge for free radicals.
Organic grape seed powder can be used for baking and smoothies, and it will be fascinating to see how quickly it makes a name for itself here in the U.S.
GNOSIS GOLDENBERRY JAM
There seems to be a ton of different jams and jellies on the market but why isn't there one with made from some of the most potent, antioxidant-rich berries?
That is what the super-smart founder of Gnosis Chocolate, Vanessa Barg, was asking herself before she came up with the idea of this Goldenberry Jam.
Because her fantastic chocolates are the main focus of the company, this jam doesn't get much attention but hopefully that will change.
The organic ingredients in the Gnosis Goldenberry Jam include mulberries, goldenberries, agave nectar, goji berries, and pink Himalayan salt, and the product can be purchased online.
B'MORE ORGANIC SKYR SMOOTHIE
Skyr, which originated in Scandinavia and is a very similar product to Greek yogurt, is something that I have had my eye on for a long time. Why?
There is a very popular, non-organic skyr brand based here in NYC, and it gets a ton of buzz.
Hoping to find organic skyr, I was thrilled to have come across B'More Organic's skyr smoothie in the last hour of the trade show on Saturday.
The taste is smooth, rich, and delicious, and the product is made with skim milk and is naturally low in sugar. B'More Organic's skyr smoothie is also a great source of protein and calcium, and has plenty of the all-important probiotics.
According to the company, much of the lactose is consumed by the beneficial bacteria, so it can be consumed by people who are lactose sensitive.
B'More Organic's skyr smoothie can be purchased as select retail locations in the Northeast but it wouldn't surprise me to see this product rolled out nationwide very soon.
The organic ingredients include skim milk, vanilla extract powder, and stevia extract powder, and the cultures L. Bulgaricus and S. Thermophilus.
—
IF YOU LIVE IN OR NEAR NYC, PLEASE COME TO THE GMO-LABELING FUNDRAISER (PROPOSITION 37) THAT WE ARE HAVING IN MANHATTAN ON MONDAY NIGHT, OCTOBER 1ST.
MANY PEOPLE IN THE ORGANIC COMMUNITY WILL BE AT THIS EVENT.
FOR TICKETS AND MORE INFORMATION, PLEASE CLICK HERE.