Top 5 Organic Food Products from Natural Products Expo East 2018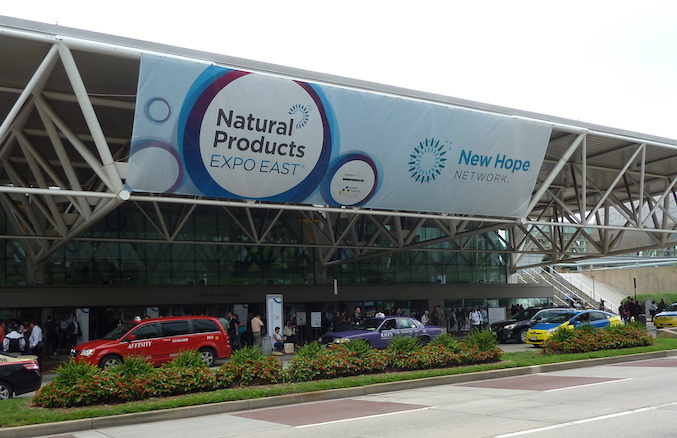 Because of hurricane Florence, Natural Products Expo East in Baltimore last week had slightly smaller crowds, but it did not detract from some fantastic innovation that I discovered.
As I do after each show, here are My Top 5 Organic Products of Natural Products Expo East 2018.
NEOLIV DATE CHOCOLATE ICE CREAM
Dates are one of my absolute favorite foods. And so is ice cream.
The folks at NeoLiv Foods must have been reading my mind when they created this brilliant recipe — a date-sweetened, raw, plant-based ice cream made with coconut cream, coconut milk, coconut water and cocoa paste.
This organic ice cream is expected to launch in the New York, New England and Florida markets later this fall.
With its motto of Nutrition for the modern crave-man™ — delivering wholesome nutrition that will displace harmful sweets — NeoLiv Foods has come up with a real winner.
And I can't wait to taste the company's date-seed coffee, which NeoLiv had pictures of at the show but was not sampling.
PELOTON CASCARA

If you have never heard of cascara, you will know it soon, as I predict it is about to get insanely popular.
So, what is cascara?
It is the dried coffee fruit that surrounds the coffee bean.
In the past, it had widely been thrown away or composted in Latin and Central America, but now it is being put to good use because of its very powerful nutritional properties. Most notably, cascara contains chlorogenic acid, which is known to lower blood pressure, aid in weight loss, and act as an anti-inflammatory.
The founders of Peloton have taken cascara and delivered a great-tasting, antioxidant-rich drink. Each bottle is lightly sweetened, has only 60 calories, and offers 38mg of caffeine.
Peloton is sold throughout the country and to find a location near you, click HERE.
HEMPE
Looking for a delicious, soy-free, plant-based alternative to tempeh?
If so, Hempe is what you've been waiting for.
What makes this a particularly attractive product is that the company uses hemp seeds, chickpeas and chia seeds, which deliver great texture and omega 3-s. Cultured for easy digestion and with good amounts of protein, Hempe incorporates very clean ingredients and has the potential to be a serious player in the plant-based category.
Hempe is available at some Whole Foods stores in the south, all of Mom's Organic Markets, and at plenty of independents and co-ops throughout the southern and eastern parts of the U.S. Additionally, it just launched on Amazon.
OCEAN'S HALO DRINKS
I have been following Ocean's Halo for several years and always admired its high-quality, seaweed-based products.
Yet, I find the company's entrance into the beverage market to be its most exciting and ambitious endeavor so far.
Ocean's Halo is doing something extremely unique by using both kelp extract and deep sea minerals in its drinks. The desalinated water is originally sourced from over 1,000 meters below sea level where glacial waters flow at an incredibly slow rate, temperatures hover a degree or two above freezing, photosynthesis cannot occur, and our own body's essential electrolyte minerals (calcium, potassium, and magnesium) are abundant.
Very lightly sweetened, these new drinks from Ocean's Halo — Honey Ginger, Kiwi Aloe, Hibiscus Cinnamon, and Watermelon Lime — are expected to hit shelves nationwide within the next month or so.
Both the kelp and important minerals should make this a very popular workout recovery drink as well, even though it is not positioned as such.
This is a very innovative product in the crowded beverage space.
KANA ORGANICS POTATO PASTAS
If you've followed my work over the years, you know that I am a big fan of plant-based pastas.
So, when I saw that Kana Organics was doing a pasta with two ingredients — organic sweet potatoes and water — I couldn't believe my eyes.
Using an extrusion process that took four months to develop and test, the organic sweet potato pasta looks like kelp noodles and has excellent texture.
While most plant-based pastas use some type of lentil, bean or grain, the addition of Kana Organics into this category with potatoes as a base is very, very interesting.
The products will be available on Amazon in November with an SRP of $8.80.