Tío Gazpacho Signs Phenomenal Partnership with José Andrés, Outlook for 2017 is Very Bright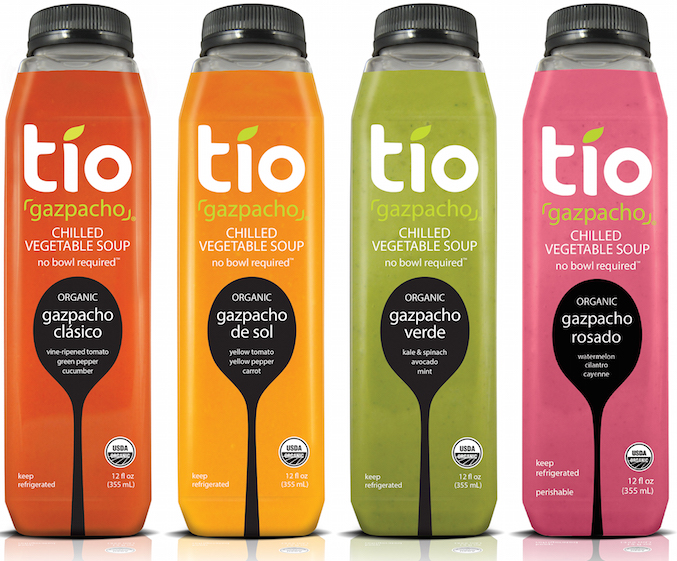 When you're running an organic gazpacho company and dream about the people you'd like involved in your company, there is pretty much only one name at the top of this list: José Andrés. The most widely acclaimed Spanish chef here in the U.S., José Andrés was also named "Outstanding Chef" by the James Beard Foundation in 2011 and recognized by Time magazine as one of the 100 most influential people in the world.
For Austin Allan, founder of Tío Gazpacho, who used to eat at José Andrés' restaurants in Washington, D.C. all of the time, this dream became a reality right before Thanksgiving.
And it all began in April when Austin Allan was in a meeting and received a surprise email from this star chef that said the following:
I am a Spanish chef and am watching you from a distance. I would love to talk.
Needless to say, Austin bolted out of the meeting and got on the phone with him immediately. Six months of conversations and negotiations ultimately led to a partnership between Tío Gazpacho and José Andrés, where he and his restaurant company, ThinkFoodGroup, will help with distribution, sourcing, marketing, PR, social media and product development.
"Gazpacho is the best 'salad' in the history of mankind", commented Chef José Andrés, one of America's best-known Spaniards. "I've always wanted to find a way to bring amazing gazpacho to the people of America outside of my restaurants, and when I tasted Tío Gazpacho, I knew this brand shared this same passion."
Exact terms of the partnership have not been disclosed, but José Andrés did not make a financial investment in the company. However, with Tío Gazpacho having recently closed a $1.25 million Series A round earlier this year with 301 INC, the venture capital arm of General Mills, a cash infusion was not a huge concern.
Currently, Tío Gazpacho is selling four flavors of its organic gazpacho — all made from whole food ingredients, no powders – and will be rolling out two new ones early next year. While line extensions and products for food service are in the plans down the line, the biggest and most immediate contribution of this partnership is simply being able to use José Andrés' name when it comes to meetings with retailers and getting space in the refrigerator.
While this is something that organic consumers never worry about, it is a major concern for food companies, particularly for one that is selling drinkable gazpacho, a relatively new category.
"We have struggled with placement in new retailers, as they are skeptical of the price point ($6.99 to $7.99 for 12 ounces). Plus, retailers don't know where to put us in the store. They don't know if we should go with the cold-pressed juices, nut milks and kombuchas, or somewhere else," said Austin Allan.
Tío Gazpacho is currently only available at stores in the Northeast and has been embraced early on by supermarkets such as Kings and Fairway and online retailers FreshDirect and AmazonFresh. It is now looking to expand to conventional grocery and Big Box outlets. Whole Foods, however, remains a real challenge.
"We have never been approved at a regional level at Whole Foods, even though we've tried on five occasions. We have had to go through each local buyer in the Northeast."
Whatever challenges the company may have faced in the past with Whole Foods or other chains, this is certain to change going forward, with celebrity chef José Andrés and General Mills standing firmly behind the company.
For Austin Allan, it is a time of both reflection and tremendous optimism.
"For so long, all we kept hearing was 'No'. And I kept asking myself, 'Am I the only one seeing this?' I've been at it for four years, and this is the most forward momentum I have ever felt. 2017 is the year that we are going to take this nationwide. Now we are ready, and our team is in place," said a jubilant Austin Allan.
As someone who has watched Tío Gazpacho from the beginning and as a big fan of the product, I couldn't be more excited for what the company has achieved so far and what the future holds. This partnership is very cool to see.
Muy, muy bien hecho!