I Love Suja's New Fermented Botanicals — for Both the Taste and Health Benefits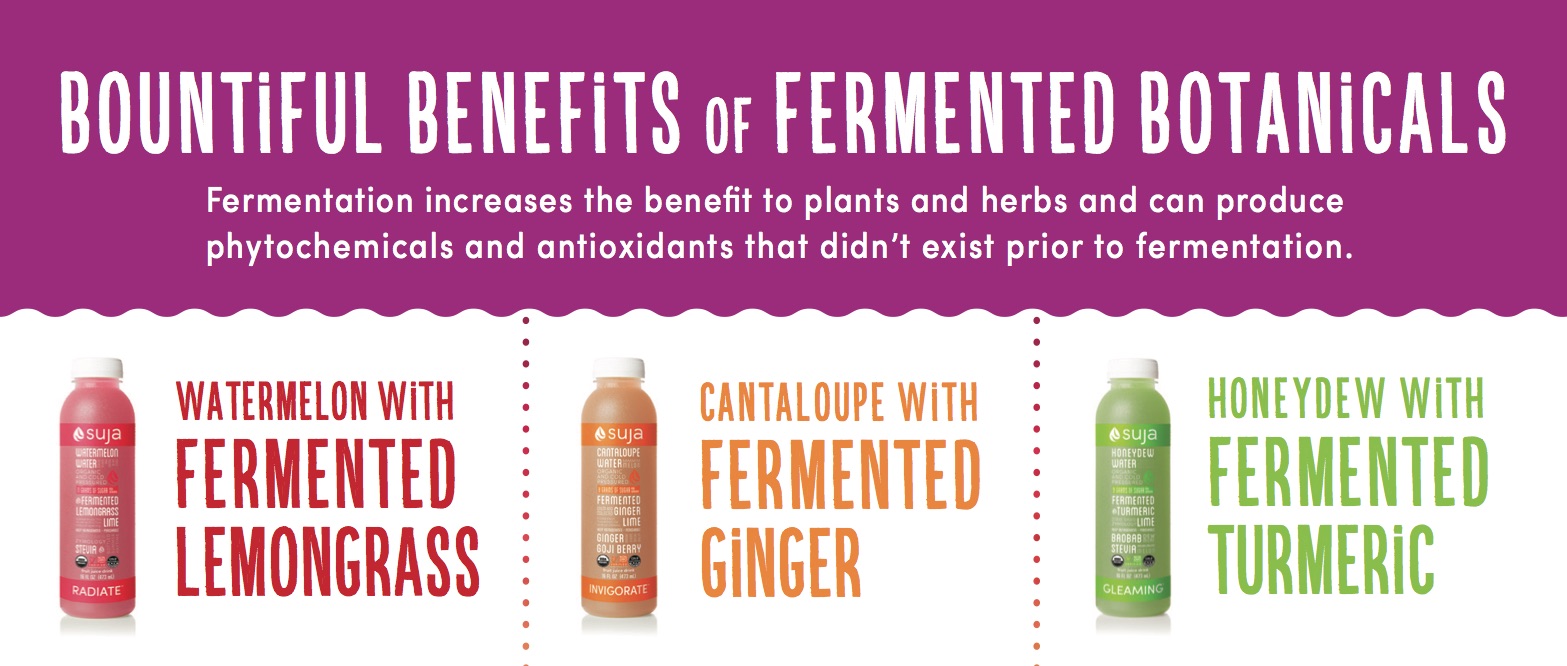 As the leading pressed organic juice company in the country, Suja has rolled out many great tasting products over the years.
While I will always be a huge fan of Suja's Twelve Essentials and Lemon Love, its recently introduced fermented botanicals have become my new favorites.
Earlier this year at Natural Products Expo West, I got a sneak peek of these drinks, having no idea that new juices were in development. Within minutes of trying them, I walked over to Co-Founder and CEO Jeff Church and told him "These are your best drinks ever." I was that impressed.
Several months later, my conviction and enthusiasm about these juices have not waned in the slightest.
Not only are they so unexpected, in numerous ways, but they are also different than anything currently in the marketplace.
It is rare and very welcome to see ingredients such as honeydew melon, cantaloupe, baobab and goji berry in juices.
After one sip of Gleaming, with its honeydew melons, turmeric, and lime, my brain starting spinning. I was doing my best to remember drinking something like this before, but I couldn't come up with anything; probably because we never drink honeydew melon juice. As a result, my body kept telling me to have more and more of it, fascinated by this unique flavor profile. Within seconds, the bottle was empty.
Something similar happened with Radiate and its watermelon, lemongrass, and lime. I was expecting it to be like the cold-pressed watermelon juice that I am accustomed to, yet it had much more of a fruit punch twist to it.
Even though Ginger Love is not fermented, it is part of this new line and is truly outstanding. The lemon, ginger, pineapple, and cayenne are perfectly balanced, and it only has one gram of sugar.
Aside from the fact that these juices have fantastic flavor, you can feel good about drinking them because the fermented botanicals provide real health benefits.
For example, fermented ginger (in Invigorate) results in increases its antioxidant capacity. Fermented turmeric (in Gleaming) has been shown to improve liver function and help with abdominal weight and body fat mass in certain studies. It is important to remember that the fermentation process provides beneficial bacteria, which aids in overall health to the body.
With this new rollout, Suja is proving that it can continue to lead the industry with innovation while keeping its fans not only happy, but most importantly, healthy.
GIVEAWAY
Suja's new line of fermented botanicals is available throughout the country exclusively at Whole Foods Market for the next three months at $5.99 each. The drinks are also available on the company's website.
Wanting to give my readers an early look at this fantastic fermented botanical line, I have teamed up with my long-term partner and sponsor, and we'll be sending juices to 10 lucky recipients. Each winner will receive two bottles of Gleaming and Radiate, and one bottle of Invigorate and Ginger Love.
To enter to win, please do the following:
1) Follow @livingmaxwell , @pressedjuicedirectory and @lovesuja on Instagram.
2) In the comment section of this Instagram post, tag a juice-loving friend.
Winners will be announced and contacted on September 21st. Good luck!