Rodale's Organic Life Farm2Fork Festival This Weekend in Brooklyn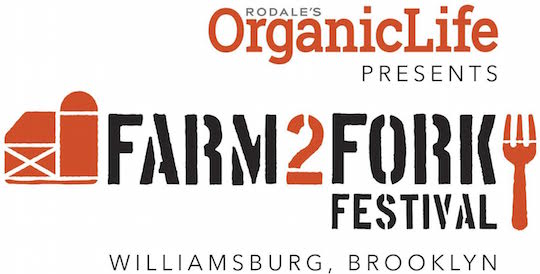 If you're in the New York City area this weekend, October 24-25, there is a very cool organic event taking place in Williamsburg.
Rodale's Organic Life magazine is hosting its first Farm2Fork Festival, which will spotlight Brooklyn restaurants, and special guests include chef Dan Barber (Blue Hill and Blue Hill at Stone Barns) and filmmaker Susan Rockefeller (Food for Thought: Food for Life).
If you're unfamiliar with Rodale's Organic Life magazine, that may be because this is a re-launch of Rodale's first and iconic magazine Organic Gardening. Founded by J.I. Rodale in 1942, Organic Gardening was the magazine that started the organic movement in the U.S.
Recently, Rodale decide to rebrand the magazine to Organic Life and broaden its content to include everything that encompasses the organic lifestyle.
So, given the newness of the title, creating a "live" event in Brooklyn, a haven for farm-to-table food, makes a tremendous amount of sense and will really help build brand awareness.
At Farm2Fork, there will be three main events:
The festival will kick off on Saturday morning with Bites of Brooklyn, featuring tastings from Brooklyn restaurants passionate about sustainable, local, farm-to-table dining, including Allswell, Delaware and Hudson, Egg, The Finch, Greenpoint Fish & Lobster, Ted & Honey, and The Pines; a cooking stage with celebrated local chefs Adam Geringer-Dunn, Evan Hanczor, Patti Jackson, Gabe McMackin, and John Poiarkoff; and interactive demonstrations on everything from fermentation to flower arranging, led by experts from the Rodale Institute, Just Food, and the International Culinary Center (ICC).
On Saturday evening, there will be an intimate Slow Down Dinner. Hosted in partnership with Slow Food NYC, it will celebrate one of the founding fathers of Brooklyn farm-to-table dining, restaurateur Andrew Tarlow.
Guests will enjoy a family-style meal of urban farm fare inspired by the menus of his taste-making restaurants including Diner, Marlow & Sons, Roman's, and Reynard. A portion of the proceeds will benefit Slow Food NYC's program, Urban Harvest in the Schools, which provides financial and organizational support for 16 public schools throughout the city, helping to initiate, maintain and expand garden and food education programs.
Sunday's Farm Feast Brunch will feature the season's bounty inspired by Dan Barber's new book, The Third Plate.
Also at the brunch, the documentary film Food For Thought, Food For Life will be screened. The movie explores today's super-sized agribusiness and its impact on the food system and the environment, with insights and solutions from some of today's most forward thinking environmentalists, farmers, and chefs. A brief Q&A will follow, hosted by Organic Life Editor-in-Chief, James Oseland, with the filmmaker, Susan Rockefeller, and Dan Barber.
The event will be held at 50 N. 3rd Street in Brooklyn, and Living Maxwell readers can get 30% off ticket prices by using the code F2FFMEDIA
More information, including a schedule of events, can be found at Farm2ForkBK.com.