Raw Food Central Makes One of My Favorite Snack Foods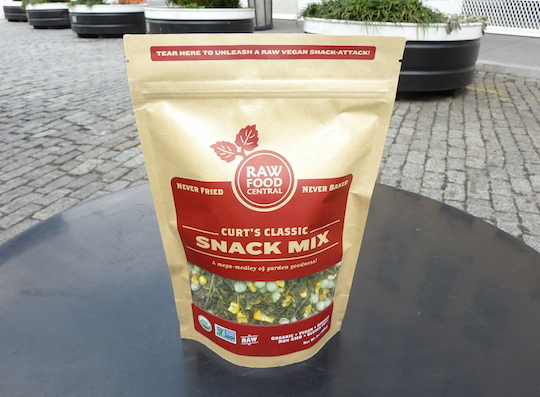 There are certain products that I when I see in the market, I pull them off the shelf and put them into my basket without giving it a second thought. It is automatic.
That is exactly what happens when I come across a bag of Curt's Classic Snack Mix by Raw Food Central.
I almost named Curt's Classic Snack Mix as one of my Top 5 Organic Products from this year's Natural Products Expo East several months ago but for some reason resisted. Quite possibly, it was because I wanted to dedicate an entire post to the product.
To be perfectly honest, I am a little "over" the whole kale chip phenomenon. I'll eat them, but I can't remember the last time I purchased a bag of kale chips.
Given this, it may seem a little strange why I am such a fan of Curt's Classic Snack Mix because kale chips are such a central component to this product.
Yet, it is the other ingredients, in conjunction with the kale, that provide great balance to the overall flavor profile and texture. The combination of kale, freeze-dried corn and peas, cashews, sunflower seeds, raisins, onion, lemon, nutritional yeast, garlic, and Celtic sea salt just works so incredibly well.
The perfect snack food is nutritious, tastes good, fills you up, and never leaves you saying "Boy, I wish I just didn't eat that".
Accomplishing this is no small feat, and there are not a ton of organic products on the market that I can say this about.
Excellent execution by Raw Food Central, and needless to say, I am a big fan of what this company has done here.
Curt's Classic Snack Mix is certified organic, Non-GMO Project verified, raw, certified gluten-free, certified vegan, and kosher. It is available at select retailers throughout the U.S. and via the company's website.