Qi'a Superfood Cereal by Nature's Path is an Excellent Product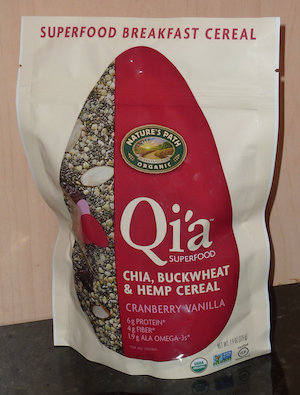 Nature's Path has come out with what I believe is their finest product yet and epitomizes the future of food.
I am a huge fan of super-nutritious, simple ingredients, and I don't like a product that is too sweet.
And that is exactly what Qi'A Superfood Cereal is all about.
The core components of the Qi'a Cereal are chia seeds, buckwheat groats, and hemp seeds. These are all protein-packed foods that I eat on a regular basis.
Included with these three are cranberries (with sunflower oil), almonds, and natural vanilla flavor.
So, what you end up with is a great tasting, extremely healthy cereal that has just the right amount of sweetness and no added sugar.
While I know that I am an outlier and my palate is different than many other people's, I am growing increasingly frustrated with the amount of sugar that organic food companies are putting into their products.
You have no idea how many company founders that I speak to and ask them "Why did you add a sweetener to your product?" or "When are you coming out with a sugar-free version?"
Qi'a contains no added sugar and is sweetened naturally by the cranberries.
And I believe that this is the future – products that are sweetened by fruit and not by sugar.
The one thing to take into account before purchasing this cereal is that it contains chia seeds. Chia seeds expand and become gelatinous (thicken) when you add milk or water to them. So, the texture of this cereal may be slightly different than one may expect.
Yet, in no way does this diminish the excitement that I have for Qi'a Superfood Cereal.
This is a fantastic product to travel with and is one that I will definitely be purchasing again. Awesome job Nature's Path!!
Nature's Path Qi'a Superfood Cereal comes in three flavors (original, cranberry almond, apple cinnamon), can be purchased online by clicking HERE.
—-
It is important to note that the founders of Nature's Path, Arran and Ratana Stephens, are two of the most dedicated organic advocates in the entire industry.
They have donated huge amounts of money to a wide range of organic-related initiatives, including Proposition 37 and The GMO Film Project, and this family-owned company is one that you can feel very good about supporting.