Pure Prana Turmeric Shot is My Must-Have, Pre-Workout Drink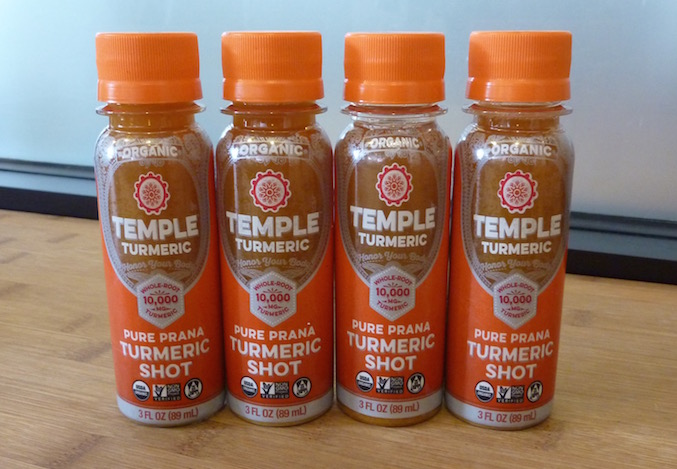 As many of you know, I have been a long-time fan of Temple Turmeric and believe that the company is synonymous with organic turmeric drinks.
Since its inception, the company has rolled out many different flavors, many of which I have enjoyed and some that I didn't.
When founder Daniel Sullivan would ask me over the years which one was my favorite, my response was always the same: the original one.
Having essentially grown up with Temple Turmeric (formerly known as TumericALIVE) and watched its meteoric rise from its humble beginnings in the basement of a church in New York City's East Village eight years ago, the company's flagship turmeric drink has been the only one that I ever really wanted to drink.
Until now. Until I discovered the new Pure Prana Turmeric Shot.
While Temple Turmeric's original flavor will forever hold a special place in my heart, and my palate, the Pure Prana Turmeric Shot has taken center stage and is now my must-have drink before I workout or do yoga. It has gotten to the point where I don't like to exercise without it.
For the last month, I have done an experiment on myself where half of the time I drank a Pure Prana Turmeric Shot before practicing ashtanga yoga — my preferred yoga style — or going to the gym, and the other half of the time I didn't.
What I noticed was that when I drank the shot, I had much greater energy, stamina and focus. There were a few occasions where I practiced yoga on an empty stomach and didn't think that I would have the strength to get through a full practice, but the Pure Prana Turmeric Shot surprisingly got me to the end.
When I didn't drink the shot, I noticed that my performance was just not the same. Most notably, it was the end of my workout that suffered, in terms of both my stamina and concentration. While I was always able to finish whatever exercise I was doing, it was not with the same vigor and intensity.
After this very experiment, I called Daniel Sullivan and shared with him what I discovered. More specifically, I wanted to know what was in the Pure Prana Turmeric Shot that was giving me this boost of energy and strength.
What Daniel told me was that every ingredient in the shot is in there for a very specific purpose and each offers real benefits. Some of the key ones include:
Turmeric has anti-inflammatory properties and helps the body metabolize fats, which is naturally energizing. The company's turmeric is the Oana varietal from Hawaii, which offers 4x the amount of curcumin than Indian yellow turmeric. Each bottle contains 10,000 milligrams of organic Oana turmeric.
Black pepper not only activates heat in the body but increases the bio-availability of turmeric.
Coconut oil supports the absorption of turmeric and is a lipid that carries the turmeric throughout the whole body.
Aside from turmeric, the shot also contains two other very important adaptogens — ashwaganda and holy basil tulsi. Ashwaganda supports healthy thyroid and hormone function while holy basil tulsi enhances physical performance and oxygenates the blood. Adaptogens are herbs that balance the body and help it deal with stress, and ashwaganda and holy basil tulsi are two of the most revered adaptogens on the planet.
The other important aspect of this drink is that everything is from whole organic foods, and there are no extracts and no flavorings. Pure Prana Turmeric Shot is as close to nature as possible, which means that the body can absorb the ingredients much, much better than processed foods or supplements.
Having experimented on my body for a month, I am totally convinced that the Pure Prana Turmeric Shot makes a real difference in my athletic performance. And it has become my must-have drink whenever I exercise.
But don't take my word for it. Try it for yourself and see what kind of results you notice.