Prairie Organic Spirits Makes Commitment to Organic Farming, Establishes "Spirit of Change Fund"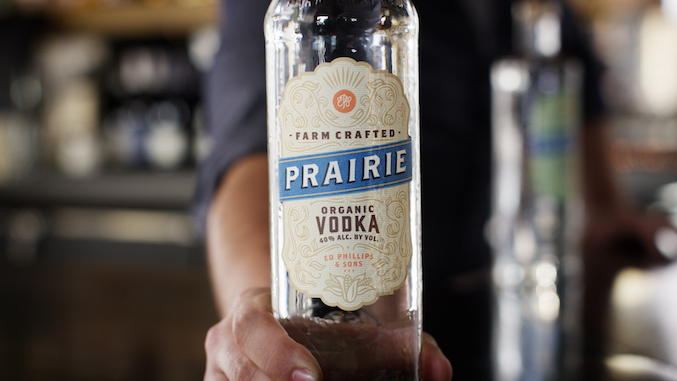 The U.S. faces a real challenge when it comes to sourcing and producing organic food.
Right now, organic comprises more than 5% of overall food sales in the country. However, out of the total farmland in the U.S., less than 1% is organic. As a result, we are forced to purchase an incredibly high percentage of our organic food from abroad.
Making matters worse is that there is no governmental vehicle to help transition farmers to organic, which would not only create jobs in the U.S. but would lessen our dependence on imports.
Wanting to do its part to address this problem, Prairie Organic Spirits, the nation's leading organic spirits brand, has created the Spirit of Change Fund. Through the establishment of this fund, Prairie Organic has committed 1% of its sales to support the next generation of organic farmers and to help transition more conventional farmland to organic.
What is particularly notable about the Spirit of Change Fund is the fact that an organic alcohol brand is spearheading this initiative. For the most part, organic liquor companies have been absent from important activism and leadership roles in our movement. So, to have Prairie Organic Spirits step in and feel a sense of obligation to do its part for farmers, the land and the future of our planet is a very welcome change.
However, the company's motives go beyond that.
Prairie Organic Spirits wants to raise awareness among its peers and encourage them to transition more of the industry to sustainable products, with the overall goal of having organic spirits equal 5% of total alcohol category sales in the U.S. The company estimates that if alcohol distributors, retailers, bars and restaurants committed to this 5% goal, the impact would be enormous — approximately 8 million acres of conventional farmland would be converted to organic and nearly 7.5 million pounds of pesticides would not contaminate our nation's farmland.
"The spirits industry significantly lags behind food and beverage when it comes to organics," said Mike Duggan, Chief Executive Officer of Prairie Organic Spirits. "It's time we lead the industry to do better, so we started the Spirit of Change Fund as our commitment to helping make a significant, lasting impact on our environment."
The Spirit of Change Fund's primary partner will be Rodale Institute, a non-profit committed to growing the organic movement through research, farmer training and consumer education. Initially, Prairie Organic Spirits will provide 10 scholarships for interns accepted into Rodale Institute's Next Generation Scholarship Program, which provides practical, hands-on organic agriculture knowledge and skills to future organic farmers.
"With Prairie Organic's support, we're able to train a new generation of farmers to employ regenerative practices in their community. This partnership represents hope and the positive potential of organic farming," said Jeff Moyer, Executive Director of Rodale Institute.
Along with the Spirit of Change Fund, Prairie Organic Spirits also has a company-wide initiative called OneTeam G.R.E.E.N., which unites its employees, partners and community to have a positive impact on society and the environment by creating a more sustainable company and industry. This initiative aims to increase corporate sustainability practices in addition to farming organically and includes reducing electrical usage, establishing better water sources, decreasing waste sent to landfills, and promoting recycling within its facilities.
Until our federal government decides that organic is a logical and easy way to create jobs in this country, especially with the looming crisis of more and more farmers heading into retirement, it will be up to the private sector to take on this role. Fortunately, we have brands — such as Prairie Organic Spirits — who are stepping up and doing their part.
So, the next time you buy a bottle of Prairie Organic Spirits, know that you'll be supporting a company that is committed to making a difference in organic farming.
(This post is sponsored by Prairie Organic Spirits. Prairie Organic Spirits reminds you to drink responsibly.)