Eco-Friendly Fridays: Why Bears for Humanity is Such a Fantastic and Important Gift for Kids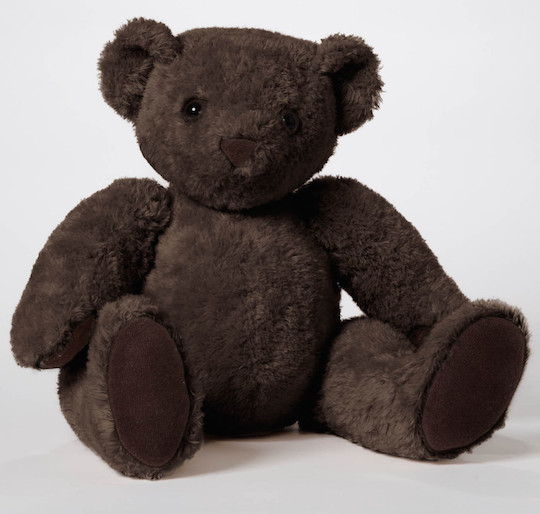 The best part about having Living Maxwell is that it gives me a vehicle to share important and interesting stories with the world.
While my focus will continue to center around food, I have decided to start a new monthly column called Eco-Friendly Friday. This will showcase some amazing organic, non-food items that I believe people ought to know about, and it will appear on the third Friday of every month. I already have several fantastic things lined up for the next few columns, so stay tuned!
When the founders of Bears for Humanity, Vijay and Renju Prathap (above), became the proud parents of twins two years ago, their worldview totally shifted. The only thing that mattered was the health and well-being of their two little ones, and that meant a shift to consuming organic food and purchasing the safest toys and clothes.
"My older brother bought me a white teddy bear with his very first paycheck, and it was very important to me to find the perfect organic teddy bears for my children. Yet, I was incredibly surprised to find that organic faux fur teddy bears simply didn't exist," Renju Prathap.
According to Vijay Prathap, 99.9% of organic teddy bears on the market are not certified by GOTS (Global Organic Textile Standard). Bears for Humanity, however, is GOTS-certified.
With large toy manufacturers not that interested in investing the time and money to develop organic materials and with organic faux fur being extremely difficult to make well, the Prathaps approached organic fabric experts to help them come up with an optimal solution.
Ultimately, this led to a three year process of researching and developing manufacturing methods to bring this one-of-a-kind, proprietary organic faux fur – a combination of organic hemp and organic cotton – to the world. While it is easy to mix cotton and hemp to create faux fur, it is not easy to mix them and have the final material feel so soft, plush, and furry.
By producing its teddy bears with certified organic cotton and certified organic hemp, both of which have antibacterial and hypo-allergenic properties, Bears for Humanity is able to avoid using synthetic polyester fibers, which can be flammable and contain toxic carcinogens. The inside of the bears is stuffed with a recycled, proprietary, and safe polyfill material made exclusively for the company.
For each teddy bear sold, the company donates one bear to a child in need. Given that there are three million children living below the poverty line and one million living in foster care in the United States, the simple gift of a teddy bear can make a real impact on the life a child, especially when these animals often become their best friends.
Bears for Humanity has recently teamed up with Danielle Gletow, a Top 10 Hero of the Year in 2013 by CNN for her work with foster children and at-risk youth, to distribute teddy bears to foster children around the country.
In an attempt to give back to the local community and support Made in the USA products, Bears for Humanity manufactures its products in Northern California and has created a partnership with the CalWorks employment program, which helps to put at-risk mothers to work. The company currently employs four women from this program and expects to add up to an additional 20 by the end of 2015.
MY TAKE
As someone who is always looking for cool, safe, and organic products for little kids, I absolutely love what Bears for Humanity is doing. Not only are the bears incredibly soft, well-made, and beautifully designed, but the social aspect of this company is very inspiring.
For a product such as a teddy bear, which gets kissed, held, and hugged by a little kid for hours every single day, an organic bear is an absolute must. So, if you're looking for a fantastic organic gift for the young child in your life, this is it. Plus, you'll be helping out another child in real need.
The premium bears cost $39.99, are about 15 inches in height, and come in five different colors. The baby bears cost $19.99, are about 7 inches in height, and come in five different colors as well. Along with the actual bears, the company also sells accessories, such as bibs, bowties, shirts, and an I LOVE YOU pillow.
To order Bears for Humanity, visit the company's website.