Organic Cough Syrup to the Rescue, Thanks to Maty's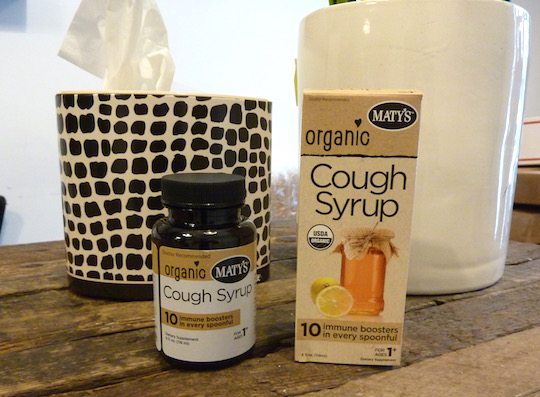 Do you ever walk into a major pharmacy and get ill looking at the "health" products on the shelves, nearly all of which that contain a laundry list of artificial and synthetic ingredients?
If so, you are definitely not alone.
And that is why I became so excited when I came across Maty's Organic Cough Syrup – the first certified organic cough syrup that I have ever seen.
Like many of us who come to organic, Founder Carolyn Harrington got into holistic living because of a serious family illness.
Her daughter, Maty, was born with multiple heart defects and without a spleen. Plus, her stomach was on the opposite side of her body, and her liver was midline. Maty had three heart surgeries, two of them open heart, before she was 5 years old.
After her final surgery, Maty developed alopecia and severe plaque psoriasis all over her body. With traditional doctors unable to help, Carolyn turned to a naturopath, who was ultimately able to help Maty improve her conditions.
Soon, holistic health became Carolyn's passion, and she dove into it head-first. This quest for knowledge manifested itself into Maty's Healthy Products, a company that develops natural and organic health products such as baby ointments, cough syrups, acid indigestion relief products, and nasal ointments.
With the organic food market exploding in popularity, Carolyn recently decided to launch her first organic product – a cough syrup.
"We had never seen organic in the cough and cold aisle, and we thought that people were looking for something that was certified organic. It was a great adjunct product to our existing line," she said.
When coming up with the formulation, Carolyn researched which ingredients promoted relaxation and restfulness, which ones had antimicrobial properties, and which ones worked well together.
The result was an organic, gluten-free, dairy-free, and alcohol-free cough syrup that contains the following ingredients: honey, apple cider vinegar, sea salt, zinc, lemon peel, cinnamon, citric acid, cayenne pepper, clove, marjoram, extra virgin olive oil, and water.
Maty's organic cough syrup can be purchased online and can be found at retail stores nationwide.
Now, if we can just get Carolyn to fix the other aisles in the pharmacy, we'd be in really good shape!