Why Oprah Winfrey Getting into the Organic Food Business is HUGE News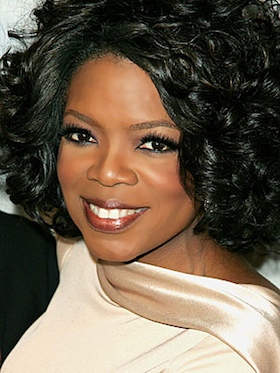 In case you hadn't heard, Oprah Winfrey appears to be entering into the organic food business and this is massive, massive news.
Thanks to the great work of the New York Post, who recently unearthed some filings at the U.S. Patent and Trademark office, the media mogul has submitted applications for Oprah-branded organic food and health products under three distinct names: "Oprah's Organics", "Oprah's Harvest" and "Oprah's Farm".
Forbes magazine said that the trademark filings cover the following products and services:
FOOD
Organic salad dressing; organic sauces; organic beverages; Frozen organic vegetables; organic soups; organic snack dips. Food, beverages, agricultural and catering services.
BEAUTY PRODUCTS
Bar soaps; bath and shower gels; bath oils; bath salts; bubble bath; massage oils; non-medicated skin care preparations for the face and body, namely, cleansers, toners, moisturizers, creams, lotions, oils, scrubs and masks; lip balms; sunscreens; eye creams; hand lotions; hand creams; hair care preparations, namely shampoos, conditioners, hair sprays, hair gels, hair mousse and hair oils.
MY TAKE
There are two primary reasons why Oprah getting into the organic food business is absolutely ENORMOUS.
1) Oprah will be the person to educate a large percentage of the American population about the importance of eating organic food and why they should also be using organic personal care products – because these non-toxic, hormone-free, GMO-free products are the only things that we should be putting into and on our bodies.
In terms of reach and influence among consumers, is there anyone better to do this than Oprah Winfrey?
She is a trusted voice that will quickly garner the attention of tens and tens of millions of people, particularly among her overwhelmingly female demographic.
2) Due to her nearly unparalleled star power, Oprah also has the potential to bring attention to one of the biggest injustices in the country right now – the fact that GMOs do not have to be labeled.
Furthermore, she has no fear in taking on the food industry.
In 1996, her show was accused of portraying the meat industry in a negative light. This led to a huge and drawn-out lawsuit from the the meat industry, who claimed that Oprah violated Texas' "veggie libel" law when the show said that U.S. beef could be at risk of spreading mad cow disease.
Oprah refused to back down, fought the lawsuit, and eventually prevailed.
Even though I have not heard her speak about GMO-labeling, I presume that she will be an ardent supporter because promoting organic and fighting for GMO-labeling go hand in hand (unless you work for an organic food company that is owned by Big Food and you are prohibited from doing so).
—-
Overall, one cannot underestimate the importance of Oprah Winfrey's entrance into the organic sector and her presence at Natural Products Expo West, the industry's largest trade show, will cause a spectacle that I cannot wait to see!