Once Upon a Farm and Nature's Path Take a Stand for Kids on the Mexican Border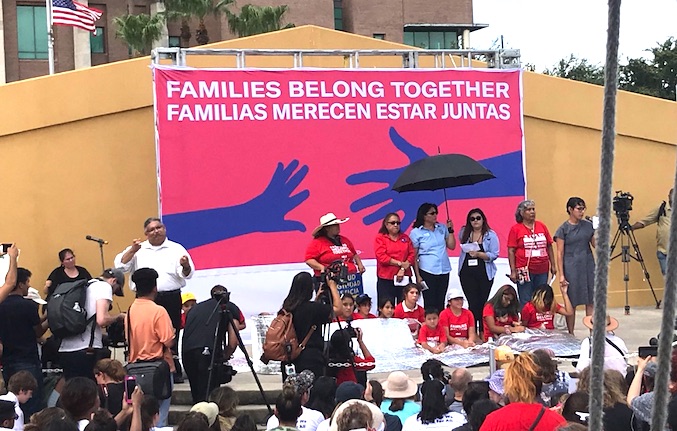 In light of the heartbreaking tragedy taking place at the Mexican border, where kids have been separated from their parents, a few organic food companies have taken a stand.
John Foraker, Co-Founder and CEO of Once Upon a Farm, who played the leading role in saving Ron Finley's "Gangsta Garden" in South Central Los Angeles last year, wrote a letter on LinkedIn, challenging and calling out his fellow CEOs for staying quiet on this issue.
Once Upon a Farm, a company run by moms and dads, also released the following statement:
As a company of parents, we are not satisfied by the executive order to stop family separation because we believe it does nothing to address the needs of previously separated children and babies. It's reported that at this very minute, there are nearly 2,500 children separated from their parents, and this trauma will likely cause long-term health and emotional effects. Now is the time to rally around these thousands of detained families who were seeking a better and safer life for their children.
To help address this situation, Once Upon Farm is donating $10,000 to the RAICES (Refugee And Immigration Center for Education and Legal Services) Family Reunification and Bond Fund. In addition, Once Upon a Farm is matching funds up to $15,000.
Another company that is very active in social and environmental causes, Nature's Path, let its voice be heard as well.
Ratana Stephens, Co-Founder of Nature's Path, wrote a letter (below and posted on Twitter) about the trauma she suffered as a child when she was uprooted from Lahore and fled to India with her family, losing nearly everything in the process.
"As parents, we will do anything to ensure our children are safe and have a future where they can thrive. At Nature's Path, regardless of the circumstance or individual beliefs, we feel families need our care," said Ratana Stephens.
To help support these separated children, Nature's Path is donating $5,000 to RAICES and is matching employee contributions up to $5,000.
If you are as heartbroken over this tragic situation as I am, please consider making a donation. Once Upon a Farm's GoFundMe page is here, and Nature's Path is directing donors to the RAICES Bond Fund here.
Even though this is not an organic food issue, this is an issue about helping our fellow human beings, and thank you so much to Once Upon a Farm and Nature's Path for stepping up.