New & Noteworthy in Organic – Juice Tasting Room in San Diego, Fantastic New Powders and Organic Clothing Pop-up in NYC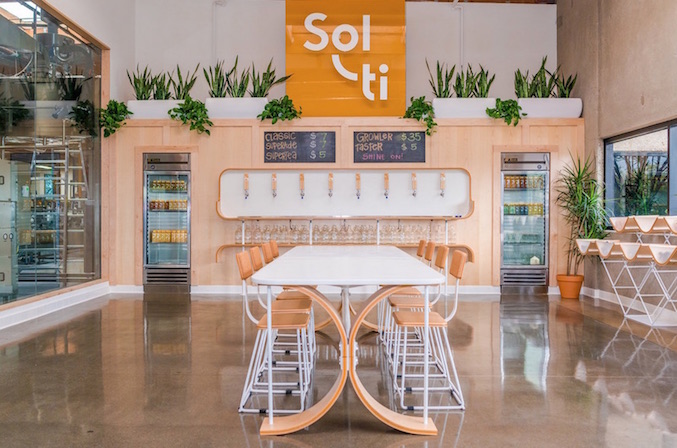 New & Noteworthy in Organic is a regular column where I share new and interesting organic products, drinks, restaurants, juice bars, books, events, and special promotions.
If you have any organic-related product or event that people should know about, please feel free to email me.
Solti, a fantastic pressed organic juice company in San Diego, has introduced several things that I have never seen before.
Not only is it selling pressed organic juice in glass bottles using UV light filtration – something completely novel and totally awesome – but it has opened a tasting room at its manufacturing plant.
Similar to how a brewery has a bar or restaurant attached to where it brews its beer, Solti has its own juice bar, or tasting room, attached its juice production facility.
The tasting room is open to the public, and you can go sample any of its juices, SuperTeas or SuperAdes from the taps on the wall. The company holds many events in this space as well.
If you'd like to get a tour of Solti's production facility and see what takes place behind the scenes, be sure to check out my recent Facebook Live from Solti with its founder Ryne O'Donnell.
If you are a vegetarian or a vegan and are looking to take part in the bone broth craze (without the bones, of course), Beyond Broth has got you covered.
The company makes three excellent plant-based broths — Immune, Vitality and Yummy Tummy — with sweet potato, carrots, beets, leeks, spinach, garlic and parsley serving as its core base in each one.
These broths come in small pouches, and are perfect for traveling and for keeping in the office when your mid-afternoon hits hunger pangs hit. Fantastic flavor, surprisingly filling, extremely satisfying.
For those of you who are more of a traditional bone broth aficionado, Vital Proteins, the company knows for its outstanding collagen peptides, has just launched two new products that you ought to know about.
Grass-fed (beef) bone broth collagen and free-range (chicken) bone broth collagen are both USDA certified organic and come in powder form.
What is one of the real high-quality organic brands that far too many people don't know about?
That answer is easy — Gold Mine Natural Foods.
The website and packaging are in the midst of a major re-brand, but don't let that sway you. This company puts out excellent products, and one of its top executives, Brian Bowers, former COO at Sunfood, truly understands food and has been a trusted source of mine for years.
The latest product from Gold Mine Natural Foods that I am very excited about is its Organic Purple Kraut.
Packaged in glass jars and unpasteurized, it is entirely handmade in small batches and aged in special ceramic crocks that allow it to foster the growth of friendly flora in a safe environment. Independent lab testing shows 7.8 million CFUs of live lactobacillus and bifidobacterium species per gram. That's 468 million per ¼ cup serving!
Use the code MAX10 at checkout and get 10% off your order.
Cocorau, which makes some of the most distinct and best chocolate that you've ever had, has come out with a line of super-potent powders, aptly named Immortal Elixirs.
My favorite of the bunch is Holy Body Powder, a mixture of all-organic herbs and superfoods including he shou wu, astragalus, rhodiola, shilajit, chlorella, cacao and cinnamon.
I take a teaspoon, add it to water and drink it daily. There is speck of coconut palm sugar in the formula, which makes it very easy to drink.
I'm really into powders these days, and this one rocks.
Two very cool events in New York City to tell you about.
Paul Hawken, the environmental and sustainability visionary (6 honorary doctorate degrees, 4 national best-sellers) will be at ABC Home tonight to do a talk and book signing for Drawdown.
Drawdown is Paul Hawken's latest book, and it maps, measures, models, and describes the 100 most substantive solutions to global warming. For each solution, the book describes its history, the carbon impact it provides, the relative cost and savings, the path to adoption, and how it works.
Tomorrow and Saturday, the Organic Trade Association will be hosting a first-of-its-kind pop-up event called Live ORGANIC: From Farm to Home. at Treehaus, an organic café and food market.
Top organic clothing and lifestyle brands, including Coyuchi, Rambler's Way, and Naturepedic, will be flying in from all over the country to present their products, all with the goal of increasing awareness of the importance of organic fibers and textiles.
Eating organic food and using organic/natural personal care products are extremely important, but they are not enough. Organic textiles is the last frontier that consumers must be thinking about because so much of the clothing that touches our skin, the body's biggest organ, is made with super-toxic chemicals and genetically-modified cotton.
Fashion's impact on the environment is enormous, and genetically-modified cotton is wreaking absolute havoc on the lives of Indian farmers. To see what is truly going on and why organic clothing should be a priority for all of us, watch the trailer of the heartbreaking documentary Bitter Seeds.
If you can't make the pop-up but would like to see what is taking place at Live ORGANIC: From Farm to Home, I'll be at the media event from 6-8pm EST tonight and doing a Facebook Live from there.
(No companies pay to be listed in this column. These are all products and companies that I genuinely believe in. For more information, please see my Financial Disclosure policy.)