Lundberg's Tri-Color Organic Quinoa is…..Grown in the U.S.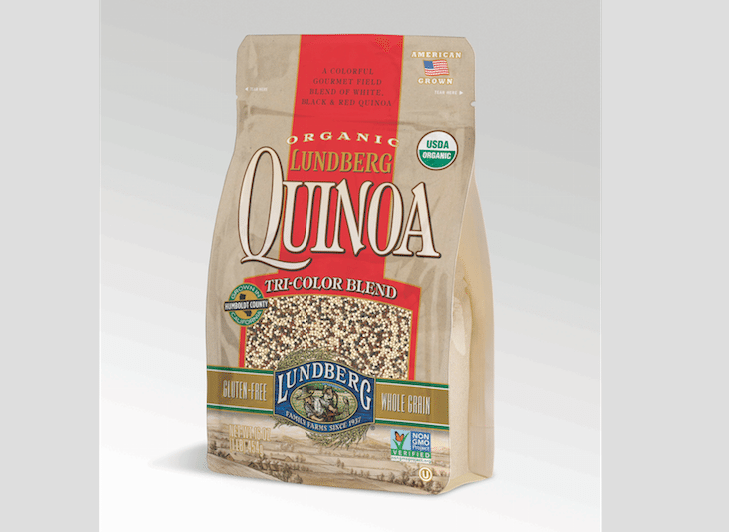 While many of us try to buy as much local as we can, I am not opposed to purchasing organic foods that come from far away, such as coffee, cacao, acai, and quinoa.
For the most part, these items are just not grown in the continental U.S.
Or, so I thought.
Recently, I was sent a bag of Lundberg Family Farms' organic tri-color quinoa and did a complete double-take when I saw that it was grown in California. I had absolutely no idea that quinoa was produced in this country and thought that it was exclusively harvested in the Andes in South America. (My assumption wasn't too far off as Peru and Bolivia account for roughly 90% of the world's quinoa production.)
Having witnessed quinoa explode in popularity – U.S. imports grew from 7.3 million pounds in 2007 to nearly 70 million pounds in 2013 – Lundberg decided to make a go of it here.
The company first started experimenting with quinoa on its farms five years ago and eventually invested in more than 250 acres of production dedicated to American-grown, organic quinoa. Lundberg also signed an exclusive agreement with Whole Foods Market to sell this product and last year became the first brand to connect U.S. organic quinoa growers to consumers on a national scale.
With decades of expertise in growing crops and an innovator in sustainable farming practices, Lundberg is able to address all aspects of quinoa production – from seed, to grower, to processing, packaging, distribution and communication to consumers, much like it does with rice.
An obvious question is how the company is able to grow quinoa with the drought taking place in California.
Apparently, Lundberg's quinoa is grown using dry-land farming, which does not use supplemental irrigation and relies on naturally occurring moisture. The company said that the drought did not adversely impact its quinoa this past year, as there was sufficient rainfall to provide the water that the quinoa needed.
Even though Lundberg had ample water supplies, growing quinoa here in the U.S. is no small feat. And that may explain why so few companies attempt to do it.
In terms of the product, Lundberg's tri-color quinoa was smaller than the quinoa that I have been eating for the last decade, so it took a little while to get used to. The taste was different, too. It had a nutty flavor and was much heartier, and required a longer cooking time.
Overall, I really enjoyed Lundberg's organic quinoa, and the fact that the company has gone to such an effort to grow it in the U.S. and support American organic farmers in the process means a great deal to me. This is a product that I want to get behind.
Lundberg's certified organic, tri-color quinoa is Non-GMO Project verified, vegan, kosher, and certified gluten-free, and the one pound bag is available at Whole Foods Markets locations nationwide for $7.99.