Living Tree Community Foods Lemon Olive Oil is The Best I Have Ever Had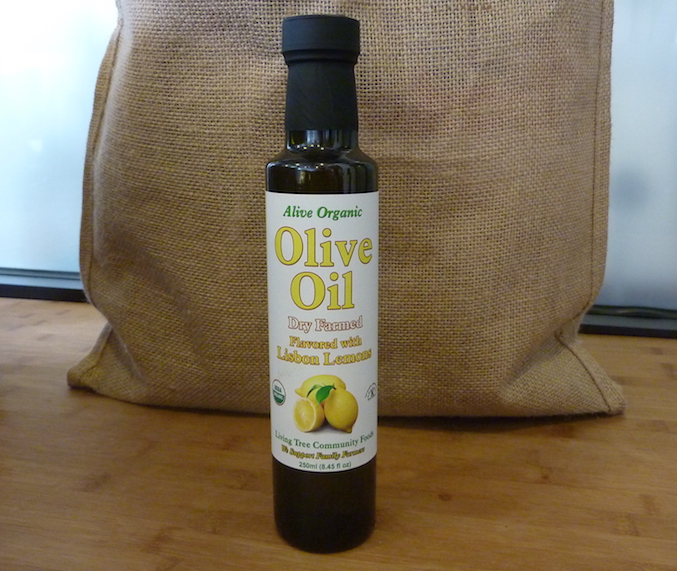 Over the past few years, I have developed a relationship with the founder of Living Tree Community Foods, Jesse Schwartz.
Jesse is the person who urged me to check out Organic Circle, an amazing organic kosher supermarket in Brooklyn, that I profiled last month in my Supermarket Spotlight column. Needless to say, I trust his judgment.
When he wanted to send me more samples of his products recently, he was pushing real hard for his almond butter.
I said to him, "Jesse, I am sure it is great, but I really can't eat almond butter anymore. For some strange reason, I now have an allergic reaction to eating almonds. It is better that you send me your lemon olive oil because that's what I really want to write about. It is the best olive oil that I have ever had."
This is not hyperbole. It truly is the best organic olive oil that I've ever had.
And when you learn how this lemon olive oil is produced, you'll understand the reason for my enthusiasm.
The olives and lemons are co-milled, which means that they are crushed at the same time. Hence, a single oil is extracted from the combination.
According to Living Tree Community Foods, most flavored olive oils are infused, with an extract being added. The process of co-milling, versus adding an extract afterward, results in a very different final product.
The olives are a Mission variety, which has been used in Europe for cooking and healing in Europe for thousands of years. Introduced in California a few hundred years ago, the Mission olive contains phenols that are not found in other varieties, particularly oleuropein aglycon, which has significant health benefits.
Not to be outdone, the organic Lisbon lemons are an heirloom variety that is richly flavored and deeply aromatic.
Yet, the story gets even more interesting.
The Mission olives are grown by family farmer Darro Greco on a 100% certified organic estate called the Berkeley Olive Grove.
Founded in 1913 by a group of professors from the University of California at Berkeley, the Berkeley Olive Grove brought experts in from Europe to create an olive grove that would sustain itself. The award-winning grove is located in Sacramento Valley, 150 miles from the town of Berkeley, and is situated in a unique geographical area at the western escarpment of Table Mountain. Water naturally percolates from an underground aquifer, and the trees are 100 years old and are dry farmed.
The end result is an organic lemon olive oil that is smooth, balanced and perfectly flavorful. I use it on all of my pasta and salads.
I have come to regard Living Tree Community Foods as a supplier of the highest quality organic foods, and this product might be the shining star of the lot. It's that outstanding.
The organic lemon olive oil can be purchased HERE.