Juicero Emerges from Stealth Mode, Will Completely Disrupt the Home Juicing Industry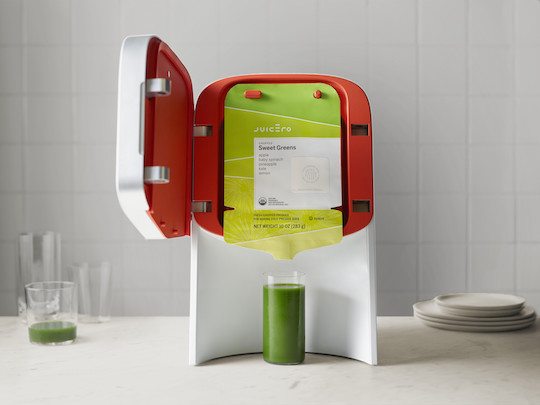 Over the last few years, there has been a lot of buzz, mystery and intrigue surrounding a secret company in Silicon Valley called Juicero. Not only has it raised more than $100M from venture capitalists, but it has been called "the future of juice" and "the biggest tech start-up you've never heard of".
Well, as of this morning, the company is no longer in stealth mode and has officially launched to the public.
And what you will find is something that I believe to be the most disruptive juicing technology since Norman Walker invented the Norwalk cold-press juicer in the early 20th century.
Founded by former Organic Avenue CEO Doug Evans and backed by blue chip investors such as Kleiner Perkins and GV (formerly Google Ventures), the company aims to do to juicing what Apple's iTunes did to music – to create an entire ecosystem that will completely change the way we juice at home.
Juicero describes itself as a "farm-to-glass" system and it has three main components:
Juicero Press – The electronic, Wifi-enabled, counter-top, hydraulic juice press that works at the press of a button. Yes, there's only one button.
Juicero Packs – Proprietary packs contain 100% raw, organic produce that is triple-washed, chopped, mixed, packed and delivered to your home ready for juicing. The innovative design allows the produce to breathe until the moment of pressing, ensuring fresh juice in every glass.
At launch, the packs will come in five flavors:
Greens (spinach, celery, romaine, kale, lemon, cucumber)
Sweet Greens (apple, spinach, pineapple, kale, lemon)
Spicy Greens (pineapple, romaine, celery, cucumber, spinach, parsley, jalapeño, lemon)
Carrot Beet (carrot, beet, orange, lemon, apple)
Sweet Roots (carrot, beet, orange, lemon, apple).
Juicero App – Compatible with iOS and Android devices, the app is required for first time setup of the Juicero Press. Once set up, the app helps you (1) see the origins, nutritional benefits, and freshness of your produce (2) track your current Juicero Pack inventory and (3) schedule, modify or cancel upcoming pack deliveries via FedEx.
PROBLEM WITH HOME JUICERS TODAY
As someone who has been juicing for decades, I am intimately aware of the three main problems of making juice at home, all of which Juicero solves.
Time – From start to finish, juicing at home takes anywhere from 45 minutes to an hour. With Juicero, it takes a few minutes to make your juice and requires absolutely no work. None.
Clean-Up – Because of how the entire system has been designed, there is literally almost no clean-up.
Juice Quality – Many home juicers, particularly the centrifugal ones, create tremendous oxidation and do not extract as many nutrients and vitamins as a cold-pressed juicer. I sampled Juicero's juice several weeks ago, and it is as good of a juice as you will find. Plus, with the packs, the produce will be picked from the ground and in your home within 72 hours. This ensures maximum freshness of the fruits and vegetables that you are consuming.
AVAILABILITY
The Juicero Press retails for $699, and Juicero Packs cost $4-$10 each, based on the flavor.
Juicero will be launching first in California, and consumers in that state will be able to pre-order machines now, for delivery this summer. The company will also be partnering with select health, lifestyle, and food brands including Le Pain Quotidien and Gracias Madre to offer its juices.
A time frame for roll-out to the East Coast and to the rest of the U.S. has not been announced just yet.
MY TAKE
As I mentioned above, I sampled the Juicero juice several weeks ago, and it is phenomenal, in both quality of the product and taste. Equally as important, the system offers an unprecedented experience of juicing at home.  There is no prep and zero mess, and the entire process takes just minutes. Juicero will completely raise the bar as to what home-juicing should be about.
With the popularity of juice exploding and people beginning to understand the tremendous benefits of a cold-press juicer (less oxidation, superior extraction method), Juicero will disrupt the juicing market in a way that we have yet to see. Without question, it will be the talk of the town in the juicing world, and I truly believe this to be a transformative technology.
I cannot wait to get mine!
For more information or to purchase a machine, visit juicero.com.