12 Compelling Finds at Indie Beauty Expo in New York City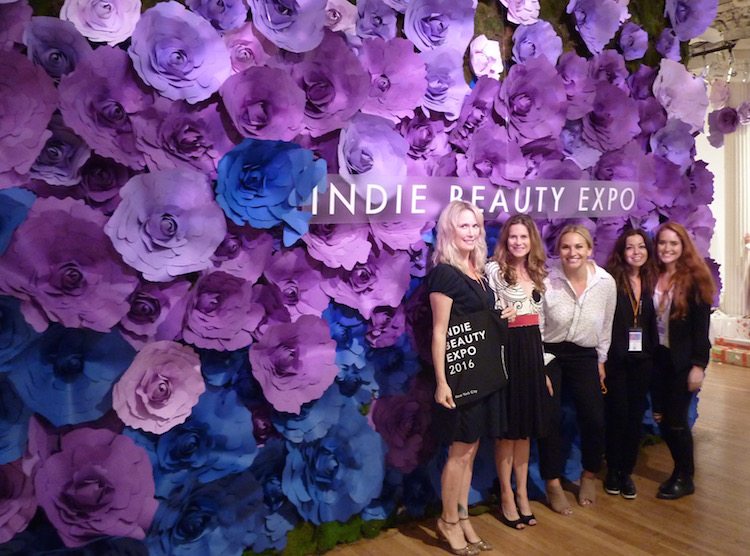 Last week in New York City, I attended Indie Beauty Expo, a showcase for independent organic and natural personal care products. This was the second year of Indie Beauty Expo, and I was incredibly impressed by both the show itself and the quality of the companies that presented.
While Living Maxwell mainly deals with organic food, body care products will be an area of focus going forward. This is because 60% of whatever we put on our skin gets into our bodies. So, that means the personal care products that we use are of utmost importance.
Here were 12 of the most interesting finds at Indie Beauty Expo. Some are USDA certified organic, while others contain both organic and natural ingredients.
JAVA SKIN CARE
I must confess that I have been using the coffee bean and raw sugar body scrub from Java Skin Care non-stop since Indie Beauty Expo. Made with organic green coffee, I am totally hooked on this product.
Plus, I am partial to any company based in Rhode Island, the state where Java Skin Care is based and where I went to college.
Java Skin Care is available at locations throughout the U.S.
COCOKIND
San Francisco-based Cocokind is no longer just coconut oil products. I love the company's innovation with its new USDA certified organic line of chia facial oils, sea moss exfoliators, matcha moisturizers and baby calming powders.
Cocokind can be purchased online.
WEDDERSPOON
I have been a fan of Wedderspoon for a long time now and the company sells the best Manuka honey on the market. Now, Wedderspoon has launched Manuka body lotions and facial cleansers. Very cool!
For those who don't know, Manuka honey is considered to be one of the most multi-dimensional foods in the world, containing complex sugars, live enzymes and other naturally occurring compounds.
Its body care lotions and cleansers will be coming out very soon, and its Manuka honey can be purchased at retailers throughout the country and online.
BOTTEGA ORGANICA
Formulated by a world-renowned molecular biologist, Dr. Andrea Alimonti, Bottega Organica is a serious product. Having screened thousands of different plants for their ability to maintain human cells in a youthful state, the company identified prawn sage to have the most active anti-aging properties, which serves as the basis for Bottega Organica's skincare line.
Dr. Alimonti's research is published in the most prominent peer-reviewed international scientific journals, such as "Nature".
Bottega Organica is available at select retailers throughout the country.
URSA MAJOR
I am super-excited to try the deodorant from Ursa Major, as it has gotten absolutely rave reviews, smells out of this world and I have a general dissatisfaction with the deodorants on the market. Furthermore, Ursa Major does not stain your clothes, which is a serious plus.
Ursa Major's deodorant can be purchased online.
EDIBLE BEAUTY
Aside from the fact that everything in Edible Beauty's products can be safely eaten, its most compelling ingredient is the Kakaudu Plum.
The Kakadu Plum is a fruit native to the Aboriginal people in Australia and is considered to have the highest source of natural Vitamin C in the world, 100 times more than the Vitamin C found in oranges.
It is expected that Edible Beauty will be available for sale in the U.S. very soon.
DR. FEDORENKO 
If you're afraid of Zika but don't want to put a super-toxic bug spray on your body, Dr. Fedorenko has the answer. She has developed a certified organic Bug Stick that repels ticks and mosquitos while nourishing the skin. A very necessary and timely product.
The Bug Stick can be purchased online.
J.R. LIGGETT'S
J.R. Liggett's had probably the smartest product that I saw at the show – a shampoo that comes in a bar of soap. Perfect for camping, traveling and getting through those TSA lines at the airport.
J.R. Liggett's shampoo can be purchased online.
ERBAVIVA
Erbaviva had a whole line of very interesting USDA certified organic body care products, and I especially loved what they are doing for babies. Additionally, Erbaviva takes giving back and social responsibility very seriously, something that means a great deal to me.
Erbaviva products can be purchased online.
TRUE MORINGA
As you may remember, moringa was one of my Top 5 Organic Food Trends for 2016.
So, it was very exciting to see True Moringa incorporating this incredibly nutritious ingredient into its cold-pressed body oils.
True Moringa oils can be purchased online.
MAX AND ME
From Austria, max and me offers high vibration oils, balms, and cleansers. Plus, I love the positive messages on the packaging.
It is available at select retailers in California.
PROVINCE APOTHECARY
A fascinating product out of Canada, Province Apothecary is using fractionated coconut oil in its Sex Oil and Lover's Oil products. Fractionated coconut oil removes the long-chain triglycerides and makes it much more light. If you use coconut oil in the bedroom, you know how heavy coconut oil can be. This solves that problem.
The company has retail locations in Toronto and sells its products online to customers in both the U.S. and Canada.
—
Overall, I cannot say enough good things about Indie Beauty Expo and it is a show that I now look forward to each year.
If organic and natural body care is of interest to you, this is one event that you definitely want to check out. It isn't just for the trade but for consumers as well. For more information, be sure to visit Indie Beauty Expo's website.