Green Bar & Kitchen in Fort Lauderdale, Florida is a Winner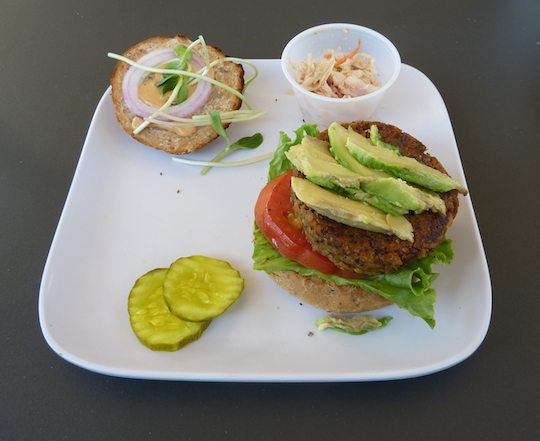 For a few years now, I had been hearing non-stop about Green Bar & Kitchen, an organic plant-based restaurant in Fort Lauderdale, Florida.
Some of my friends in Miami insisted that Green Bar & Kitchen made the best veggie burger that they had ever eaten. Others were simply shocked that I hadn't been there yet.
Even though I have been in Miami a good number of times over the past few years, for some reason I just had never made the 30 minute drive north to check this place out.
Until recently, that is.
Needless to say, I am very happy that I finally got to experience Green Bar & Kitchen and definitely wish that I made it there sooner. Here's what I had for brunch.
GBK DELUXE BURGER
The GBK Deluxe Burger is the signature item at Green Bar & Kitchen and was as good as advertised. It had perfect texture and great taste, something lacking in so many veggie burgers.
This one was made with brown rice, quinoa, chickpeas, roasted vegetables, sunflower seeds, garlic, lettuce, tomato, and vegan chipotle mayo on a burger bun. Plus, cole slaw on the side.
CHIA PANCAKES
I am a huge pancake fan, and these chia seed pancakes really hit the spot. Very filling, hearty, and protein packed.
They were made with chia seeds, gluten-free baking flour, olive oil, agave, vanilla, baking soda, and sea salt.
I would definitely have this again.
AZTEC DREAM
For dessert, I had the Aztec Dream, a cacao smoothie made with almond milk, bananas, dates, cacao, cinnamon, maca, coconut oil, clove and a dash of cayenne. Rich, thick, and just the right amount of sweetness. Super-refreshing.
—
Overall, I could not have enjoyed myself more at Green Bar & Kitchen. The food was fantastic, the service was friendly and extremely professional, and the place was very clean, something of utmost importance to me.
Yet, one of the best parts about Green Bar & Kitchen, which all of my friends failed to mention to me, was its outdoor patio.
To be able to eat an amazing organic meal on a relaxing patio in the gorgeous Florida weather is a luxury. There was a real zen quality to sitting out there – maybe the buddhas had something to do with it – and I easily could have stayed for hours were it not for the flight that I had to catch.
The best restaurants understand that it is all about providing a superior dining experience, not just serving great food, and these are the places that you're in no rush to leave.
Green Bar & Kitchen is a winner, and I can't wait to go back.