Our Fundraiser at Natural Products Expo East 2015 in Baltimore to benefit Regeneration International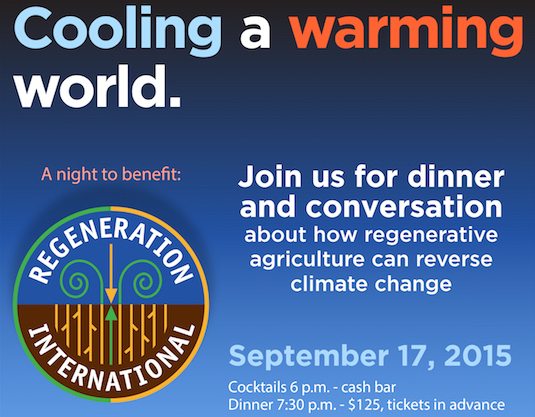 Over the past few years at Natural Products Expo East, my friend Vani Hari and I have hosted dinners to raise money for GMO-labeling.
With no major GMO-labeling initiative on the calendar this year, we are now turning our attention to something equally as important – climate change.
The proliferation of GMOs and super-toxic pesticides has contributed mightily to a warmer climate, and a group called Regeneration International was recently formed to help address this very serious issue.
Through engaging multiple stakeholders, Regeneration International aims to create global awareness of how regenerative agriculture can mitigate climate change through carbon sequestration, improve human and environmental health, and provide long-term agricultural productivity and resilience to smallholder family farmers.
On September 17th in Baltimore during Natural Products Expo East, Vani Hari and I will be hosting a dinner and cocktail party to raise money for this important organization.
The event will take place at the Inn at the Black Olive, and all net proceeds will be donated to Regeneration International.
Seating is very limited, so please reserve your spot early. All of our previous events have sold out, and we fully expect the same to happen at this one.
For more information and to purchase tickets, click HERE.
Vani and I look forward to seeing you there!
—
Also, if you are going to be at Expo East, my friends at the Inn at the Black Olive are doing some other things to keep us fed with healthy, organic food.
On September 16th, the night before the trade show floor opens at Expo East, the Inn at the Black Olive will be hosting a raw, vegan, organic dinner.
The hotel, known in the Baltimore community for its raw food events. previously held dinners for raw food celebrity David Wolfe, actor Woody Harrelson (he happens to own the hotel, too) and magician David Blaine.
For more information about this event and to buy tickets, click HERE.