Low Sugar, Organic Powdered Mini Donuts — Foodstirs Introduces its Fantastic Junk-Free Bakery™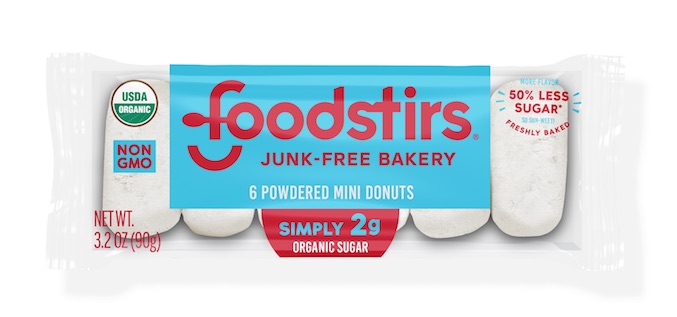 For nearly all of us who have migrated to an organic lifestyle, the idea of incorporating powdered donuts or blueberry muffins into our diets is something we don't even ponder.
The artificial colors and flavors, the trans fats, the absurd amounts of sugar, the way this junk food makes us feel.
Eating these products is a memory of the past when we either didn't care what we were consuming or were not aware of the harm that these foods were causing to our bodies.
But thanks to Foodstirs, we can go back to our old habits…….but without subjecting ourselves to the nasty ingredients or sugar spikes.
Just as it revolutionized organic baking mixes, Foodstirs is now doing the same with ready-to-eat organic baked snacks.
"This is one of those transformative products where there is zero compromise. Customers refuse to compromise, and we are delivering on those expectations," said Greg Fleishman, President/COO and Co-Founder of Foodstirs.
The full line includes six ready-to-eat, organic baked goods — powdered mini donuts, double chocolate powdered mini donuts, blueberry mini muffins, chocolate brownie bites, chocolately chippy mini muffins, and snickerdoodle blondie bites — and all of them contain only 2 grams of organic sugar per serving.
"All companies are trying to lower sugar levels without compromising and that has been the mission from Day 1 for our Junk-Free Bakery™. The other thing is that we are continuing our commitment to use the best organic and regenerative ingredients possible," echoed Galit Laibow, the company's CEO and Co-Founder.
"Everyone can now finally feel good about indulging in these classic treats, especially parents who want to upgrade their children's lunchboxes," said Sarah Michelle Gellar, Co-Founder and Chief Creative Officer.
Keenly aware of customer demand for this type of fresh product, the nation's top retailers have been aggressive in partnering with Foodstirs to make these innovative snacks available to their shoppers.
The ready-to-eat baked goods are currently for sale in the bakery section of select Whole Foods Market stores in the Northeast Region, where executives John Lawson and Jay Jay Queja played a critical role in helping to launch this new Junk-Free Bakery™ line. Availability will soon expand to other regions.
Kroger, through its Fred Meyer supermarket chain, will be carrying these products as well in hundreds of its locations.
A nationwide rollout at these retailers and others will take place throughout the rest of 2019.
UNIQUE MARKET INTELLIGENCE AND BUILDING A LASTING BRAND
What makes the launch of this line so unique is the way in which the company is able to identify and test its products.
"Donut kits are the number one selling product in our online store. So, we have insight that people want indulgent experiences," said Galit Laibow.
But it isn't just analytics that Foodstirs looks at when developing products.
"All three of us have kids, and everything that we do — whether it is new products, recipes, packaging — goes through them. They share the brand with their friends at school and after basketball games, and we get unfiltered feedback, for better or for worse," acknowledged Greg Fleishman.
While the three founders have worked overtime to keep the quality of the ingredients high and sugar content very low — something that their children may not fully appreciate just yet — what does not go by unnoticed is taste.
"The food that we put out has to taste amazing, without compromise," said Galit Laibow. "Yet, our goal is bigger than that. We are striving to build an iconic brand that lasts forever and is focused on creating experiences. We want to become a part of people's lives on a daily basis."
Along with its new rebrand, which emphasizes fun and appeals to a much wider and younger demographic, Foodstirs is proving with its Junk-Free Bakery™ that it is well on its way to accomplishing this goal.
In a very short period of time, the company has already disrupted the organic baking mix category and is set to do it once again for ready-to-eat baked goods — a feat that will demonstrate that it is among the absolute best innovators in the organic food industry.
Foodstirs is a sponsor of Living Maxwell.