A Fantastic Evening at Exhibit C in NYC with Mind Travel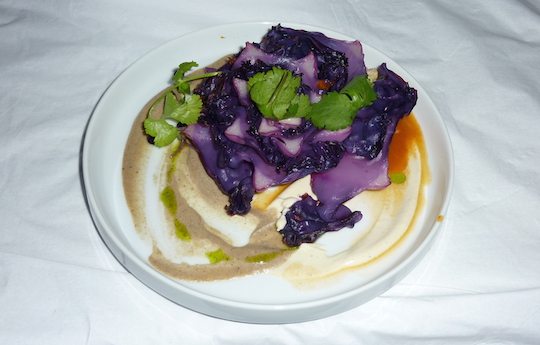 Last week, I attended my first event at the newly-opened Exhibit C, the brainchild of acclaimed vegan chef Daphne Cheng.
Located in New York City's Lower East Side, Exhibit C is not a restaurant nor is it your standard event space. To be honest, I had trouble wrapping my arms around exactly what this place was until I experienced it first-hand.
On her website, Daphne Cheng describes it as: a food-as-art gallery, a kitchen classroom, a recipe laboratory, a culinary incubator, a never-ending celebration of food.
I would say it is all of those things and a lot more. But let's first talk about the delicious, plant-based food that we enjoyed.
FIRST COURSE

This salad had green and yellow squash, roasted beets, spinach, candied pumpkin seed, truffled ricotta, and champagne vinaigrette. Very refreshing and light.
SECOND COURSE

The combination of millet, red cabbage, smoked tomato sauce and fresh cilantro did not last long on my plate. The cabbage had an incredibly soft texture, and the millet had beautiful flavor.
THIRD COURSE
The sweet potato banana chia mousse had kabocha squash, caramel, cashew fruit syrup, walnut butter, and blueberry and cranberries in chardonnay. Sign me up for chia seeds and kobocha squash in my dessert any day of the week.
Along with the great tasting food, the evening's agenda consisted of a guided meditation, a talk about the latest neuroscience developments, and a performance by musician Murray Hidary called Mind Travel.
Just as the name explains, Mind Travel is Murray Hidary's musical manifestation of getting the mind to go where it needs to be. For me, the 20-minute performance helped me gain much greater awareness and clarity in my life. It was very powerful.
While the food and entertainment were both wonderful, the best part of the night were the new and like-minded people that I got to meet.
Building community is a clear goal at Exhibit C, and that is one of the reasons why this new venue will absolutely succeed. Quite simply, Exhibit C is a place where you want to spend your time.
I definitely look forward to going back!