Coco Mojo and Maca Blend from Essential Living Foods are Two Great Products, Smoothie Recipe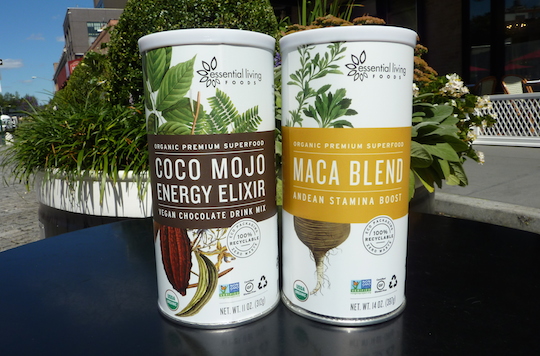 There may be other brands of superfoods on the market that are more well-known and have wider distribution, but when it comes to quality, Essential Living Foods holds its own with anyone.
I have had long discussions with CEO Kipp Stroden about how and from where he sources his products, and I can assure you that he has done his homework. I trust him completely.
Two products that I believe are extremely well-formulated and have great taste are Essential Living Foods' Coco Mojo and Maca Blend.
What makes Coco Mojo and Maca Blend unique is that they are blends. Coco Mojo is not straight cacao powder, and Maca Blend is not straight maca. Instead, they are combinations of superfoods.
While I often buy single bags of cacao powder or maca, it is very convenient to have products that contain numerous superfoods all-in-one.
For example, Coco Mojo not only has cacao powder (which is LOADED with powerful antioxidants) but mesquite, vanilla, lucuma, guarana, Himalayan sea salt, and coconut palm sugar as well. So, I can get all of these superfoods in one jar, including the sweetener, coconut palm sugar.
Maca Blend has several different kinds of maca – yellow, black, red, and premium – instead of just one.
Yellow maca is good for energy and concentration, red maca has the highest level of phytonutrients of all macas, black maca is good for muscle building, endurance, mental focus, and for the male libido, and premium maca has higher levels of glucosinolate, which help hormonal balance and has anticancer properties.
As soon as I saw the ingredient list for each of these products, I was immediately impressed and couldn't wait to start incorporating them into my morning smoothies. Needless to say, I was very, very happy with what I tasted.
The more I use products from Essential Living Foods, the bigger fan that I become of the company. From the packaging to the great product mix to the integrity of the ingredients, Essential Living Foods just does it right.
Coco Mojo can be purchased online by clicking HERE.
Maca Blend can be purchased online by clicking HERE.
Each product is USDA certified organic, Non-GMO Project verified, certified gluten-free, certified vegan, raw, and kosher.
CHOCOLATE POWER SMOOTHIE
Here is my recipe using Coco Mojo and Maca Blend for something that I am calling a Chocolate Power Smoothie.
Organic ingredients used:
– One 16 oz. glass of Brazil nut seed milk. (See video below for how to make nut milk. I used 3.5 cups of cold filtered water and 3/4 cup of Brazil nuts. If possible, soak the nuts overnight in a covered glass of filtered water in the fridge)
– 1 large banana
– 1 teaspoon of Coco Mojo
– 1 teaspoon of Maca Blend
– Dash of cinnamon
– 1 tablespoon of Essential Living Foods' pastured-fed organic whey protein (non-vegan) or Nutiva's organic hemp protein (vegan).
Finally, put all of the organic ingredients into the blender for 20 seconds.
Optional: 1 teaspoon of coconut palm sugar if you need more sweetness.
Enjoy!
—-
If you are having this smoothie for breakfast and want it cold right away, be sure that you put the filtered water in the fridge the night before, so it is sufficiently cold when you make the smoothie in the morning.
The strainer that I am using in the video below is this one.