WOW!! Campbell's Announces that It Will Disclose GMOs, Breaking from its Peers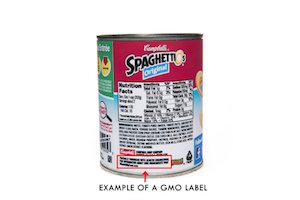 In a bombshell announcement last night, which was first reported in The New York Times, Campbell Soup Company has broken away from its peers and has decided that it will disclose all genetically-engineered ingredients in its products.
CEO Denise Morrison announced to her company:
"At Campbell, we are unleashing the power of our Purpose, Real food that matters for life's moments. Our Purpose calls for us to acknowledge that consumers appreciate what goes into our food, and why—so they can feel good about the choices they make, for themselves and their loved ones.
Today, consistent with our Purpose, we announced our support for mandatory national labeling of products that may contain genetically modified organisms (GMO)"
Campbell has finally come to its senses and acknowledged that consumers have a right to know what they are eating.
On its website, Campbell explained this move. Highlights include:
The company supports a national GMO-labeling bill.
The company supports a national standard for Non-GMO claims on food packaging.
It will no longer support efforts that fight against GMO-labeling and will withdraw from any coalition that doesn't support GMO-labeling.
If a federal GMO-labeling bill is not passed before Vermont's GMO-labeling bill goes into effect on July 1, it will voluntarily label all of its products that contain GMOs. If this happens, it should take about 12 to 18 months to go into effect, according to The New York Times.
Approximately 75% of all of its products contain GMOs, either from corn, canola, soy, or sugar beets.
MY TAKE
Needless to say, this is an absolutely monumental decision by Campbell Soup. Here is my take.
This will cause a MAJOR domino effect in the food industry. Not wanting to be left behind, other conventional food corporations will feel compelled to take similar action and will disclose to their customers, as well, if their products contain GMOs.
If other companies come on board, this could mean a true federal GMO-labeling bill could become a reality quite soon.
What this also means is that Vermont's GMO-labeling bill could potentially serve as the major linchpin for making this all happen. Why?
Because Vermont's bill and its July 1st deadline truly forced food companies to deal with this issue. As such, Campbell took a hard look at its policy and the trends in the marketplace, and decided to finally take the right course of action.
What will this mean for Campbell's sales? I can't say and only time will tell. However, Campbell customers will probably have greater loyalty towards the company now because of its transparency.
One thing we do know is that this will cause consumers to start asking a lot more questions about genetic engineering, since it will soon be labeled on all of Campbell's products and possibly the products of many other conventional food companies. And when consumers do their research, many will not like what they find.
Invariably, this is only going to drive greater demand for organic, which prohibits GMOs.
Despite the fact that Campbell's will continue to use GMOs and believes that these ingredients are safe, I want to acknowledge the company for taking a very bold step of labeling its products that contain GMOs and calling for a national standard.
Every American citizen has a right to know what is in their food, and the first major conventional food company in the U.S. has finally acknowledged this.
This was a smart business decision. And the right one.