Top 5 Organic Products from Natural Products Expo East 2019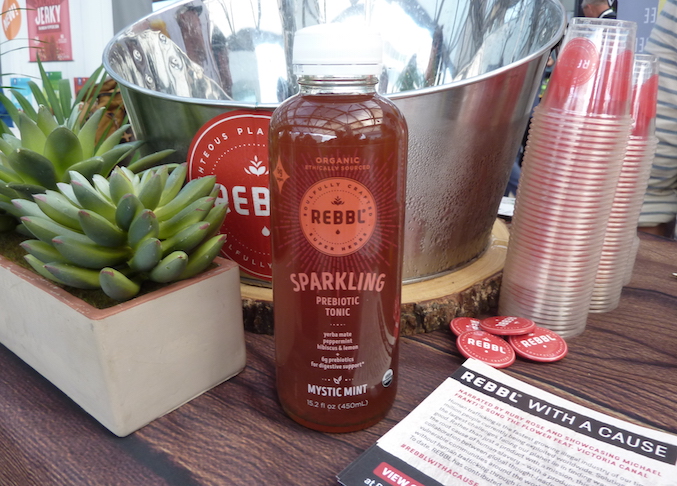 As I do each year after Natural Products Expo East, I give awards for the best organic products of the show.
This year, it was exceedingly difficult to narrow the list down to five, as I easily could have easily named at least twelve standout products, all of which demonstrated excellent innovation and had fantastic taste.
Here are my top 5 organic products from Natural Products Expo East 2019 in Baltimore.
POZOLE BROTH BY OCEAN'S HALO
There may be organic brands that are more well-known or have been around longer but when it comes to product development, Ocean's Halo is as good as anyone in the entire industry. Anyone.
Several of the broths from Ocean's Halo easily could have made this list, but its new Pozole took home the award.
Pozole is a traditional Mexican soup, and this version is roasted with organic ancho peppers, kelp and loads of spices.
If this were served to you at a dinner party, you would have absolutely no idea that it came from a box. Complex flavors, beautifully balanced, insanely impressive.
This product is available at retailers nationwide.
CHOCOLATE, GRASS-FED COLLAGEN POWDER BY DR. MERCOLA
It is not easy to find USDA certified organic collagen powder from grass-fed cows born and raised in the U.S. 
Maybe that is why I got so excited when I came across this product at the show.
This organic collagen powder, which also comes in a vanilla flavor, contains abundant Type I, II and III collagen as well as other types that are key components in your skin, nails, hair, tendons, ligaments, muscles, bones, joints, gut and blood vessels. It is unhydrolyzed and minimally processed, so you get this wider range and balanced ratio of complementary amino acids rather than just isolated peptides as with hydrolyzed products.
Having gotten to know the people behind Dr. Mercola, I have come to appreciate their very stringent standards, and this is one brand that I deeply trust.
Outstanding product.
MYSTIC MINT SPARKLING PREBIOTIC TONIC BY REBBL
At Expo East, REBBL introduced a line of sparkling prebiotic tonics and its Mystic Mint flavor was my absolute favorite.
With 6 grams of plant prebiotics for digestive support and half the sugar of kombucha, Mystic Mint also contains yerba mate, peppermint and hibiscus.
I loved how refreshing Mystic Mint was but also that it was cool, hydrating and energizing at the same time. Palo Hawken, REBBL's co-founder and chief innovations officer, knocked it out of the park with this one.
This is exclusively available at Whole Foods Market, and just like all of the company's other drinks, 2.5% of all net sales are donated to Not for Sale, an organization that fights human trafficking and slavery around the world.
IMMUNE+ SHOTS BY KOR
The shot market is on fire these days, and Kor Shots is stepping up its game with its latest addition — Immune+.
After all, how many juice shots do you know that have a supplement panel in its packaging, not just a nutritional panel?
With its 480 milligrams of Vitamin C (533% of DV), the Immune+ has a delicious and refreshing taste, and contains powerful ingredients such as acerola, lemon, ginger, astragalus, black seed oil and cordyceps.
This has to be one of the most interesting and innovative shots on the market today. It will be available beginning October 17th at all Whole Foods Market locations.
SMOKED GOUDA CHEESE BY PLANT PERKS
I discovered this organic plant-based cheese from Plant Perks at the Expo East Harvest Festival, the afternoon event the day before the trade show floor opens.
It only took one bite of the smoked gouda spreadable cheese to know that this was going to be in my top 5. The other sign of how much I liked it was that I kept eating sample after sample, clearly not shy of embarrassing myself.
Excellent smoky flavor, fantastic texture. One of the best plant-based cheeses I have had.
Made with organic cashews, MCT oil, Worcestershire sauce, filtered water, nutritional yeast, onion powder, cultures and sea salt, Plant Perks is available nationwide but mostly in the Pacific Northwest.