I almost fell over yesterday when I was at the Whole Foods Market (Fresh Pond Store) in Cambridge, MA. Let me explain…
Before entering the check-out line, I was looking at the marketing materials related to Whole Foods' new Health Starts Here campaign — an initiative based on a plant-based, nutrient-dense diet.
The first thing I saw was the big poster that ranked foods based on an index called the Aggregate Nutrient Density Index (ANDI).  ANDI was created by Joel Fuhrman, M.D., the chief medical officer of an organization called Eat Right America.
Foods are ranked from 1 to 1000, with the most nutrient-dense foods having the highest scores.  Collards and kale have scores of 1000 while soda has a score of 1.  What was displayed at the store today was an abbreviated list and did not contain all the scores that are available on the ANDI website link above.
The second thing I saw was the display of about seven books where magazines are normally stacked.  This is where I couldn't believe what I was seeing.
There was a copy of The China Study by Colin Campbell, PhD.
For those unfamiliar with this book, it is the culmination of 20 years of research into the lifestyle habits of people in rural China and Taiwan.
Dr. Campbell said that "People who ate the most animal-based foods got the most chronic disease … People who ate the most plant-based foods were the healthiest and tended to avoid chronic disease. These results could not be ignored."
I had heard about The China Study a few years ago through some of my raw food friends.  Given that raw foodists eat an organic/vegan diet, Dr. Campbell is a household name within this community for obvious reasons.
The fact that a supermarket, which sells a ton of animal products, would sell The China Study is nothing less than completely and utterly shocking.
The third thing I saw was a marketing brochure (see below) about the Health Starts Here campaign.  It listed four healthy eating principles: Plant Based, Whole Foods, Low Fat and Nutrient Dense.
The first row in the third bullet point under the Low Fat criteria said "Reduce or eliminate consumption of animal products".  I had to stare at the paper for about 10 seconds in order to believe what was actually written there.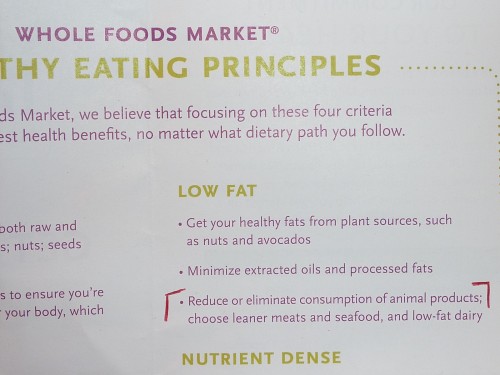 Not only does Whole Foods have The China Study sitting by its cash registers, some of the most valuable real estate in the entire store, but the the market is now telling consumers not to buy the animal products that it is selling!
Inconsistent Marketing Messages
Another interesting point here is that there has been a lack of consistency in the messages that Whole Foods has been delivering to the public in regards to this program.
* In a press release dated January 21, 2010, only three of the criteria were mentioned — Plant Based, Nutrient Dense and Whole Foods. The Low Fat criteria, which contained the "eliminate consumption of animal products" in the marketing brochure (see above), was absent. Nothing in this press release mentioned animal products specifically.
* In the marketing brochure that I picked up at the store on February 5, 2010, four of the criteria were mentioned — Plant Based, Nutrient Dense, Whole Foods and Low Fat. Under the Low Fat criteria, it said to "reduce or eliminate consumption of animal products."
* On the Health & Nutrition: Health Starts Here page on the Whole Foods website on February 5, 2010, four of the criteria were mentioned —  Plant Based, Nutrient Dense, Whole Foods and Low Fat. However, the content on the website differs from the content in the brochure and press release.
Under Plant Based, it says "minimizing your consumption of meat, seafood, poultry and dairy products, if part of your diet."  In the press release and brochure under Plant Based, there is no mention of "meat, seafood, poultry and dairy products."
Also, under Low Fat, it does NOT say to "eliminate consumption of animal products" as it does in the brochure.
The one thing to consider is that maybe these inconsistent marketing messages could be very deliberate and well-thought out.  To do a PR blast and have on the company's website that people should eliminate animal products might have easily and quickly generated a lot of negative publicity.
Having "eliminate consumption of animal products" language only in the in-store brochures is a lot more subtle, innocuous and possibly influential.
My sense is that consumers are more apt to read a brochure by the check-out line than they are to read a press release or something buried in the Whole Foods website.
How This Policy Came About
Anyone who has followed John Mackey, the CEO of Whole Foods, knows that he is no wallflower and is not afraid to speak his mind, even if it means angering his customers.
An example of this was when he wrote an op-ed piece last August in the The Wall Street Journal blasting President Obama's health care plan.  Needless to say, this drew the ire of many of his shoppers. So, when it comes to implementing the Health Starts Here initiative, it should come as no surprise that Mackey is leading this charge as well.
About a month ago or so, I tweeted about an article that was written in the New Yorker magazine which profiled Mackey.
The story mentioned was how Mackey had been heavily influenced by The Engine 2 Diet, a plant-based diet and book by an Austin, Texas, firefighter and former professional triathlete named Rip Esselstyn. This inspired Mackey, who had already been a vegetarian and vegan for many years, to eliminate all vegetable oils, sugars and anything processed from his diet.
A few things happened as a result of The Engine 2 Diet.  One, he ended up losing fifteen pounds.  Two, he seemed to have greater resolve to put Whole Foods on a similar diet as well.
Fast forward roughly six months: Whole Foods launches Health Starts Here, which closely mirrors the CEO's personal nutritional philosophy.  The Engine 2 Diet and Eat Right America are both official health partners in this program.
My Takeaway
First and foremost, this Health Starts Here initiative is incredibly bold.  Whole Foods has tremendous influence in the U.S. when it comes to healthy eating, and the fact that it can take such a stance will probably be one of the most interesting organic food-related stories for some time to come.
This new program leaves me with three main questions and many underlying ones.
1) What will be the product profile of Whole Foods going forward?
If they are pushing plant-based foods, what does that mean for all of the meat, fish and dairy products that they sell?  What about the salad bar?  The sandwiches?  The prepared food? I would venture to say that 30-40% of the items in the store are animal products or have animal products in them..
If Health Starts Here really takes off and people move to a more plant-based diet, how will that change what Whole Foods sells?
2) How does this impact the Whole Foods brand and business?
With its near monopoly on organic food retailing in the U.S., is it a smart decision, from both a financial and brand perspective, to tell people not to eat animal products?
How will this impact its revenues?  What will this do to its brand equity? How will its reputation change? Will this allow for a new entrant into the organic food marketplace, a competitor who espouses a diet based on animal products?
In December 2009, John Mackey resigned from his post as chairman of the board.  He now holds the title of just CEO. From my perspective, his resignation had very much to do with this Health Starts Here program that he so strongly believes in.
Major discussions and arguments had to have taken place at numerous board meetings, and allowing him to pursue Health Starts Here was probably the result of a negotiation in which he agreed to relinquish the title of chairman in return.
Even though Leonard Green & Partners, the company's largest shareholder, must have given the green light for Health Starts Here, there is no question that this private equity firm will be paying very, very close attention.
3) Will this be the first of many companies trying to aggressively influence the health of its customers?
It is fairly obvious that most people believe the government is not doing a good job of managing health care in the U.S.
So, does this mean that other corporations will follow the lead of Whole Foods and aggressively try to use their power and influence in order to improve the health of the general population?
——
The extent to which Whole Foods can change consumers' diets remains to be seen but it will be something very interesting to watch.