Wednesdays at Whole Foods – Top Trends for 2015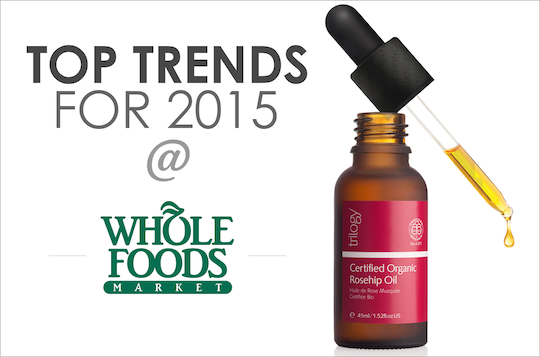 On the first Wednesday of every other month, I have a column called Wednesdays at Whole Foods. It showcases the most interesting news, products, store events, and happenings at the company. Today's column is a slight departure from the normal format.
—-
There are very few people on the planet that have more insight into what is going on in the organic food industry than the department heads and buyers at Whole Foods Market.
After all, these are individuals who put billions of dollars worth of products on supermarket shelves. Not only are they market influencers and tastemakers, but at the end of the day, they are also responsible for figuring out what consumers are willing to spend their money on.
In the context of their positions at Whole Foods Market, I asked each of them to share what they see as the biggest trends for 2015.
GROCERY TRENDS – from Dwight Richmond, Global Grocery Purchasing Coordinator
The growth and demand for fair trade products has been explosive over the past few years, and it will continue to rise through 2015 as customers become increasingly interested in knowing where their food comes from and how it is produced.
To give one very timely example, (with Valentine's day right around the corner), our fair trade chocolate sales have grown more than 350% over the past five years. In 2014 alone, we sold more than 1,111 tons of fair trade cocoa in our stores just in the grocery department alone! That makes a HUGE difference for the farm workers who harvest the cocoa, as well as their families and their communities.
We're also seeing an uptick in fully-dedicated, fair trade brands, or brands that are committed to sourcing every ingredient possible as fair trade.
Interestingly, we're even seeing an increased awareness around where "commodity-type" products like grains and beans are coming from. We now source several grains and beans that are part of the Farmer Direct Co-operative, which is 100% owned by fairDeal organic family farmers. Purchasing products from these farms helps us to ensure that more money gets back into the pockets of the farmers who grow and harvest each product.
We're also seeing a lot more localization in grains and sourcing, which means we're able to offer a lot more varieties and flavors, versus treating grains like pure commodity items.
Heirloom ingredients will continue to be big this year. Heirloom crops are essentially "old-world" plant breeds that existed long before conventional growing and breeding practices dominated American agriculture, which means their distinct flavors and traits have been preserved for centuries.
Until recently, finding heirloom ingredients — including the now mainstream heirloom tomatoes — in a national supermarket was a total novelty. Now, we're launching products with heirloom ingredients all across the grocery department, and shoppers are gobbling them up.
We're now offering things like peppermint patties made with the oil of heirloom black mitcham peppermint leaves, hot sauce made from heirloom Beaver Dam, Chiltepin and American Perssimon peppers, bean to bar chocolate bars made in Africa using heirloom cocoa, heirloom curds and fruit spreads, and even heirloom popcorn, which is reminiscent of how the Native Americans enjoyed it several hundred years ago.
Each heirloom ingredient offers unique perks, too. For instance, the heirloom popcorn naturally has a thin outer hull that disintegrates and won't get stuck in your teeth.
Our customers are often the trend drivers, too. We pay close attention to what they're buying and what they're most interested in, and we adjust to the demand.
As such, shoppers have been showing tremendous interest in sunflower seed butters and multi-nut and seed butters, like NuttZo, which incorporates many different types of nuts and seeds in their products.
DAIRY TRENDS — from Dwight Richmond, Global Grocery Purchasing Coordinator
One big trend we expect to see in 2015 is a huge surge in dairy alternative products that not only raise the bar on quality but deliver a rich culinary experience and mouth-feel that is convincingly similar to dairy-based products.
Over the next few months alone, we're introducing tons of new nut-based products exclusively at Whole Foods Market, from alternative provolone and American "cheeses" to non-dairy cream "cheeses" and nacho cheese-like dips to non-dairy chevre-type spreads and ravioli dishes — all of which are on par with the original dairy versions when it comes to taste.
The demand for grass-fed products is also on the rise and will continue to grow this year.
Shoppers are loving the wholesome taste of grass-fed milk, which unlike conventional, homogenized milk, doesn't need to be shaken before pouring. For these shoppers, the choice is less about convenience and more about taste and eating experience.
Just like farms in the old days, the cows graze 100% of their lives on pasture, which also impacts the taste of the milk. The flavor profile will actually change throughout the year depending on the season or the type of pasture the cows have been grazing on, which really helps shoppers to feel connected with and invested in their food.
The grass-fed trend doesn't just stop at milk, however. At Whole Foods Market alone, grass-fed eggs, milk, yogurt and butter are up 70% since last year!
On a similar note, full-fat dairy products continue to be king. Shoppers just seem to love that old-fashioned, rich taste they grew up with, and we're seeing all kinds of new options across the fresh dairy case and in our frozen aisles, too.
PERSONAL CARE PRODUCT TRENDS – from Maren Giuliano, Executive Global Whole Body Coordinator
Rose hip oil for skin care is definitely trending, and we are excited about launching a new brand called Trilogy this spring.
They are a company out of New Zealand that has two wonderful rose hip oils – one of which is organic – that you can use on your skin. We will also be introducing several other great products from Trilogy, such as cleansers, creams and an everything balm.
Proteins will be another big trend this year. We're very excited about our new private label products in the 365 Everyday Value and Whole Foods Market brands – in particular, the plant-based protein powders and grass-fed whey powder.
Aromatherapy and essential oils will continue to be very popular in 2015. We started to see increased demand in that category during the latter half of 2014, and the interest only continues to grow. Our 365 Everyday Value Lavender Essential Oil remains one of the top selling products in our beauty and wellness department.
WINE TRENDS — from Doug Bell, Global Wine Buyer
Portuguese wines are going to be big this year – and, yes, we do have a promotion in the spring!
Portugal is an emerging wine region that deserves a closer look. The prices are still slam-dunks for the quality that you get and don't be intimidated by the Portuguese varietal names. Our wine buyers can help you pair your favorite foods with something from Portugal.
Beyond Portugal – we are still projecting that rosé wines will be very hot for 2015.
Summer is ripe for rosé, but so are the cool nights and warm days of spring. Keep a bottle in the fridge and serve super chilled. And, there are many shades of rosé – based on how the wines are made – so experiment from berry pink to light salmon rosé wines. Pink doesn't always equal sweet – you can find some tasty bone dry rose wines.
CHEESE AND SPECIALTY TRENDS — from Cathy Strange, Global Cheese Buyer
Sustainably produced cheese — More and more cheeses are becoming available that have a mission relating back to the company's philosophy. At Whole Foods Market, we now have at least 40 organic or sustainable cheeses per store, which is by far the largest selection of any national grocery chain.
Unique ingredient cheese — We're seeing cheese with hot peppers, kale, honey, and lavender in the ingredients. These ingredients, which you wouldn't normally expect to find in cheese, actually highlight the milk and rich flavors of the cheese.
We're especially excited to carry some cheeses with hot peppers and add some nice spice to your bite, like a Hatch Chile Cheddar or Scorpion Cheddar.
PRODUCE TRENDS — from Carol Medieros, Associate Global Produce Coordinator
This year is going to be particularly exciting as we continue to roll our Responsibly Grown program out across all of our US stores.
The program is designed to provide shoppers that extra layer of transparency they're looking for and help them make more informed choices in the produce aisle, while simultaneously rewarding growers for following responsible growing practices.
In terms of specific segments within the produce department, 2015 may be the year of leafy greens (beyond kale).
While kale is still a top pick, we're excited to see shoppers branching out to new and lesser-known leafy greens. Picks like broccoleaf and kalettes are definitely gaining traction in several of our stores, and they offer many of the same nutritional benefits as kale, such as Vitamins A, K and C as well as fiber and calcium. We're also seeing a boost in more well-known leafy greens, collards and bok-choy in particular.
Lastly, shoppers are also opting for fresher, healthier "convenience" foods over fast food.
When they're looking to save time and work in the kitchen, shoppers are increasingly reaching for options that help them enjoy whole fruits and vegetables. For instance, many of our stores now make grab-and-go choices like cold-pressed juices and oven-ready veggie kits.