On the first and third Wednesday of each month, I have a column called Wednesdays at Whole Foods. It showcases the most interesting news, products, store events, and happenings at the company.
If you have any suggestions, ideas, or things that you would like to see in this post, please don't hesitate to contact me. I would love to hear from you.
ON THE JUICE
No, this is not another story about pressed organic juice.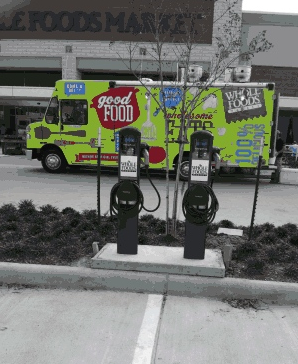 Instead, I want to talk to you about a different kind of juice – electricity.
When I first heard about a ribbon cutting ceremony for an electric vehicle charging station (EVCS) at the Whole Foods Market store in Baton Rouge, Louisiana, I said to myself  "Wow, that's interesting."
But once I did more digging, I realized that the company's EVCS program is not new at all but has been flourishing for the last few years. (You have to cut me some slack – I live in NYC and don't drive here.)
With the first EVCS installed in 2010 at the Lamar store in Austin, Texas, the company now has a total of 93 stations at stores in California, Connecticut, Florida, Georgia, Hawaii, Illinois, Louisiana, Massachusetts, North Carolina, Ohio, Oregon, Oklahoma, Pennsylvania, Tennessee, Texas, Virginia, and Washington, and there is no cost to charge a car.
According to Kathy Loftus, Director of Sustainable Facilities at Whole Foods Market, "the "program is going really well, and the customer response has been great."
In terms of expanding the EVCC program, she said that "we will grow with demand but we also want to help drive the demand. Ideally, we want to be in as many stores as physically possible.
"At Whole Foods Market, we do not have a typical sustainability program. It is not a top-down program, where everything is driven from corporate. Rather, it is very Team Member driven where everyone comes up with ideas. We want to develop this program based on what is important to our customers."
The EVCS initiative is saving about 10,000 pounds of greenhouse gas emissions per month and growing each day!!
This is is just one part of the company's Green Mission program, and I'll be talking about its many other sustainability initiatives in future columns.
BIG PLANS IN THE BIG EASY
Many of you may be familiar with Whole Foods Market starting to expand into distressed parts of inner cities – the recently opened Detroit store and the announcement of a new Chicago store in the city's South Side, as two prime examples.
Those two stores have gained quite a bit of national media attention, but what the company has going on in New Orleans is equally as compelling.
Located in an economically depressed area on North Broad Street, Whole Foods Market will serve as the anchor for a new 60,000 square foot development project called ReFresh. The current space previously housed a Robert's Fresh Market and Schwegmann's grocery, but it has been vacant since Hurricane Katrina.
"We think we will be employing 80 to 100 additional people at this store. So we're going to help create jobs," said Mark "Flash" Dixon, President of Whole Foods Market's Southwest Region.
Along with a new Whole Foods Market store, the development will also house Liberty's Kitchen, a non-profit that will provide culinary and life training skills program for at-risk youth, and Tulane University's Goldring Center for Culinary Medicine, one of the country's first teaching kitchens associated with a medical school.
The Goldring Center will include professional ovens and cooking stations for medical students, physicians-in-training, chefs, doctors and members of the community to learn the tenets of healthful cooking and the significant role food plays in preventing and managing obesity and associated diseases.
In addition to the positive economic impact that Whole Foods Market will have on the community, this development is extremely significant for another reason. It is an important step in getting doctors informed about nutrition and how the food we consume greatly impacts our health.
"The Goldring Center for Culinary Medicine is a first-of-its kind center dedicated to comprehensively integrating nutrition and dietary intervention strategies into medical school curriculum," said Dr. Benjamin Sachs, Senior Vice President and Dean of Tulane University School of Medicine. "The goal is to train doctors not only how food choices affect health and disease progression but also how to translate this information in practical ways that empower patients to lead healthier lives."
ReFresh is an impressive culinary and economic model that will hopefully inspire other communities and medical schools around the country to pursue something similar.
Below is a video overview of the project.
YOU OUGHTA KNOW
Don't think for one second that Whole Foods Market doesn't want its employees to fulfill their dreams – even if it means potentially leaving the company and touring the world as a rock star.
In an announcement yesterday, Whole Foods Market and VH1 said that they were collaborating for a 2nd straight year on a music discovery competition.
Last year, the company launched its first-ever music competition called The Whole Foods Market Team Member Music Project, where team members from across the country were invited to submit their original music for the contest. This year, VH1 is leveraging the power of its "You Oughta Know" franchise even more for the competition, offering the winner a live performance showcase in March 2014 in Austin, Texas.
Since its launch in 2005, VH1's "You Oughta Know" franchise has introduced promising new artists on the rise and served as a barometer for what and who's hot in music today. Many "You Oughta Know" artists have gone on to win industry awards and accolades including "Best New Artist" Grammy Awards and nominations. This highly acclaimed franchise has helped break artists such as Adele, Ed Sheeran, Foster the People, Gotye, Mumford & Sons, The Civil Wars and many, many more.
"We are once again blown away by the musical talent of our Team Members! We are excited to help shine a spotlight on the participants and we appreciate VH1 for providing an outlet to showcase the 10 finalists and helping them pursue their passion for music," said Scott Simons, Global Marketing Director for Whole Foods Market.
From October 1st through October 23rd, The Whole Foods Market Team Member Music Project will invite music fans to vote and choose a winner from 10 finalists who made the cut from over 500 entries. Anyone can listen and vote for their favorite song at www.rockout.wholefoodsmarket.com. There is a limit of one vote per person each day.
Even though this competition is only for employees of Whole Foods Market, it doesn't mean that shoppers don't have a chance to win something as well.
Everyone who votes in the contest is entered to win a trip for two to attend the taping of the VH1 "You Oughta Know In Concert" in November in New York City and a $1,000 Whole Foods Market gift card.
The Whole Foods Market Team Member finalists are:
Bryan Bergmann from the Laguna Niguel store in California
Maxwell Breaux from the Reston store in Virginia
Lauren Carder from the Winter Park store in Florida
Daniel Chase from the University Heights store in Providence, Rhode Island
Jeff Chen from the Glastonbury store in Connecticut
Michael Davis from the Glendale store in California
Brendan Guerin from the Symphony store in Boston, Massachusetts
Stefan Kostaras from the Scottsdale store in Phoenix, Arizona
Patrick McCarthy from the Hollywood store in Portland, Oregon
Jeff Reading from the Cranston store in Rhode Island
In the video below, watch last year's winner perform and also check out this year's contestants.
—
Want to stay healthy when traveling? If so, check out the world's first Pressed Organic Juice Directory – over 800 locations in 8 countries.
To stay up-to-date on the most important news and products in the organic food world, be sure to Like my Facebook page and sign-up for my newsletter below.
To join my newsletter list, please enter your email below and I'll send you my Top 5 Inexpensive Ways to Shop Organic.