On the first and third Wednesday of each month, I have a column called Wednesdays at Whole Foods. It showcases the most interesting news, products, store events, and happenings at the company.  
If you have any suggestions, ideas, or things that you would like to see in this post, please don't hesitate to contact me. I would love to hear from you.
THE SECOND ACT OF HARMLESS HARVEST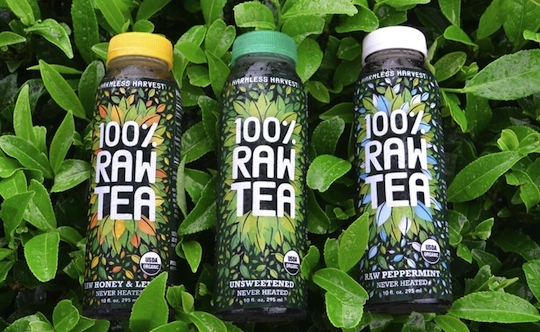 Without question, Harmless Harvest is one of the most innovative and successful companies in the organic food sector.
They were one of the first beverage companies to use HPP (high pressure processing – a technology that uses pressure, instead of heat, to kill bacteria while maintaining a high percentage of enzymes and nutrients) and launched the world's first "raw" coconut water. The product remains so popular that keeping it on supermarket shelves is still a challenge.
Not content to be a one-trick pony, Co-Founders Justin Guilbert and Douglas Riboud have spent the last two years preparing to shake up the another segment of the beverage world – the tea market.
Harmless Harvest has just launched the world's first "raw" tea – using HPP and no hot water to brew the tea. It is a cold-water process, which "maintains the powerful flavor, fragrance, and nutritional profile of the raw leaf while controlling the tannins – or bitterness – released," said Douglas Riboud, and the tea contains no detectable levels of caffeine.
The 100% USDA certified organic tea leaves come from the pristine volcanic slopes of Southern Kyushu in Japan, and an entirely new supply chain had to be developed in order to bring this product to market and to have enough raw material to scale.
Justin Guilbert credits the close collaboration with Chris Giuliano and Diane Snyder, both of Whole Foods Market's Southern Pacific region, for playing a critical role in the creation of the final product, and he said that it was very much of a back-and-forth, collaborative process with them over the last 12 months.
First launched in the Southern Pacific region, the three flavors of tea – unsweetened, raw peppermint, and raw honey & lemon – will soon be rolled out nationwide. Yet, don't expect it to find it at any retailer. This first-of-its-kind product is exclusive to Whole Foods Market.
According to Justin Guilbert, the response so far to these raw teas has been "phenomenal" and he hopes "to get people excited about tea in the same way that people are excited about juice or coffee."
That is certainly a lofty goal but if there is any company in the industry that can accomplish this feat, it is Harmless Harvest. These guys are just that impressive.
Needless to say, I am very much looking forward to tasting their three teas at next week's Natural Products Expo East trade show in Baltimore.
(Below is my interview with Harmless Harvest Co-Founder Justin Guilbert at Natural Products Expo West 2012, well before the raw tea product was launched.)
I-522: GMO-LABELING IN WASHINGTON STATE
Earlier this year, Whole Foods Market made a historic announcement by declaring that all GMOs in its stores will be labeled by 2018, with many of its products to be labeled well before that deadline.
Demonstrating its commitment to transparency, the company has been aggressive and early in supporting GMO-labeling in the state of Washington, officially named I-522, where voting will take place this fall. After coming off last year's Prop 37 loss in California, gaining a victory in this state is essential.
In Washington, Whole Foods Market has done the following:
– Collaborated with a coalition of hundreds of industry partners for more than a year to advance education about the importance of labeling GMOs, and it sits on Yes on 522's finance committee and works with the campaign staff daily.
– Launched a program and website called Will Vote for Food. The Will Vote for Food campaign includes a wide range of grassroots community activities and multiple in-store events at the company's seven Washington state locations in the months leading up to the November vote.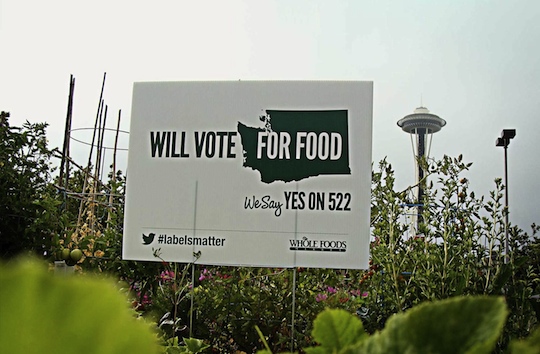 – Purchased print, radio and digital advertising in the Seattle market.
– Hosting a speaker series panel at Feast, a national culinary event in Portland, that will focus on GMOs and transparency, and will feature Nature's Path's Arran Stephens, Delana Jones of Yes on 522, author Robyn O'Brien, and Whole Foods Market's Executive Global Grocery Coordinator, Errol Schweizer.
– Invested in sponsorship and staffing for 10 farmer's markets and four Friday evening summer concerts in the month of August.
– Conducted extensive customer and team member education about GMOs, labeling, and I-522. This included signage, printed shopping bags, Non-GMO Project-verified snack sampling in the stores, and participation from the executive director of Non-GMO Project and the campaign manager for 522.
– Developed a roadshow booth that was used at many of the company's community events this summer.
– Printed thousands of brochures, stickers, yard signs, t-shirts, and reusable shopping bags that the company has been giving away at events and in its Washington stores.
I communicate with Whole Foods Market's executives on a very, very frequent basis, and I can tell you this: these people are both incredibly involved and emotionally invested in having labeling pass.
(Below is a video of Joe Rogoff, President of the Pacific Northwest Region of Whole Foods Market, explaining why the company is a supporter of I-522.)
SCHOOL IS IN SESSION
Getting education about GMO-labeling is hardly the only thing being taught to Whole Foods Market's employees.
In Colorado recently, rock star pastry chef Christina Tosi spoke with 40 of the company's regional baking coordinators. She shared her methods, philosophy, and collaborative approach in coming up with new ideas and recipes. A veteran of renowned New York City kitchens of Bouley and WD-50, Christina Tosi is now the pastry chef at David Chang's acclaimed Momofuku Milk Bar, and she was nominated for the 2012 James Beard Rising Star Chef of the Year award.
The next time you go to a Whole Foods Market and ask which is the best asiago cheese, expect to get a well-informed answer. Why?
77 of the company's cheesemongers recently passed the second annual American Cheese Society Certified Cheese Professional exam. This brings the total number of Certified Cheese Professionals to 147, the largest number of certified cheese experts in the world.
The exam, which was held July 31st in conjunction with the 30th Annual American Cheese Society conference in Madison, Wisconsin, tests cheesemongers' mastery of all things cheese, including cheese making, ripening, storage, handling, nutrition and more. Certification is valid for three years and is renewable for additional three-year periods through a formal recertification process.
According to Cathy Strange, Global Cheese Buyer for Whole Foods Market, the company helped prepare team members for this test through classes, group study, and field trips to dairies.
How cool!
—-
Want to stay healthy when traveling? If so, check out the world's first Pressed Organic Juice Directory – over 800 locations in 7 countries.
To stay up-to-date on the most important news and products in the organic food world, be sure to Like my Facebook page and sign-up for my newsletter below.
To join my newsletter list, please enter your email below and I'll send you my Top 5 Inexpensive Ways to Shop Organic.