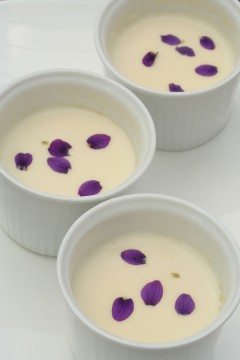 I just knew that the hundreds and hundreds of hours I have spent roaming the aisles of supermarkets and studying menus at organic restaurants would come in handy one day.
But, I had no idea that it would lead to me writing this post.  So, here it goes….
1) More and More Coconuts
Coconuts have taken on much more prominence as of late.  A bunch of ice creams, including Luna and Larry's Organic Coconut Bliss and Purely Decadent, have coconuts as their central ingredient.  Energy bars, such as those from Raw Revolution, have used them in their products for a while.
In terms of organic coconuts, this is what I foresee.
Organic coconut water: Coconut water is a hot trend in the beverage world right now.  Some people consider coconut water to be the ultimate post-workout drink because it contains electrolytes.
However, nearly all of those boxes of coconut water that are flying off the shelves in the supermarkets are not organic.  It is only a matter of time before we see a shift to organic.
Organic milk smoothies: You get coconut milk by taking the coconut water and coconut meat, blending them and straining the liquid.  Coconut milk would be a fantastic base for a smoothie.
I can see a smart company coming to market with this drink and throwing in some superfoods, such as maca or cacao.  It would be a big hit.

2) Flower Power
Something that I expect to see a lot more of are organic edible flowers.
Not only are they are being sold on their own in small plastic containers but they are showing up in pre-packaged boxes of lettuce (Locally Known in Maine does this) and as garnishes on plates at organic restaurants (Grezzo Restaurant in Boston uses them a lot).
I see organic edible flowers showing up in many more places, especially in restaurants, and also in bottled drinks as infusions.

3) Sprouting Everywhere
With an increasing number of people looking for non-animal sources of protein, the popularity of sprouted organic beans is sure to take off.  Sprouting organic lentils, adzuki and mung beans is not only very economical and easy to do but provides tremendous nutritional value.
Well-known in the raw food community, sprouting will soon become more widespread.

4) Coffee, Coffee, Coffee
Many years ago I was contemplating opening up my own chain of organic coffee shops and a mentor of mine gave me some words of advice that I remember to this day.
He said "there are no barriers to entry.  Soon, McDonald's, Burger King, and everyone will be selling organic coffee."
Well, he was certainly was right about McDonald's, which sells Newman's Own Organics.
I predict one or two of the other big chains will follow suit and sell organic coffee by the cup as well.  This will really help organic coffee go even more mainstream.

5) Environmentalists Promote Organic Food
In 2010, the consumption of organic food will become much more of an environmental issue.  Toxic pesticides that are sprayed onto traditional crops corrupt soil quality and inevitably leak into the water supply.
The quality of our drinking water, which was recently written about in the The New York Times, is abysmal.  Advocates for clean water will much more closely and publicly align themselves with the organic food movement.
——-
What are your top 5 organic food trends for 2010?