Here is a list of of my top 10 organic food moments from 2013, and these are both industry achievements and personal highlights.
1) Whole Foods announces that all GMOs in its stores will be labeled by 2018
Unwilling to wait for a federal labeling law, Whole Foods decided to take matters into its own hands and made this historic announcement in March of this year. The importance of this decision cannot be underestimated as it has already kickstarted an enormous shift in the non-GMO and organic supply chain.
Immediately after the company released this news to its vendors and to the media at Natural Products Expo West 2013 in Anaheim, I spoke with Co-CEO Walter Robb and President A.C. Gallo about the announcement.
Without question, this has to be the most important event of the year and its reverberations will be felt for decades to come.
2) I-522 fundraising dinner at Natural Products Expo East
At Natural Products Expo East in Baltimore, Vani Hari and I hosted a dinner to raise money for I-522, the campaign for GMO-labeling in Washington state. This was the second fundraiser that we have done together and just like last year's Prop 37 dinner that we had in NYC, this, too, was a very special night.
The sold-out dinner was packed with organic food industry executives, CEOs, and founders, and we flew in two amazing GMO-activists to speak to everyone: Birke Baehr, the 14 year-old YouTube sensation who made a name for himself at a TedX talk a few years ago, and Rachel Parent, a 14 year-old and Canada's most high profile GMO-activist, who successfully debated Shark Tank star Kevin O'Leary on national TV.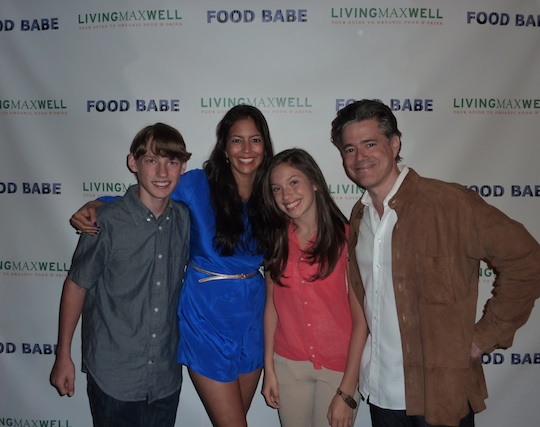 It is a shame that we didn't record their talks because these two completely wowed the audience. Below are the two videos that made each of these two activists so well-known.
3) Launching Suja Elements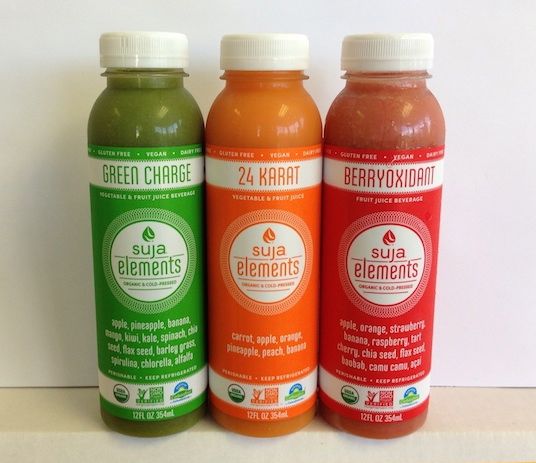 Suja, the biggest success story in the organic industry this year, asked me to help them launch their new line of smoothie drinks called Elements. It was a big thrill working with Suja to introduce this very innovative product – the first certified organic, HPP, pressed juice/smoothie beverage of its kind.
Not only are the people who run this company incredibly impressive, but they are ultra-committed to giving back. Suja sponsored our I-522 fundraiser dinner at Natural Products Expo East, and $.20 for every bottle of Suja Elements sold will be donated to a different non-profit, including Food Democracy Now!, Citizens for GMO-labeling, Teens Turning Green, Whole Planet Foundation, and many other great ones.
And possibly the best part about it is that there is no cap or ceiling on how much they'll donate. This means that some of these non-profits could wind up getting checks for tens or hundreds of thousands of dollars. How awesome is that!!
4) GMO-labeling passes in two states
This year, Connecticut and Maine were the first two states to pass GMO-labeling laws. Even though these laws come with stipulations – bordering states must pass their own laws as well in order for these bills to kick in – having two states with GMO-labeling laws is a great, great start for our movement.
5) David Bronner coming up HUGE for I-522
The amount of time and money that David Bronner and his company, Dr. Bronner's, donated to I-522, the GMO-labeling initiative in Washington state, was absolutely incredible. By far, he was the largest donor – $2.67M out of a total $8M raised – and he also had special packaging made for the campaign.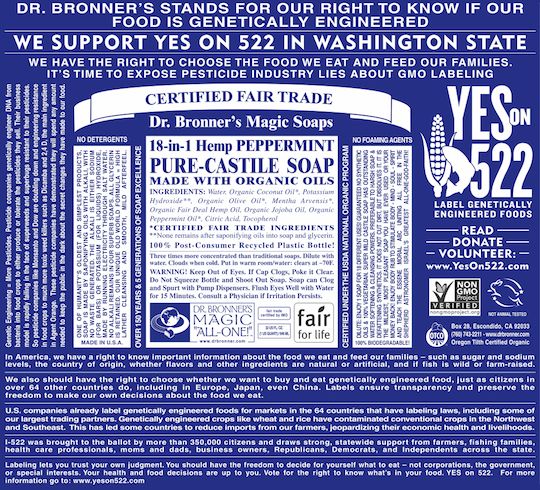 I cannot thank you enough, David Bronner! Your commitment is beyond words, and I am so deeply appreciative for all that you and your family have done and continue to do for our cause.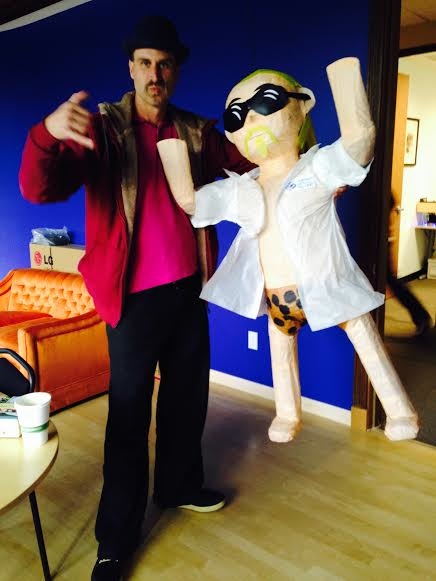 6) On Fox News Channel talking about GMO-labeling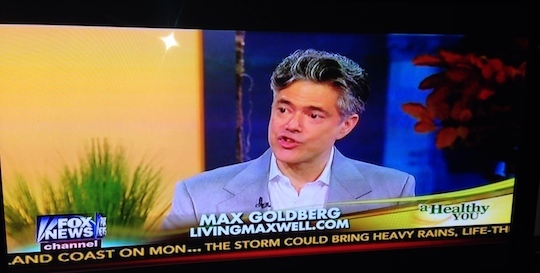 A few months ago, I had the good fortune to be invited on supermodel Carol Alt's talk show to discuss GMO-labeling.
I was shocked that a national news network would allow the truth to be told about the health risks of GMOs, and Collective Evolution ended up calling the segment "the most hard-hitting GMO report ever aired by the mainstream media."
Many, many thanks to Carol Alt for helping to get our message out to a national audience.
7) Whole Foods kicking Chobani off of its shelves
Is there anyone who didn't just LOVE it when Whole Foods decided to kick Chobani off its shelves for refusing to stop using GMOs in its products???
Chobani can spin it anyway it wants, but this is very damaging to its brand and is a total embarrassment. Also, this move sends a real message to Whole Foods' vendors that they better get serious about non-GMO or there will be real consequences. 
We are very, very fortunate that Errol Schweizer (below), Executive Global Grocery Coordinator for Whole Foods, is such an amazing and tireless advocate for non-GMO, organic, and GMO-labeling.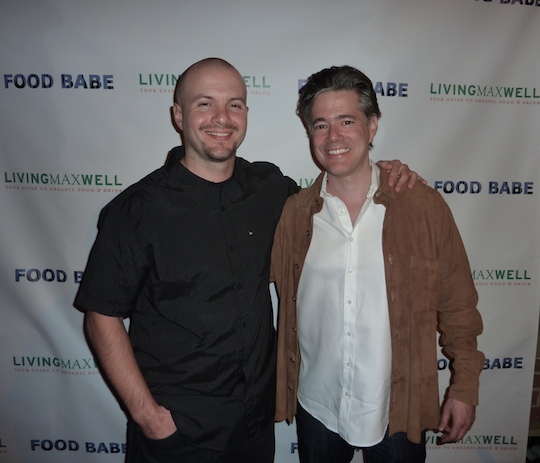 8) My Pressed Organic Juice Directory launches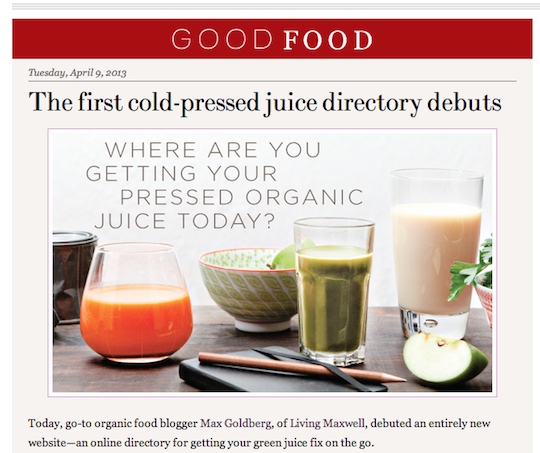 The idea for a Pressed Organic Juice Directory was one that I had for quite a while, and it grew out of my desire to find pressed organic juice whenever I would travel.
Since there wasn't one centralized place that had all of the pressed organic places around the world, I decided to build it myself and figured other people would want it as well. The reception so far has been fantastic, and I love being able to meet and promote organic juice entrepreneurs across the globe. Right now, we have more than 1,200 listings with 10 countries represented.
A big re-design with improved functionality is being finished as we speak, and version 2.0 will be launching next month. An iPhone app should be out sometime next year as well.
9) Kraft doesn't donate to I-522
Last year, every single major food company donated money to defeat Proposition 37, California's GMO-labeling initiative.
This year in Washington state's campaign to label GMOs, I-522, all of those same companies donated money again. That is, all of them except one, Kraft.
The fact that one of the country's biggest food conglomerates didn't financially support this initiative is very significant and is largely due to the tremendous backlash it faced for using synthetic ingredients in its Mac & Cheese. Not wanting any more negative publicity, Kraft bowed out of trying to defeat I-522.
We can give my friend Food Babe tremendous props for this and for also causing a national stir by showing up to Kraft's corporate offices with 270,000 signatures and demanding that the company change its ways.
10) Hawaii passes pesticide disclosure and GMO-planting restrictions
For those who don't know, the fields of Hawaii have been used for decades as the experimental laboratory for all of the major GMO-companies. This is where they run their tests, contaminate organic and non-GMO crops, and poison the land and water with their super-toxic chemicals.
Unable to tolerate GMOs and pesticides ruining their paradise, citizens of Hawaii have been staging a major revolt for the past few years, and a victory was finally achieved a few months ago when the island of Kauai passed Bill 2491. This bill will require companies to disclose which pesticides they are spraying and where, farmers to disclose which GMO-crops they are growing, and it creates buffer zones between fields sprayed with pesticides and schools, parks, medical facilities and private residences.
Several weeks after Kauai passed this measure, the Big Island signed Bill 113 into law, which prohibits biotech companies from operating on the Big Island and banning farmers from growing any new genetically-engineered crops.
If you haven't seen this YouTube movie about the havoc that these big chemical companies have been causing in Hawaii, please watch it. You absolutely won't believe what is going on there.
IN CLOSING…….
Looking back, 2013 was a fantastic year and the big takeaway is that we must continue to have our voices heard. We can never ever give up until we have the type of food policy that is just, fair, and beneficial to our people and our planet.
Thank you so much for supporting organic food, and we are all in this together!
—
Want to stay informed about the most important news in the organic food industry?
If so, please Like my Facebook page and sign up for my newsletter.
To join my newsletter list, please enter your email below and I'll send you my Top 5 Inexpensive Ways to Shop Organic.