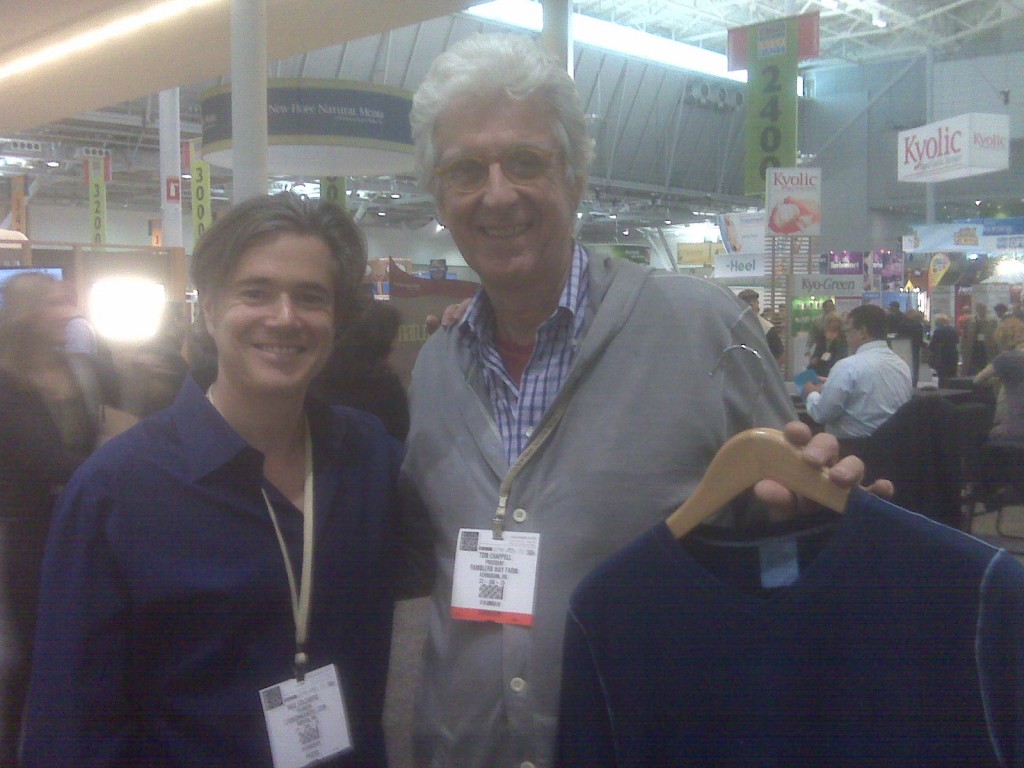 Today was the second day of the Natural Products Expo East trade show in Boston. I saw some fantastic new products that I will soon be writing about in my best of show awards.
Aside from seeing really cool products, the one thing I love about going to the trade shows is meeting people.
These are people who are as passionate about organic as I am. These are people who eat the same way I do. Furthermore, these are people who tend to be really, really nice individuals.
In covering and writing about this industry, it is always a big thrill for me to meet some of the business icons in the natural and organic world.
It happened very recently when I interviewed Stonyfield President and CE-Yo Gary Hirshberg at the U.S. Open tennis tournament in NYC.
And, it also happened today when I met Tom Chappell, the founder of Tom's of Maine toothpaste and a new wool clothing company called Rambler's Way.
In the late 1980s after I went to my public high school outside of Boston, I did a post-graduate year at Phillips Exeter Academy in New Hampshire. For those unfamiliar with a post-graduate year, it is similar to a 13th grade. Many, many prep schools offer it, largely to improve their football teams. Physically, I never looked like a post-graduate, as I was told many times, but that's a story for another time.
Anyhow, when I was in school, I would always listen to AM radio for hours at night. I was and am an AM radio junkie.
And, I vividly remember the Tom's of Maine radio commercials that would come on the air. They were so distinctive that more than 20 years later I can still hear them playing in my head.
So, when I saw the founder of Tom's of Maine sitting in the booth of his newest venture, Rambler's Way, a really amazing ethical/sustainable wool clothing company, I immediately went over to him.
I said, "Do you know I used to listen to your radio commercials in the 1980s?"
He got up from his table and couldn't have been more gracious. He showed me his newest clothing line, told me all about the wool manufacturing process and also shared with me how he met his wife at a Ravi Shankar concert in a Connecticut high school gymnasium in 1963.
Rambler's Way is his second entrepreneurial endeavor. Just a few years ago, Tom sold an 84% interest in Tom's of Maine to Colgate-Palmolive for a reported $100M with the stipulation that the business ethics remain intact.
While I have been eating organic pretty fanatically since 2001, people like Tom and Gary Hirshberg have been the ones responsible for developing and creating this industry for several decades. Without question, these two are trailblazers and visionaries.
Each has sold his stake for many millions of dollars and don't need to work anymore but they still do. They both want to continue to make a difference in the world through business.
And both of them couldn't be nicer individuals.
This is a primary reason why I love covering this industry – because I get to meet people like Tom.