Last week, I spent several days in Anaheim, California attending the 2010 Natural Products Expo West.  It is the premier show for organic food companies and needless to say, I had a fantastic time.
Not only did I get to see tons of new products and discover brands that I had never heard of, but I was able to meet the people behind all of these companies.
Ever since livingmaxwell launched, the one piece of feedback that I constantly hear is that consumers like to look in the eyes of the people who are making their food.
They want to shake their hands, engage in conversation and develop a degree of confidence that the food they are eating is truly organic.
I'm no different.
I, too, like to meet the people who make the food that I am eating.  I want to know if they are as passionate about and committed to organic as I am.  At Expo West, I was fortunate to have had the opportunity to do this.
There were dozens of products that really impressed me, and many of them I will be showcasing on livingmaxwell in the months to come.
However, these six stood out from the rest.
They include: Sweet Tree — Coconut Palm Nectar, Two Moms in the Raw — Raisin Granola Bars, Eastbluff Trading Company — Cacao Tea, Artisana — Cashini Nut Butter, The GoodOnYa Bar — Breakfast Bar, Good Nature – bHappy Tea.
SWEET TREE – COCONUT PALM NECTAR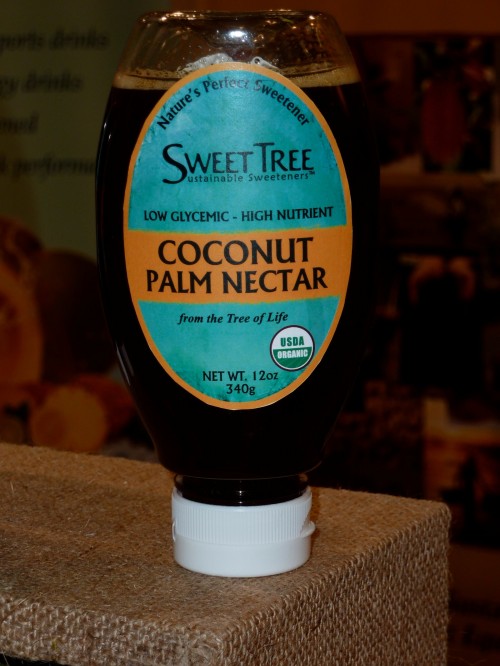 There is a lot of buzz these days about sugar substitutes.  Agave, honey, stevia and brown rice syrup are certainly the most prominent names.
Yet, we now need to add coconut palm nectar to the conversation, thanks to the good folks at Sweet Tree.
I had never seen coconut palm nectar before but immediately this made sense — probably because I am such a huge fan of coconuts, especially young Thai ones.
Aside from the sweet and light taste, the nutritional benefits are significant. Coconut palm nectar is lower on the glycemic index than both agave and honey. Furthermore, it is rich in minerals, nutrients and amino-acids.
Environmentally, coconut palm nectar is very favorable and is called by many people as the "tree of life."
Co-Founder Ben Ripple has been on the ground in Indonesia for the last 13 years and understands how to source quality organic products there. Co-Founder Frederick Schilling is based in the U.S. and founded Dagoba Organic Chocolate. These guys know what they are doing.
Sweet Tree Coconut Palm Nectar should be on the market by June and will be available for sale on its website.
TWO MOMS IN THE RAW — RAISIN GRANOLA BARS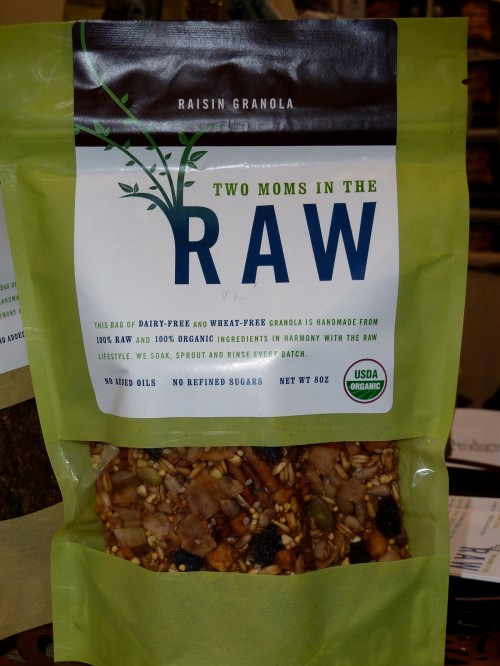 I have known about this brand for quite a while. They make some of the best raw flax seed crackers on the market, especially the tomato basil ones.
The raisin granola bars, which I tried at the show for the first time, are simply stellar.  Not only are they chewy, slightly sweet and fresh, but they taste incredibly home-made.  It is as if someone prepared them in my kitchen earlier in the day.
One of the problems with bars, even organic ones, is that they usually taste very processed.  This is absolutely not the case here.
The fact that Two Moms in the Raw now makes two of my favorite products and also does an excellent job with its packaging has led me to the following conclusion.
Founder Shari Leidich is a serious talent.
The product is available at Whole Foods, and individual bars are sold nationwide at Starbucks.
The company's website is currently being revamped so if you order an 8 ounce bag of granola, you will instead receive four – 2 ounce bars.
EASTBLUFF TRADING COMPANY — CACAO TEA
I know cacao beans.  I often use cacao powder in my breakfast smoothies.  I have eaten desserts with cacao nibs.
But, never I had heard of cacao tea.
Without a doubt, this was the most intriguing product I saw at the entire show.
Cacao tea is made by brewing loose cacao shells in hot water and then straining them before pouring into a cup.
It has the texture of a heavy coffee, color of a dark coffee and taste of light chocolate soup.  Yet, it is smooth and not overbearing at all.
This is the type of beverage that you want to drink a lot of because it is so flavorful, unique and healthy.
The company says that it has twice the level of antioxidants as a cup of green tea and also contains theobromine, an alkaloid which improves a person's mood, energy and stamina.
What I also like is that the company gives 2% of its profits to the Venezuelan farming cooperatives from which it sources and harvests its cacao.  The goal is to inspire farmers to engage in organic and sustainable farming practices.
Eastbluff has the chance to create a whole new category with its cacao tea.
At the present moment, the product can only be purchased online.
ARTISANA — CASHINI NUT BUTTER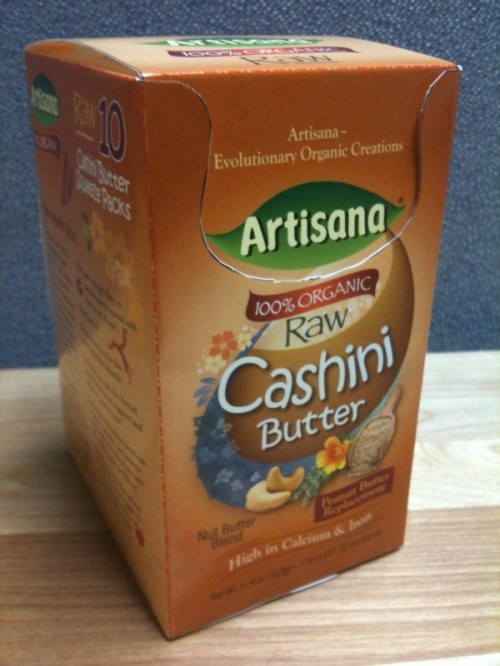 Based in the San Francisco area, Artisana is known for producing very high quality, raw nut butters.  The company's new Cashini product will enhance its reputation as an innovator as well.
A mixture of cashew butter, tahini and sea salt, Cashini tastes exactly like peanut butter and is being marketed as a peanut butter alternative.
In a blind taste-test with Cashini and peanut butter, I am not sure that I could tell the difference.  The product is that well-made.
It is rich and thick, and the three ingredients provide a beautiful flavor profile.  I can definitely see a jar of Cashini as a must-have travel item whenever I go on the road.
Cashini will be available beginning in May, and the company's website lists online retailers who ship its products nationwide.
THE GOODONYA BAR — BREAKFAST BAR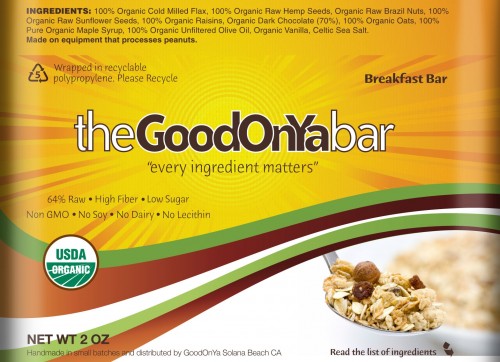 Each time I go to the market, I always take a long look at the selection of bars because I am constantly looking to add variety to the ones I now eat.  While there are TONS of them available, most just don't do it for me.
It took one bite of the GoodOnYa Breakfast Bar to know that I had found something extraordinary.
A successful bar must not only taste good but it must contain healthy ingredients and be filling.
It also cannot be too sweet.  I don't want to feel like I am eating a candy bar.  I want to feel like I am eating a nutritious meal that will fill my stomach for a few hours.
The Breakfast Bar works on all of these fronts.  The taste is nourishing, and the texture is surprisingly soft.  The bar has a slightly dominant oat taste to it but allows for each of the other ten ingredients to have an important role.
Brazil nuts, which is something I eat on an almost daily basis, and olive oil, are almost never seen in bars.  How Kris Fillat, the founder of the GoodOnYa Bar, was able to come up with something this good using that many diverse ingredients is pretty astounding.
The product can be purchased at stores in the San Diego area and also via the company's website.
GOOD NATURE — bHAPPY TEA
I walked into the Good Nature booth with the same question that so many other people had as well.  With hundreds of teas on the shelf, how is this one any different?
After taking a few sips of the bHappy Tea, I realized that I was drinking a wonderful product.  It was flowery, aromatic and light, and had no trace of bitterness.
Lots of teas taste good.  Still, why this one?
First, I like the fact that they've been doing this for decades and have a history of making very high quality products. Its local partner, Alkaloid, established in 1936, was the first producer of natural herbal products and medicinal teas in southeastern Europe, and the manufacturing facilities are ISO 9001, ISO 14001, HACCP (an FDA food safety system) and approved organic in the US, EU and Japan.
Second, the herbs are grown in the pristine and untouched wilderness of Macedonia.  That means the soil quality has to be excellent.  As I always say, it's all about the soil.
Third, they are only one of two organic companies on the market that delivers a medicinal tea which provides immediate and specific health benefits.  The teas are being used in Europe to treat issues like stress, depression, insomnia, and hair and skin problems.
Good Nature is part of a new trend that I see developing.  Not only does a tea have to taste great but it also must demonstrate some type of therapeutic benefit.
The complete line of Good Nature teas will be available later this year.  Check the company's website for availability.