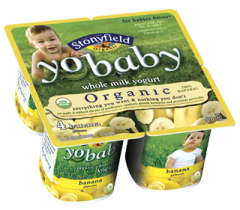 Don't let the packaging mislead you. This product isn't just for kids. I eat it!!!
The taste is rich, smooth, and, yes, pretty awesome. It also contains nutrients that are important for babies' development.
The other thing that I love about this product is that the nutritional information/label is in both English and Spanish.
With the U.S. Hispanic population growing at a very, very fast rate, it is fantastic to see an organic brand recognize this and make important health information bi-lingual.
Sold nationwide. To find a store near you, click HERE.