If you haven't watched Jamie Oliver's keynote address at the recent TED conference, you need to.  The speech was an all-out assault on the food that Americans eat and how it is literally killing our population.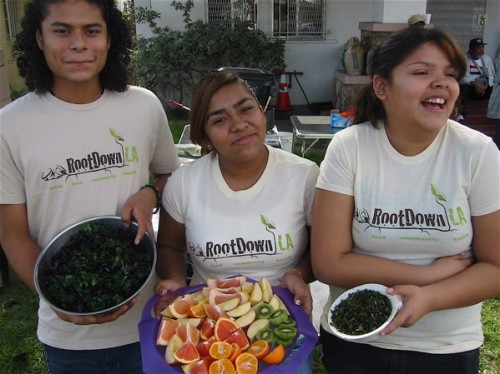 It is a shame that we have to have someone who isn't even a U.S. citizen give us a wake-up call but that is the dire situation we are in with our food system. The truth is that our government is failing us and not acting in our best interest when it comes to health.
One of the great things about doing this blog is that I get to publicize organizations who are working diligently to reverse this severe crisis we now face. One such group is called RootDown LA.
RootDown LA, a project of Community Partners, is a non-profit organization based in Los Angeles whose purpose is simple: to get kids reconnected to real, whole foods that are not processed nor laden with chemicals.
The organization works with youths at schools in urban, low-income areas of South Los Angeles and starts with the very basics.
It teaches kids about the changes in our food system over the past 100 years, how we've been disconnected from healthy whole foods, and how the average high-calorie, highly-processed food diet is causing epidemic rates of obesity and related illnesses.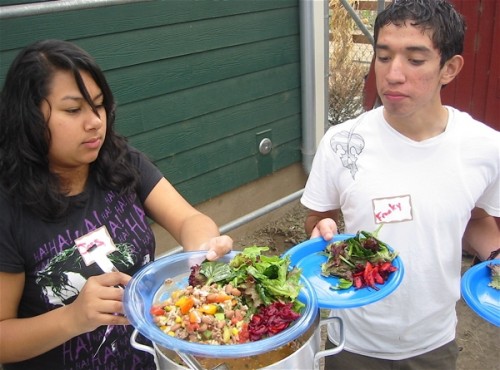 With its fun and nutty cooking lessons, RootDown LA focuses on busting the myths that healthy food tastes bad and isn't affordable by making delicious veggie heavy meals, all of which cost under $2.00 per serving.
RootDown LA is creating food "experiences" in order to get kids to fully engage with food and to want to take ownership of what they are putting into their body.
It's not always easy as many of these kids, just like most Americans, are in the habit of choosing the more readily available highly-processed foods which are often filled with sugar, artificial additives, preservatives and pesticides.
In order to create lasting demand for this real food in the broader community, RootDown LA created a Youth Leadership Program so that the lessons can be taught and passed on from one child to the next.  Once a kid goes through a 4-week training program, he or she can then get paid for their participation in future community events that promote healthy food.
The organization was co-founded in 2008 by Megan Hanson, a chef and Certified Nutrition Educator who has a background in food advertising and marketing, and Katie Atkiss, who holds a Masters in Public Health and has worked for years in South Los Angeles tackling obesity prevention.
Due to the importance of the work and the fantastic results that these two women have gotten so far, people are taking notice.
As part of a child obesity prevention program, the University of Southern California has hired RootDown LA to help provide youths in its MYLA leadership program the skills and knowledge to make better food choices.
Furthermore, RootDown LA is in discussions with LAUSD (Los Angeles Unified School District) School Food Services and other organizations in the area, all of whom do similar food systems, gardening and nutrition education work, to see how collaborative efforts could build healthier food environments in schools.
I met Megan, a fellow lover of organic and local foods, a few years ago at a leadership conference and have been watching her progress ever since. She is incredibly committed to eating well and is on the front-lines of this very necessary movement.
While the organization's core operations are funded this school-year by private individuals and a few foundations, it could always use additional financial assistance.
If you are interesting in donating or want to learn more, please visit http://www.rootdownla.org or contact Megan at: rootdownla@gmail.com
Thank you RootDown LA for all that you are doing!