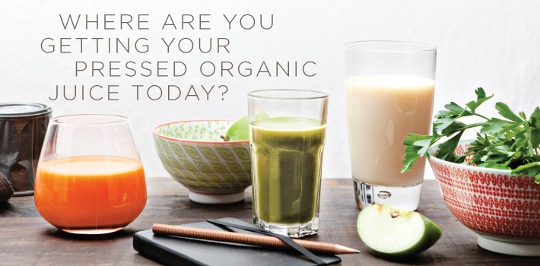 I am thrilled to announce that I have just launched the world's first Pressed Organic Juice Directory.
The site developed out of a personal need that was not being met in the marketplace.
When I would travel, I wanted to know where I could find pressed organic juice, but locating these places was not an easy thing to do. And when I did my research online, the results were very incomplete. Some were organic, some weren't. Some were using a centrifugal juicer, others were using a hydraulic press.
I knew exactly what I was looking for – pressed organic juice, the healthiest and best juice that a person can drink – but finding places that sold it was a quite a challenge.
So, I developed this directory and figured that other people would want this information as well.
Key Aspects/Features:
– There are nearly 700 locations in 5 countries in the directory with new places being added every single day.  I don't only list actual juice stores but also yoga studios and home decor shops where pressed organic juice is sold.
– Overnight delivery. If you're traveling somewhere and there is no juice store nearby, I provide a list of places that will ship pressed organic juice to you anywhere in the country.
– Store profiles. I will create profiles of individual stores, provide commentary, and show up-close pictures of the juice. Here are a few examples: One Lucky Duck in Chelsea Market, NYC, Ritual JuiceBox in Costa Mesa, CA, Organic Avenue in Chelsea, NYC , and Sun in Bloom in Brooklyn, NYC.
– More than anything else, the main goal of this site is for it to become an important vehicle to help promote organic, something that is my passion and that I care deeply about.
And……..just this morning, the Pressed Organic Juice Directory received its first piece of press from Well+Good NYC, one of my very favorite blogs.
Click HERE to read the article.
—
Want to learn about the best and most interesting organic food & drink products on the market? If so, make sure that you are subscribed to my newsletter list.
To join this list, enter your email below and I'll send you my Top 5 Inexpensive Ways to Shop Organic.