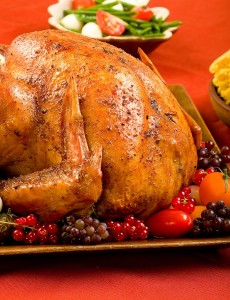 With Thanksgiving around the corner, I thought I would take two very traditional and well-loved dishes and put my own spin on them: Roasted Garlic & Meyer-Lemon Rubbed Turkey and Sautéed Brussels Sprouts with Tempeh & Onions.
There are certain healthy foods (greens, for example) that I like to see at almost every meal, even if it is a holiday. And, there are certain foods (white flour or sugar) that I don't like to see at any meal.
Both of the following recipes are from EatingWell Magazine and include the substitutions that I would make. Of course, all of the ingredients should be organic.
ROASTED GARLIC & MEYER-LEMON RUBBED TURKEY
The one really great thing that they did here was to add white miso paste. My changes would be to add more greens to the stock. Yes, there is bay leaf and thyme but I would add kale and dandelion to it as well.
I would substitute the all-purpose flour with an almond flour and the canola oil with a cold-pressed extra-virgin olive oil. These changes are more inventive and healthy. I'd rather not see the white flour.
(Given that I don't drink, I would also eliminate the wine but most people probably don't have the same issue with alcohol, so they should keep it in.)
—–
10 (3-ounce) servings, plus leftovers
Active Time: 1 hour 20 minutes
Total Time: 5 hours
—–
INGREDIENTS
Roasted Turkey
* 2 heads garlic
* 3 Meyer lemons (see Tip)
* 1/4 cup white miso (see Note)
* 2 tablespoons canola oil (substitute with cold-pressed extra-virgin olive oil)
* 1 tablespoon chopped fresh thyme, plus 3 sprigs
* 1/2 teaspoon freshly ground pepper
* 1 10- to 12-pound turkey, neck and giblets reserved for stock (discard liver)
* 1 medium yellow onion, peeled and quartered, divided
* 2 cups water, plus more as needed
Turkey Giblet Stock
* (optional; 4 cups reduced-sodium chicken broth may be used instead to make the gravy)
* 6 cups water
* 1 medium onion, peeled and quartered
* 1 medium carrot, chopped
* 1 leaf of kale, chopped
* 2 pieces of dandelion, chopped
* 1 stalk celery, chopped
* 1 bay leaf
* 1 sprig fresh thyme
* 1 teaspoon whole black peppercorns
Citrus Gravy
* 1/4 cup all-purpose flour (substitute with almond flour – see Note)
* 1 cup dry white wine
* 2 tablespoons Meyer lemon juice or 4 teaspoons lemon juice plus 2 teaspoons orange juice
* 1/4 teaspoon salt
* Freshly ground pepper to taste
PREPARATION
To prepare turkey: Position rack in lower third of oven; preheat to 400°F.
Rub off excess papery skin from garlic heads without separating the cloves. Slice the tips off, exposing the ends of the cloves. Place the heads on a square of foil. Sprinkle with 4 teaspoons water and wrap into a package. Roast until very soft, 40 to 45 minutes. Unwrap and let cool.
Zest lemons. Place the zest in a medium bowl; juice the lemons into the bowl through a strainer to catch the seeds. Reserve the squeezed lemon skins.
Add miso, olive oil, chopped thyme and pepper to the lemon mixture. Squeeze the garlic cloves out of their skins into the bowl. Whisk until the mixture forms a paste.
Reduce oven temperature to 350°. Set aside giblets and neck for making Turkey Giblet Stock, if desired. Pat the turkey dry with paper towels.
Loosen the skin over the breast and thigh meat. Rub the paste under the skin onto the breast meat and leg meat and a little inside the cavity. Tuck the wing tips under the turkey. Place the reserved squeezed lemon skins, thyme sprigs and 2 onion quarters in the cavity. (You may not use all the citrus skins.) Tie the legs together with kitchen string. Place the turkey breast-side up on a roasting rack set in a large roasting pan.
Roast the turkey for 1 hour. Add 2 cups water and the remaining onion to the pan, tent with foil and continue roasting for 1 hour more. Baste the turkey with pan drippings and continue roasting, basting every 15 minutes or so, until an instant-read thermometer inserted into the thickest part of a thigh without touching bone registers 165°F, 1 1/2 to 2 hours more. Add more water 1 cup at a time if the pan is dry.
To prepare stock: Meanwhile, combine the reserved turkey neck and giblets (except liver), water, onion, carrot and celery in a large saucepan; bring to a boil. Add bay leaf, thyme and peppercorns. Reduce heat and simmer, skimming and discarding any foam, for 1 hour. Strain stock through a fine-mesh sieve into a medium bowl and let cool. Discard solids. If necessary, add enough water (or reduced-sodium chicken broth) to measure 4 cups stock.
Transfer the turkey to a clean cutting board (reserve the pan juices and onions). Let the turkey rest while you make Citrus Gravy.
To prepare gravy: Skim off any visible fat from the juices from the roasting pan.
Whisk 1/2 cup of the stock and flour in a small bowl until smooth; set aside.
Set the roasting pan over two burners on medium heat. Add wine; bring to a boil and cook, scraping up the browned bits, until the liquid is reduced by about half, 2 to 4 minutes. Add the remaining 3 1/2 cups stock. Increase heat to medium-high; return to a boil, stirring often. Boil until the liquid is reduced by about half, 6 to 8 minutes.
Whisk the reserved flour-stock mixture and add to the pan, whisking constantly, until the gravy thickens, 1 to 3 minutes. Stir in lemon juice (or lemon and orange juices). Remove from the heat and pour the gravy through a fine sieve into a large measuring cup. (Discard the solids.) Season with salt and pepper.
Remove the string and carve the turkey. Serve with the gravy.
TIPS & NOTES
Make Ahead Tip: Prepare through Step 4; cover and refrigerate the garlic-lemon paste for up to 1 week. | Equipment: Kitchen string
Tip: Look for Meyer lemons in well-stocked supermarkets and specialty grocers. If you can't find them, use 2 teaspoons lemon zest and 1 teaspoon orange zest plus 2 tablespoons lemon juice and 2 teaspoons orange juice in Step 3. Place lemon and orange skins into the cavity in Step 6.
Note: Miso is fermented soybean paste made by inoculating a mixture of soybeans, salt and grains (usually barley or rice) with koji, a beneficial mold. Miso is undeniably salty, so a little goes a long way. White or sweet miso (Shiromiso), made with soy and rice, is yellow and milder in flavor than red miso. Look for it near the tofu in most supermarkets. Almost all natural-foods or small organic markets will carry it.
Note: How to Make Almond Flour. Step 1: Put 1/2 cup of dry, raw, unsalted, organic almonds in a coffee bean grinder and pulse a few times. Don't do it too long or it will become almond butter.  Step 2: Take the almond meal and put it in a fine sifter. Sift. Step 3: Put any remaining pieces back into the coffee grinder and repeat. IMPORTANT – Wrap up and refrigerate any remaining almond flour that you are not using. It can become rancid quickly.
SAUTEED BRUSSELS SPROUTS WITH TEMPEH & ONIONS
Well, the original recipe was called Sautéed Brussels Sprouts with Bacon & Onions but I substituted the bacon for tempeh. Tempeh is a very popular meat alternative that has great texture.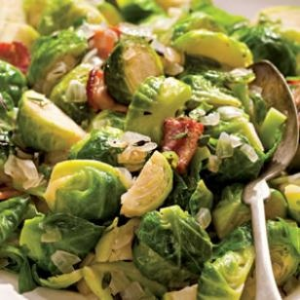 —–
10 servings, about 3/4 cup each
Active Time: 35 minutes
Total Time: 35 minutes
—–
INGREDIENTS
2 1/2 pounds Brussels sprouts, trimmed
32 1-inch pieces of tempeh, packages of tempeh come in various shapes/sizes
1 tablespoon cold-pressed extra-virgin olive oil
1 large onion, diced
4 sprigs thyme or savory, plus 2 teaspoons leaves, divided
1 teaspoon salt
Freshly ground pepper to taste
2 teaspoons lemon juice (optional)
PREPARATION
Bring a large pot of water to a boil. If sprouts are very small, cut in half; otherwise cut into quarters. Cook the sprouts until barely tender, 3 to 5 minutes. Drain.
Meanwhile, cook marinated tempeh. See Tips & Notes below. If baking, heat oven to 400 degrees. If pan-frying or grilling, cook each side for approximately 2-3 minutes.
Add oil to a pan and heat over medium heat. Add onion and cook, stirring often, until soft but not browned, reducing the heat if necessary, about 4 minutes. Stir in thyme (or savory) sprigs, salt and pepper. Increase heat to medium-high, add the Brussels sprouts, and cook, tossing or stirring occasionally, until tender and warmed through, about 3 minutes. Remove the herb sprigs. Add the tempeh, thyme (or savory) leaves and lemon juice, if using, and toss.
TIPS & NOTES
Make Ahead Tip: Prepare through Step 1, rinse with cold water; store airtight in the refrigerator for up to 1 day. Finish with Steps 2-3, 15 to 20 minutes before serving.
Make Ahead Tip: Start marinating the tempeh about 24 hours in advance and store in the refrigerator. A good marinade will be lemon, olive oil, garlic and spices.