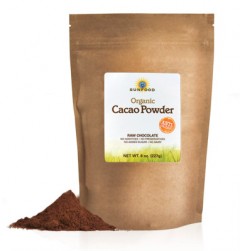 For the last few years, I have been using organic raw cacao as a key ingredient in my breakfast smoothies. While some people may use cacao nibs, my preference is to go with the organic raw cacao powder. For me, that works the best.
My organic raw cacao of choice is made by Sunfood. This is a great company based in California and their organic raw cacao product is sourced from Ecuador.
There is a lot of debate over which country makes the best organic raw cacao. However, Swiss chocolate, considered the finest in the world, uses cacao from Ecuador.
What I like about Sunfood's organic raw cacao is its taste and texture. It is smooth, sweet, well-balanced and very nutritious – lots of antioxidants and amino-acids.
At the 2010 Expo West trade show, the company management showed me a video of how they make their organic raw cacao. So, not only did I get to meet the people from Ecuador who export this organic raw cacao product but I got to see the actual manufacturing process.
If you are looking for a fantastic organic raw cacao product, I suggest buying Sunfood's. You can buy it HERE.