When I went to Natural Products Expo West earlier this year, I was able to spend three full days there and take my time visiting each booth. I felt good about writing my Best of Show Awards since I was confident that I had seen everything.
At this year's Fancy Food Show at the Jacob Javits Center in NYC, my time was limited to three hours on one day. I did my best to see everything I could but there is no doubt that I missed some things.
A few key takeaways:
– I was stunned by all of the foreign food companies at the show. It seemed that every country from every continent had its own section.
– Organic food did not have its own designated area. I was curious if it would but was informed that with so many companies doing organic, it no longer made logistical sense.
– The energy was very different than at Expo West. This could be a result of Expo West being a smaller show and a unifying passion around organic/natural.
Now, for the most interesting and compelling products that I saw.
RUNA AMAZON GUAYUSA TEA
There seem to be hundreds of organic teas on the market and the first question that pops out of my mouth when I see a new one is "what makes this tea different from all of the other teas?"
There are three things that make Runa Tea unique.
1) It is comes from the Amazon in Ecuador and is made from the caffeinated leaves of a native holly tree called guayusa.
2) The tea contains no tannic acids, which eliminates any astringent after-taste that all teas seem to have.  This provides for the smoothest taste I've ever experienced from a tea.
3) The company sources all of its certified organic product from indigenous farming families and has already raised their incomes by over 25% in less than a year.
An amazing product that is truly impacting the lives of many people in Ecuador.  Can it get any better?
AYALA'S HERBAL WATER
Ayala's Herbal Water is a bottled water drink that is infused with organic herbs. The taste was phenomenal, refreshing and energizing.
I believe this product has the potential to gain some serious traction in the marketplace. It makes so much sense to have a water drink made with incredible herbs and spices.
The company has six flavors — lemongrass mint vanilla, lavender mint, lemon verbena geranium, cloves cardamom cinnamon, cinnamon orange peel and ginger lemon peel. A carbonated version was launched at the show and organic certification for this line is expected later this year.
Such a smart and inventive drink. Really, really well done.
THE TEA ROOM – CHOCOLATE INFUSIONS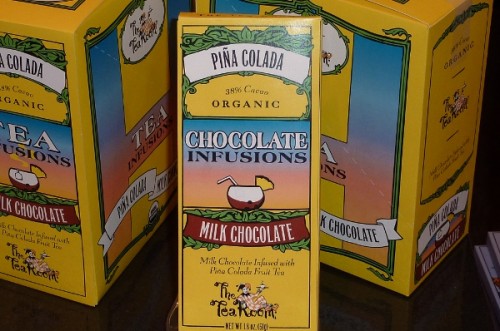 I don't consider myself a chocolate expert by any means but this had one of the most unusual tastes I have come across — chocolate that has been infused by tea.
The taste was vibrant, bold and bewildering to the palette. I was very, very impressed by The Tea Room's Chocolate Infusions.

Chocolate lovers should take note and get a hold of this one.
PURE INDIAN FOODS ORGANIC GRASS-FED GHEE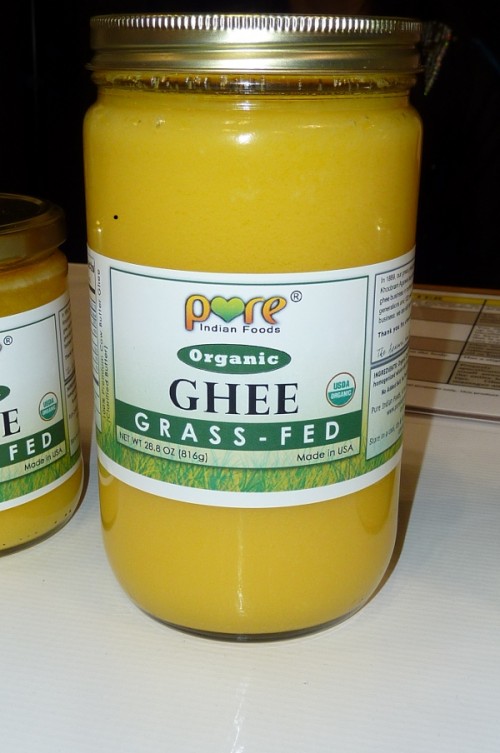 Ghee has been used in Indian cooking for thousands of years but is not widely used in the U.S.  Known as an Indian clarified butter, the health benefits are tremendous – high amounts of Conjugated Linoleic Acid (an antioxidant) and the essential balance of Omega-6 and Omega-3 fatty acids.
What makes this Ghee unusual is that it is grass fed. Pure Indian Foods' ghee is only produced when the cows are outside eating grass and pastured. This means that the company refuses to manufacture its product if the cows are inside, eating grass that has been picked weeks or months before, and/or consuming organic grain.
USDA Organic rules state that organic cows must be outside eating grass for a minimum of 130 days per year. Many big organic dairy farmers put the cows back inside on day 131 so that they can get them back on a diet of grain and force them to live in tight quarters. This helps them grow faster and more inexpensively.
Pure Indian Foods, a family-owned company that has been producing ghee for five generations, buys its milk only from farms that keep the cows outside — not only because the animals can eat the grass directly from the ground but direct sunlight is crucial to the health of the cows (Vitamin D).
The company believes so much in doing things the right way that it only produces its ghee 8 months of the year. The other 4 months are when the cows are inside and ghee-making goes on hold.
It makes such a huge impact on me when I find a company that is so incredibly committed to "beyond" organic. Awesome work!